Gosh, these posts keep getting longer and longer, don't they? Oh well! Pass on this one if you're not into babies lol.
Baby's third month was a complete turnaround for the other few months of his life. I think we've finally gotten into our groove. I now understand that my baby cannot be awake for more than 90 (or so) minutes at a time. Who knew babies needed to be put down for a nap before they give obvious cues?! Also, I know which cry is which (for the most part), and have somewhat of a routine down pat. Not only that, the whole Mom Group thing is going so well! We have a few hangout's a week with a bunch of our new friends, and keeping baby socialized is great! On certain days we have plans, but I refuse to make any plans on Monday's since that's when I try and get the majority of housework done. It's "easier" because I can eat leftovers from what I cooked over the weekend, so I have one less thing to worry about there. Plus, the rest of the days I try and only do one household chore a day so it's not overwhelming.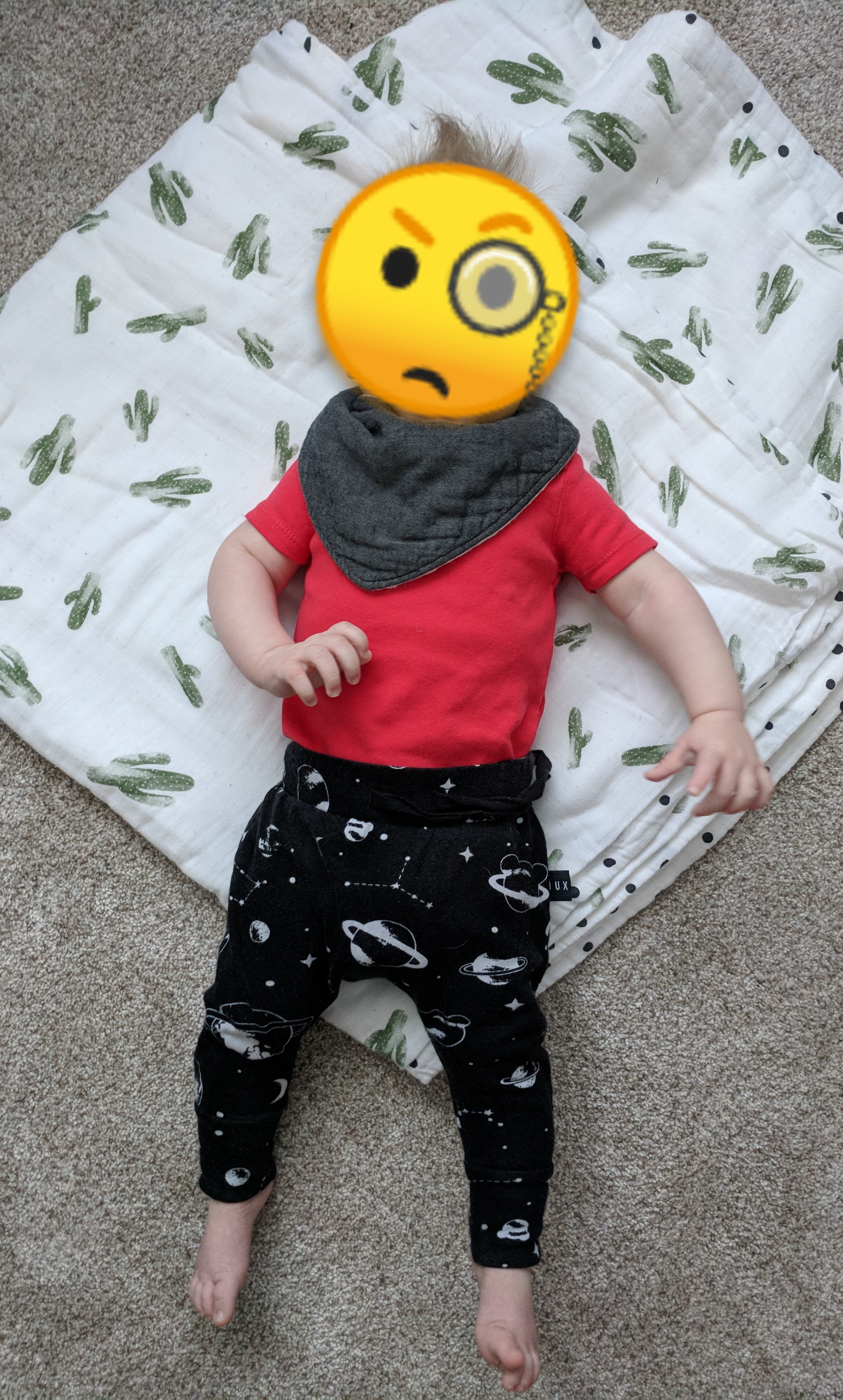 I've had two people ask me how I "have my sh*t together". Trust me, I don't. There's definitely days (like yesterday, and last Thursday for instance) where all I did was comfort and care for baby. He was having a off-days, and that's totally okay – and normal! Like I said before, I'll plan to only do one thing per day, because in the end, there will always be chores to do. And I'm gonna do them all over again next week, right? If I do a few loads of laundry one day, I probably won't mop the floors on the same day (that is, unless I have like 4 coffees…which will never happen because I don't want my baby to be over caffeinated, obviously).
For the past 3 months however, he hasn't been sleeping great. But something turned around in the last week and a half. Perhaps it's because he's now fully transitioned into his crib in his own nursery now (I don't want to talk about it – it's so sad! LOL), but I now know what time he "needs" to go to bed in order to get sufficient slumber.
Baby tends to nap the longest in the morning, so that's when I try and get my nap in too. He was waking up every 1-2 hours during the night, up until last week, so I've been, like ya would, super tired. It was tough. Mid morning I'll put him in his little chair and he'll watch me do house-related-stuff, like steam mop the floors, unload the dishwasher, or fold laundry while we listen to some tunes….the Beatles are a big hit with him. But some days the clean laundry will sit on the corner of our couch unfolded for 2 days. Just gotta go with the flow. I also love face-timing my Mom every single morning to show her the lil' bubs.
I've also discovered the voice-to-text feature on my phone thanks to my husband's aunt who was visiting us. She uses it all the time. Now I've adopted it – and it's fantastic especially when I am holding my baby and can't type with one hand… sooo much easier with the voice command. So that's how e-mails, or texts get written.
OH! OH!!!  So, I'm not sure if it was a fluke or not but he rolled over at 15+1 weeks old. He hasn't done it since, though.
He babbles a ton, and started blowing bubbles. Two weekends ago he stuck his tongue out at us, and kept doing it because he got a laughing reaction. It was cute!
He's graduated from the LoveTo Dream swaddle with the arms zipped in, to his arms being wild and free.
He's officially outgrown his bassinet and now in his crib, in his very own nursery. I'll admit – I slept 3 nights and half of the fourth night on the floor next to his crib because I couldn't quite leave him yet. It's kind of scary leaving him!
Sad times, but all of my wonderful thick postpartum hair has gone back to my regular stringy-mess hair. Unfortunately I was not blessed with those luscious locks for very long.
Hmm… as for my 4 month postpartum favourites? Here's a few new things!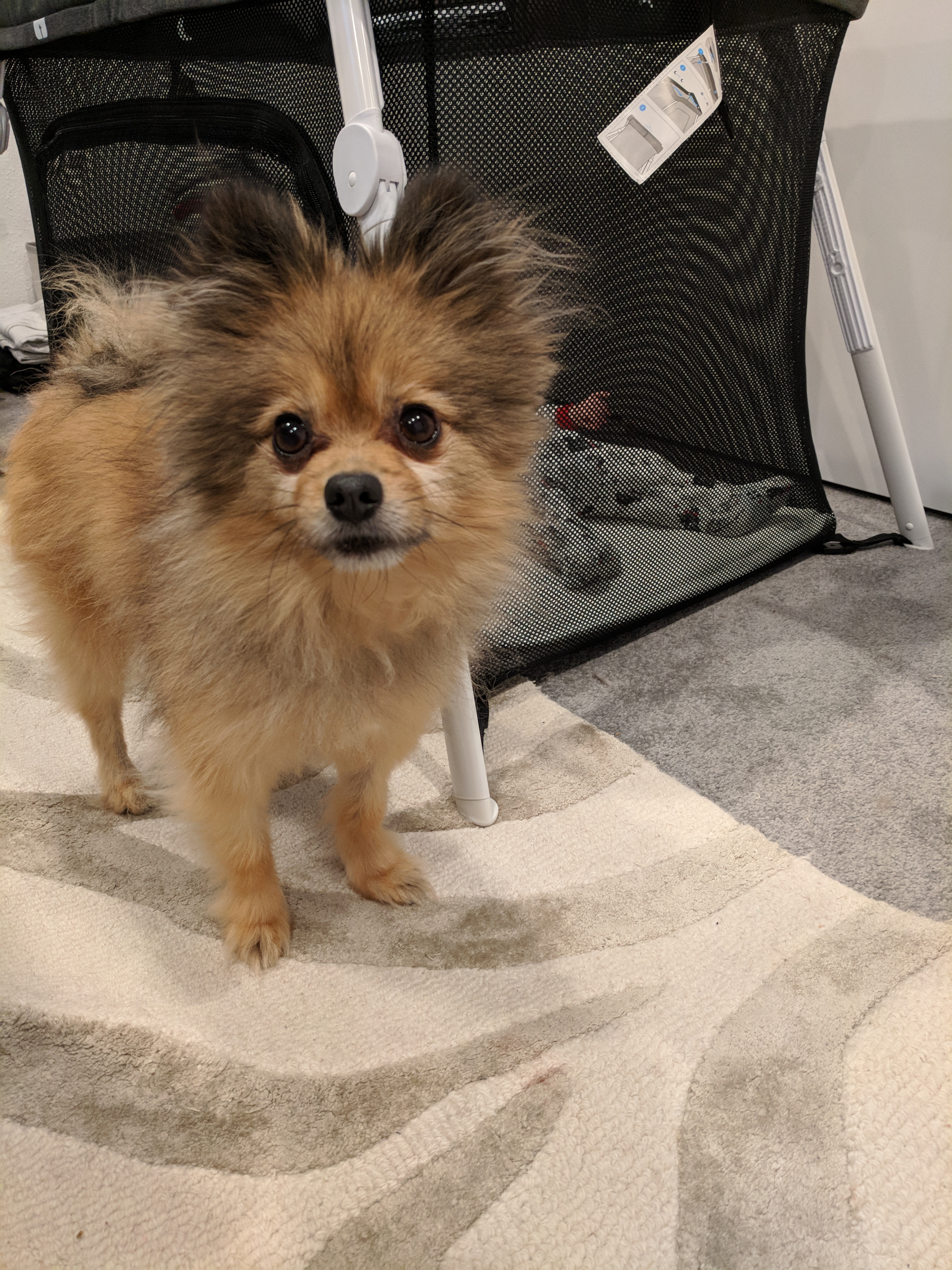 Guava Lotus| This was the smooth transition from baby being in a bassinet, to spending 2 nights in the Lotus by my side of the bed, then finally moved into his own crib (with me sleeping on the floor next to him). I love how easy it is to put the Lotus away, and even chuck into our car for adventures outside – it seriously folds up like a breeze, and it's really pretty too lol.
Minikerms on Instagram| Yep! I did it! I created an Instagram account for our little fella. His face (and name) are still kept secret though, but follow if you care to!
Fisher Price infant seat| We bought baby this chair after going to a friends house for a playdate. He enjoys hanging out in it, it's super cute.
H&M sweater|Â  Hey this is all part of postpartum isn't it? New clothes? Suuureee! I tried this on in-store a few weeks ago in a size bigger, decided to go online to see if it was available – ended up being 50% off (and at $14.99 you know I bought it!) and bought the smaller size. It's the perfect not too exposed shoulder-wise, but cute enough to have a tank top peek through. It also washes brilliantly (I didn't toss this in the dryer though for fear of it getting pilled) since baby vomm'ed on it reaaaal good during Mom's Group one day. What a mess that was…
Huggies Diapers| This is all my baby has been wearing for the past few months. We did run out of diapers at one point and ended up picking up a box of Kirkland one's from Costco. Ehhhhh… not the biggest fan of those. Love the Huggie's for our babes.
Oh. Psst. Don't buy the H&M baby bibs. They're thin, like t-shirt jersey knit material and do nothing for spit-ups. Completely soaks the baby in one minor spit-up. If I had of known, I would've returned them. But… you can't return them after they've been used. Obviously.