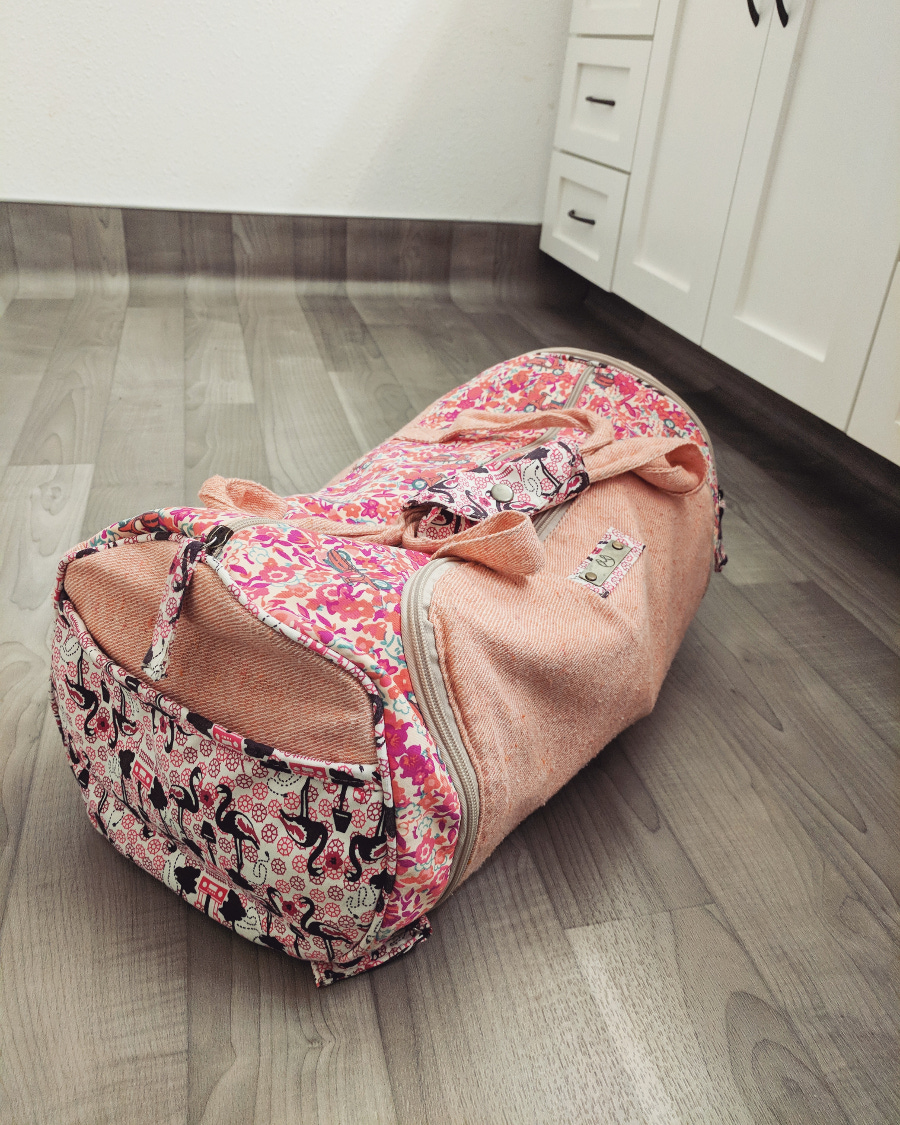 I've been told many times by many people that I don't need to bring much to the hospital here in California. A lot (if not all) of it is provided for you. I thought I was a good planner when it comes to packing. But since a few things are still up in the air, even this late in the game, I'm only now finally sorted all out with the hospital bag at close to 38 weeks pregnant. I want to preface this by saying that I know many new mom-to-be's bring a lot of unnecessary stuff. I know that everything I bring I may not use. Just be supportive of other's going through this for the first time.
Let's get to the real deal. I'm glad I have a few extras (like toothbrushes, and hairbrushes) so I can keep it stowed away for when the time comes to grab the bag and deliver a baby (lol). I always have a drawer in our bathroom dedicated to travel-sized items, and travel bags for organizing it all.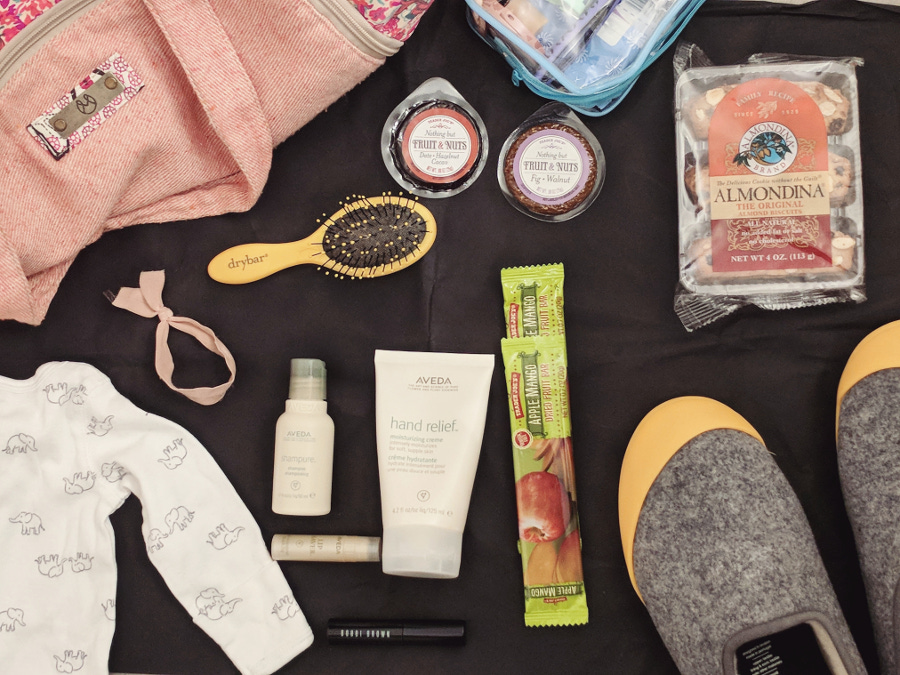 So, this is what I've packed. Is it sufficient? I'll let you know after the delivery!
Snacks:

Trader Joe's "Nothing But": a variety of fig & walnut, and date & cocoa disks
A pack of gum
Trader Joe's fruit leather
Crackers & nuts
Bottle of drink (this one's a free "vitamin water" dupe from Costco lol)

Toiletries:

toothbrush + toothpaste + floss
Travel hair brush
deodorant
some makeup 
body wash
2 hair ties
Aveda shampure shampoo/conditioner
Disposable shower cap
Disposable shower flip flops ($1 store)

Clothing:

1 pair of H&M maternity leggings
2 long sleeved tees from Target (the "A New Day" collection is ALL I have been wearing this entire pregnancy. They're non-maternity. I just sized up)
1 sweater
1 tank top
1 pair of fuzzy socks (couldn't find the non-slip one's. Hoping the hospital has some!)
HUGE undies (lol)
maternity bra (it's this one I had on my Gift Guide for Mama's!)

Sleepwear:

Mahabis slippers (I got 2 sizes bigger than my regular slipper size those wondering!)
These soft PJs from Target in a bigger size. I also bought them in red but they're staying home.

For Baby:

2 baby outfits (newborn sized + 0-3month)
baby undershirt/onesie whatever they're called
baby blanket for car seat (this bicycle one!)

Other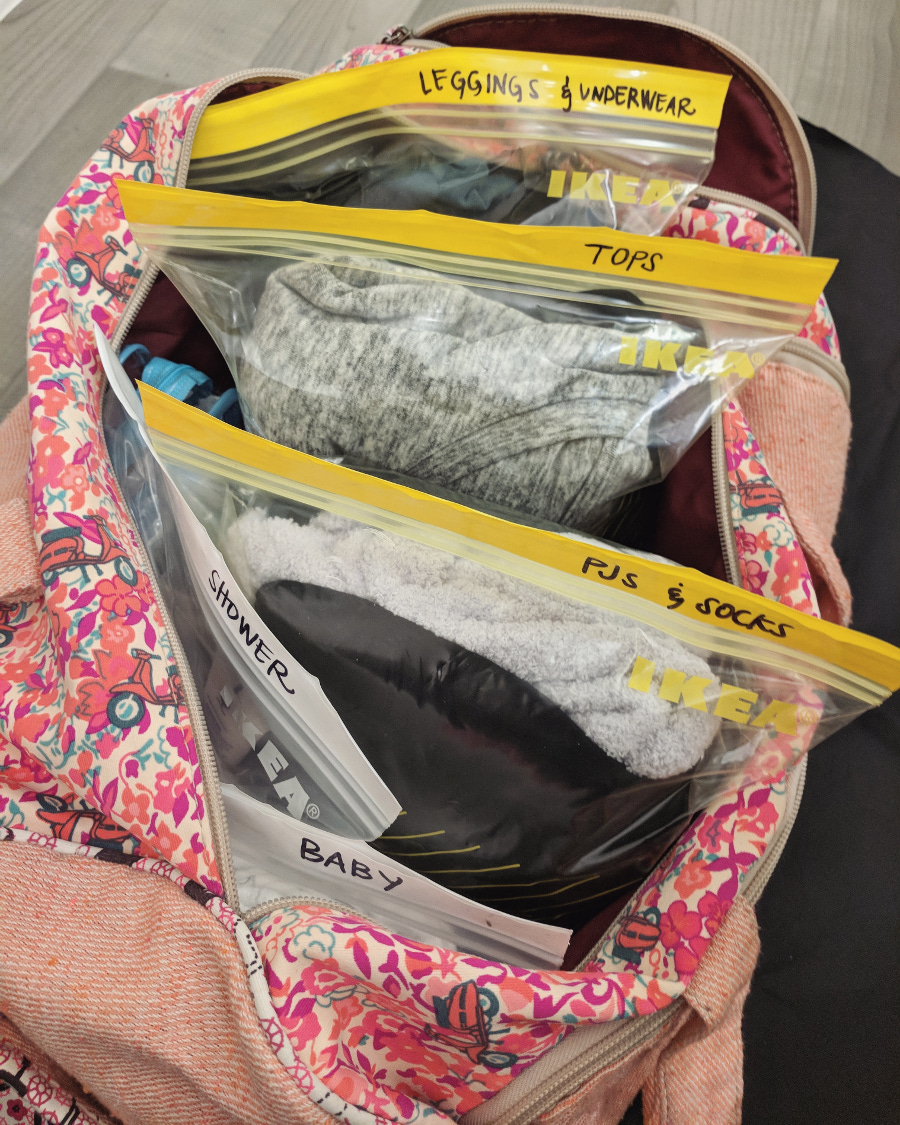 I've labeled everything in plastic baggies for easier access and less thinking. Plus if/when my husband goes through the bag he doesn't have to search hard to find what I'm looking for, for instance.
The overnight bag is actually a workout bag that I bought online from the Tone It Up girls a few year ago. It's actually my rock climbing bag, but I cleaned the chalk dust out of it and now it's my hospital bag.
I'm taking the simple approach when it comes to packing the hospital bag. I questioned my pals on Instagram and Twitter of what they suggest I pack in the bag, and you'd think I'm going on a cross-country trip with some of the answers I received. Haha! I love it. But, I suppose you could say I'm only packing some necessities for myself to keep me comfortable, and nothing over the top. I understand that I could wear a hospital gown the entire time I'm in hospital. But what if I'm done with those gowns, yet don't want to wear a normal long sleeved tee (which I've been living in) and I want to wear my new button-up PJ top from Target? I am darn sure gonna bring it with me. I'm also not bringing a robe, I only have one and I don't want it ruined and I'm not going out to buy one just for the hospital.
I also don't have a birth plan. That's been quite controversial, but that's okay with me!
Basically what's going in the bag is what's listed above, and some have suggested I bring some huuuuuge undies, and even depends diapers and dermoplast, hey I'll consider it! From all the stories (all of them) I've heard, it's not going to be a pretty process, I know that much.
Next and final steps? Getting a pedicure this weekend with my friend Nicole! I haven't had my nails done since my birthday back in May. I simply want to spoil myself and cannot wait to do so! White nail polish forever.
What are some "must have's" in your pregnancy hospital bag? Did I miss anything?
What did you bring and didn't use?