Either you love the pregnancy updates, or you skip over them. When I wasn't pregnant, I most definitely 100% skipped over them. No interest in them whatsoever, since it wasn't relevant to me. Understandable if you do the same.
I know every pregnancy is different, but I didn't think this brain-fuzz would happen to me. All this week and last (25 & 26 weeks) I've been very "out of it" with getting thoughts into words. It's kind of funny actually, but can most definitely be frustrating at times. When you were preg, when (if) did pregnancy brain hit? Does everyone get it? There's some things in your app or the books I'm reading that doesn't go into that much detail. Bah! Those dumb apps (if I'm being honest) kept telling me "now you're over that hump of getting morning sickness" and as I mentioned in my last pregnancy update, I never did have any sickness. So reading that was a bit of annoyance to me.
I can be a clumsy person, but I've been overly cautious of walking down the stairs (I usually race up them by 2's or run down them) but now I've been holding the hand-rails because of my previous months of slipping down a few stairs (pre-pregnancy of course!). Now I'm noticing it's a bit more difficult for me to get out of bed the way I used to. Now I have to roll over, use my arm to brace me then sit up. Hahahahahah it's so ridiculous.
Anyway! Here's another bump outfit of the day for you guys!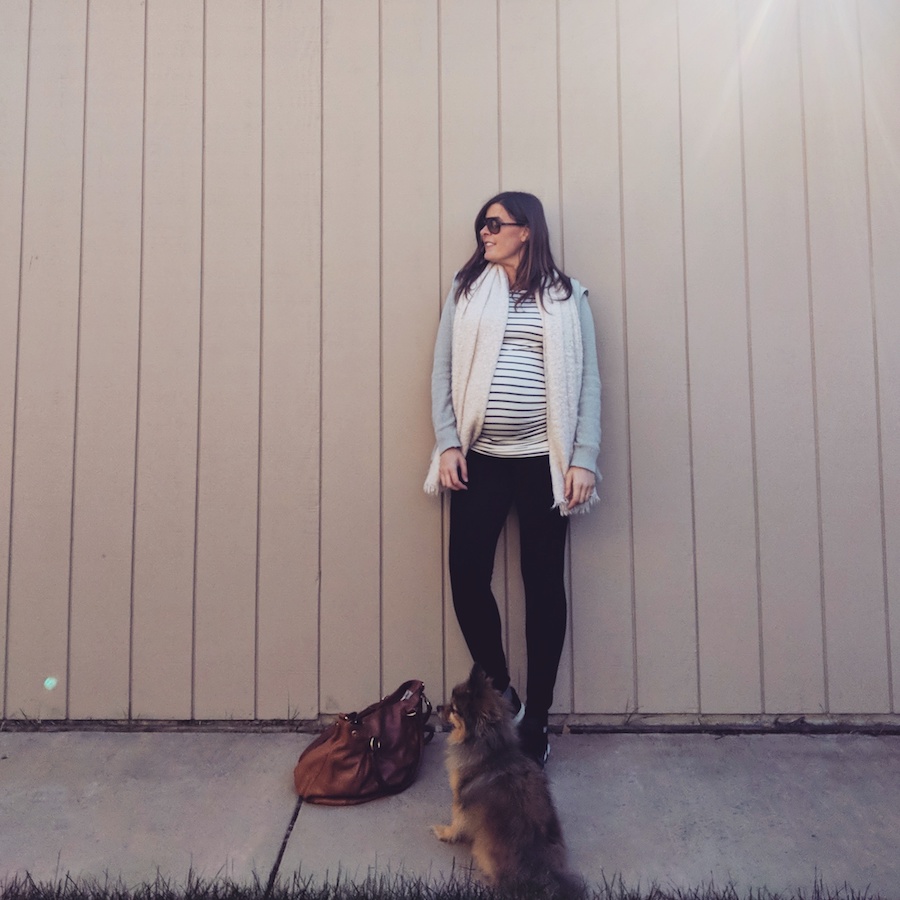 26 weeks pregnant, meaning I've booked the hospital tour this week, and looking into some classes that my ObGyn suggested I take (that cost $55/each, pfth!).
Wearing:
PinkBlush Ivory Striped Long Sleeved ($36)
H&M Mama Leggings ($12)
GAP cardigan (purchased this late summer)
Zara scarf (from 2013)
Nike sneakers
J.Crew purse (from 2011)
I only have 2 pairs of maternity pants, and I live in one of them (the leggings of course). Both of them are from H&M Maternity, but I've found that the less constricting feeling on my belly, the better I can breathe. Oof!
Disclaimer: Huge thanks to my pal Megan for hooking me up with PinkBlush to be an ambassador with them too! As a PinkBlush Ambassador I get 2 points for 2 pieces of clothing to review. Each time I post = 1 point. I did not receive monetary compensation for posting about the brand.