For those of you who haven't finished their Christmas shopping, raise your hand!
I've always been a pretty eager one come time for buying gifts for my family, so don't hate me when I tell you I'm actually finished my shopping. I'm the complete opposite of my husband. Haha!
Since this year will be completely different – we're spending Christmas here in the USA as I'm pregnant and don't think it's the best idea to travel completely across North America right now, and secondly, Alfie is ill so we don't want to stress him out at all with the long haul flights. I thought it'd be a nice idea to round up a Holiday Gift Guide for any Momma-To-Be's out there who are expecting like me. I'm actually going to be doing two of these since I want to do one for Mom's alone, and then a second one for the babies. Enough babblin' on, let's get to it!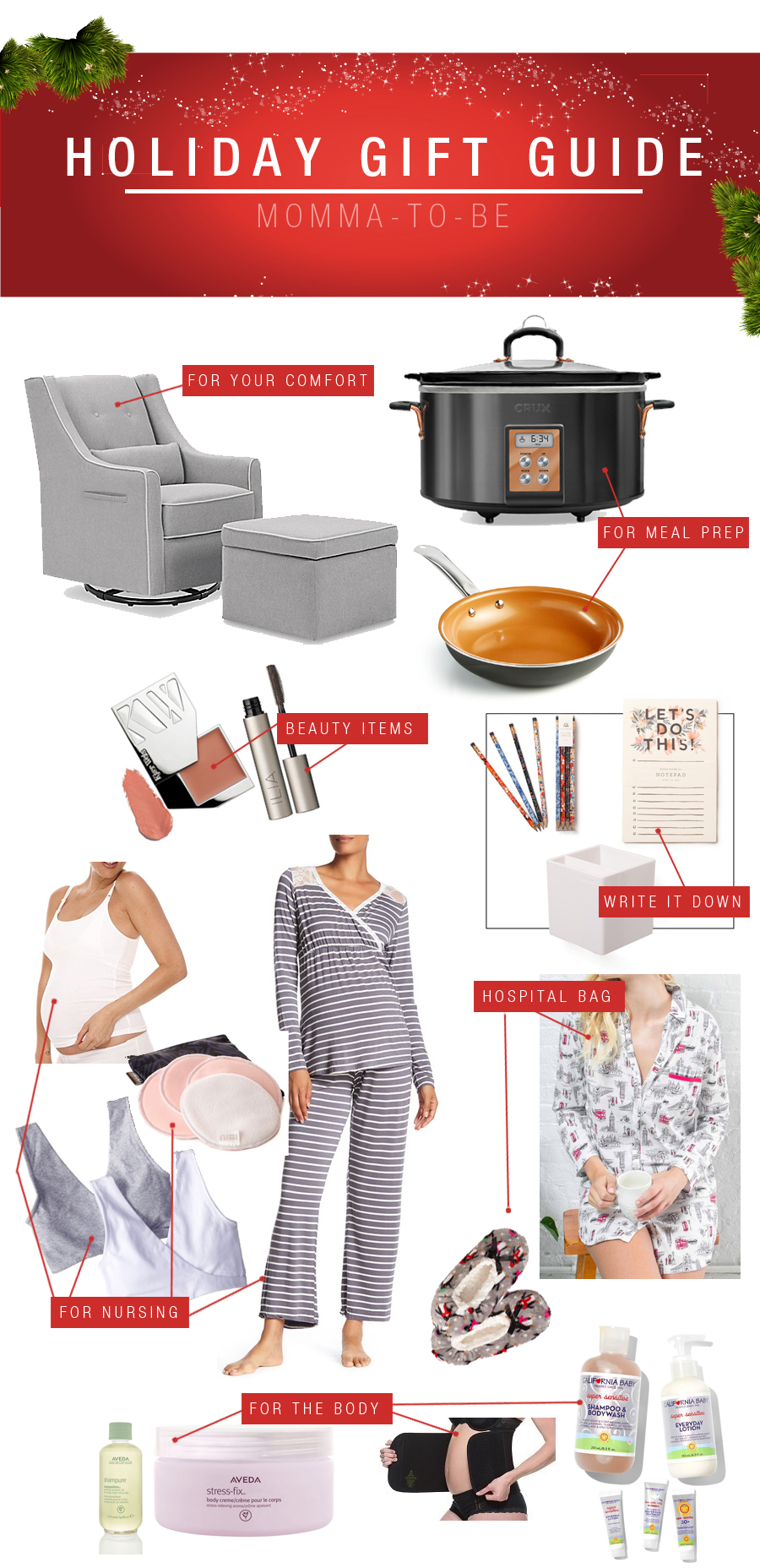 -PREPPIN' FOR THE HOSPITAL-
Hospital Bag Essentials| I'm organized when it comes to going anywhere, trips, vacations….hospitals to have a BABY. I've already collected a few things for the hospital bag, although I don't plan to bring much since the hospital said it would be providing the diapers and, well, basically everything. So I'm going to definitely be packing my own pj's though. I definitely want to have some comforts of home with me. I'm having a winter baby so I'll be bringing warm flannel PJs with me: this Laura Ashley Boyfriend Sleepshirt with some leggings. Also bringing these Fuzzy Babba Slipper Socks with non-slip on the soles. Stylin'.
-FOR THE BODY-
Aveda| Aveda has been an essential in my daily life for over a decade. From shampoos to body lotions, it's been put to daily use when I knew I was pregnant. Aveda kindly sent over SO many nourishing composition oils, and a huge gorgeous buttery thick tub of their stress fix body butter. I've been slathering it on my belly these past 7-8 months, just to keep things moisturized with all the stretching going on.
BellyBandit| This is for post-partum, but I did want to mention it. It wasn't until a friend wore one that I knew what it was for. But it makes total sense, as you want to secure those insides and help guide them back into place! I haven't worn it yet since you cannot wear these while pregnant.
California Baby| California Baby products aren't new to me at all. In fact, when a friends child was younger I know her family used this brand (and perhaps still does). I received a generous shipment of the California Baby's products from their Super Sensitive Skin line (see here!) — since I've had sensitive skin mostly my whole life, I do want to use something just as soothing on our newborn, too. You can find California Baby products pretty much anywhere. I've seen them at grocery stores, Sprouts, and Target too. The brand isn't just geared towards babies either, it's for kids and adults too. In fact I've already busted out the everyday lotion and the (unscented) Super Sensitive Shampoo & Bodywash combo that I use primarily as body wash.
-FOR YOUR COMFORT-
DaVinci Owen Glider| So many restless nights to come ahead, I know of it — and hopefully rocking baby back to sleep quickly. The DaVinci Owen Glider and Storage Ottoman, Grey with Cream Piping
 is a gorgeous gift for any momma-to-be, on your list. I'm getting spoiled and one is arriving this week. I can't wait to test it out and see it in person. Plus, I have a little fun somethin'-somethin' to give to you guys as well, it might also be one of these DaVinci Owen Gliders too! ;) Oooo!!!
-FOR MEAL PREP-
Crux Slow Cooker| This slow cooker is LIFE. Can you believe I've never had one before this? I cannot fathom why I waited so long for one. You betcha I'll be meal-preppin' the freezer full for our meals this month, leading into January and February. It makes clean up a breeze too since the insert + lid is dishwasher safe.
Bella Copper Titanium Pan| Ain't nobody got time for stuck on food on their pots and pans. I was sent this, and it's definitely replaced our 5+ year old scratched up and dinged "nonstick" (it wasn't non-stick any more lol) pan. Eggs every morning (for Alfie, doesn't he sound spoiled? hee hee) slips right around in this pan. Goodbye old one! Also perfect for a quick cleanup with meal prep.
-BEAUTY ITEMS-
Kjaer Weis Cream Blush + Ilia Mascara| Mama needs to feel pampered too! Perhaps I won't be wearing much makeup when the little guy arrives, but it doesn't hurt to gift this to any new Momma. I love getting new makeup, honestly. Plus, these are so simple and easy to use products that are cruelty free. Don't have much time? Dab on a bit of cream blush to the cheeks for a bit of colour, and apply a quick coat of mascara and you're fresh faced and fancy free for the day.
-FOR NURSING-
Lamaze (nursing) PJs| I know these will come in handy come nursing-time after we get home from the hospital. Plus, yay they're under $25 and feel so cozy on. Am I a cheater for wearing these already? hee hee!
Lamaze nursing bra + Lamaze nursing tanks| Who knew there was such a thing! Clearly I didn't, and who knew it was a no-no to wear underwire bras when nursing. Huh! I'm already wearing the camisoles (such a great deal) under my tops for an added layer of warmth. Don't judge me as being a Canadian who is cold in California December's. I have low iron, ok? Lol.
Reuseable Nursing Pads| What I think to be an essential as an almost new-mom. Nursing pads! Bring them discreetly with you and there's a two pack, ya know, for backups. They're so soft.
-INDULGENT TREATS-
L'OCCITANE Luxury Advent Calendar| The adult version of the chocolate advent calendars, except this time it's with a gorgeous abundance of premium travel mini's from L'OCCITANE. It's never too late to receive one of these in my opinion, including Christmas Day, or even during Hanukkah. The Advent Calendar features a selection of must-have skin care, body and bath, and hand care gifts. 
-FOR THE ORGANIZER-
Desk of Champions| I've always been a stationery lover through and through. I have a whole collection of unused notebooks sitting on my desk. But for those who don't hve quite the collection like I do, perhaps you can get them this? I know for sure I go through tons of paper writing down lists (I will always be a paper list-maker rather than on my phone) of what I need at the grocery store, or even writing down my daily tasks.
Disclaimer: Products in this post were provided for review in this Holiday Gift Guide feature. The affiliate links help pay for this blog – thank you.