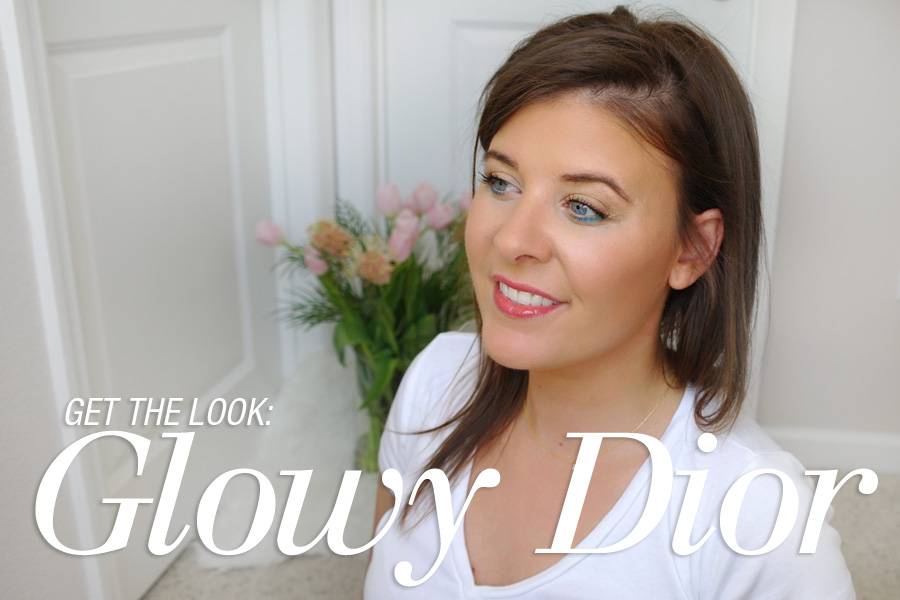 These are one of my favourite types of beauty posts to write. Where I teach you how to apply the makeup, and where. Because I'm a spring baby, I thought I'd use everything by Dior to create a glowy springtime look, using products from the Dior summer collection Milky Dots.
I've talked more in depth about the products listed in this 'get the look' post if you wanted to read more about it, check them out below: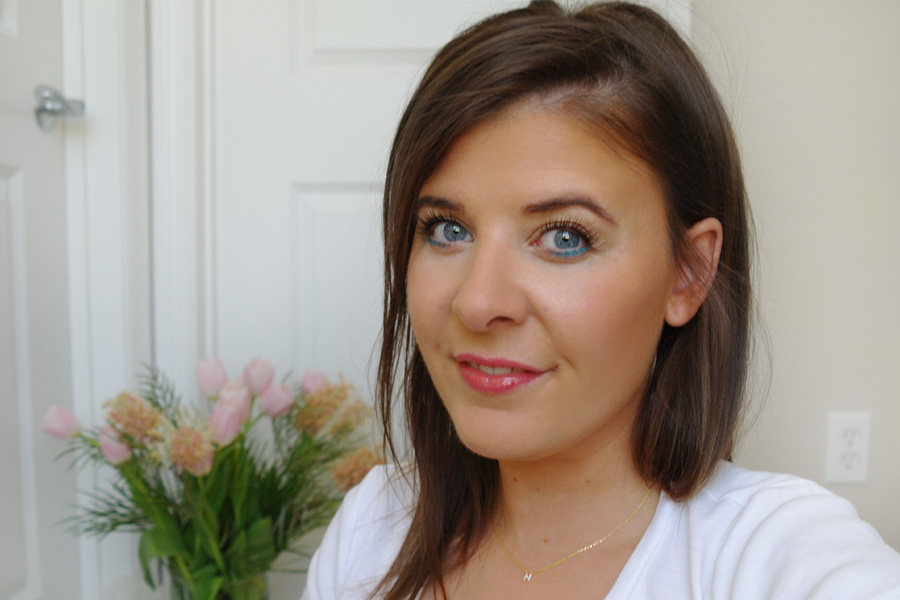 Let's get do it to it, to re-create this look!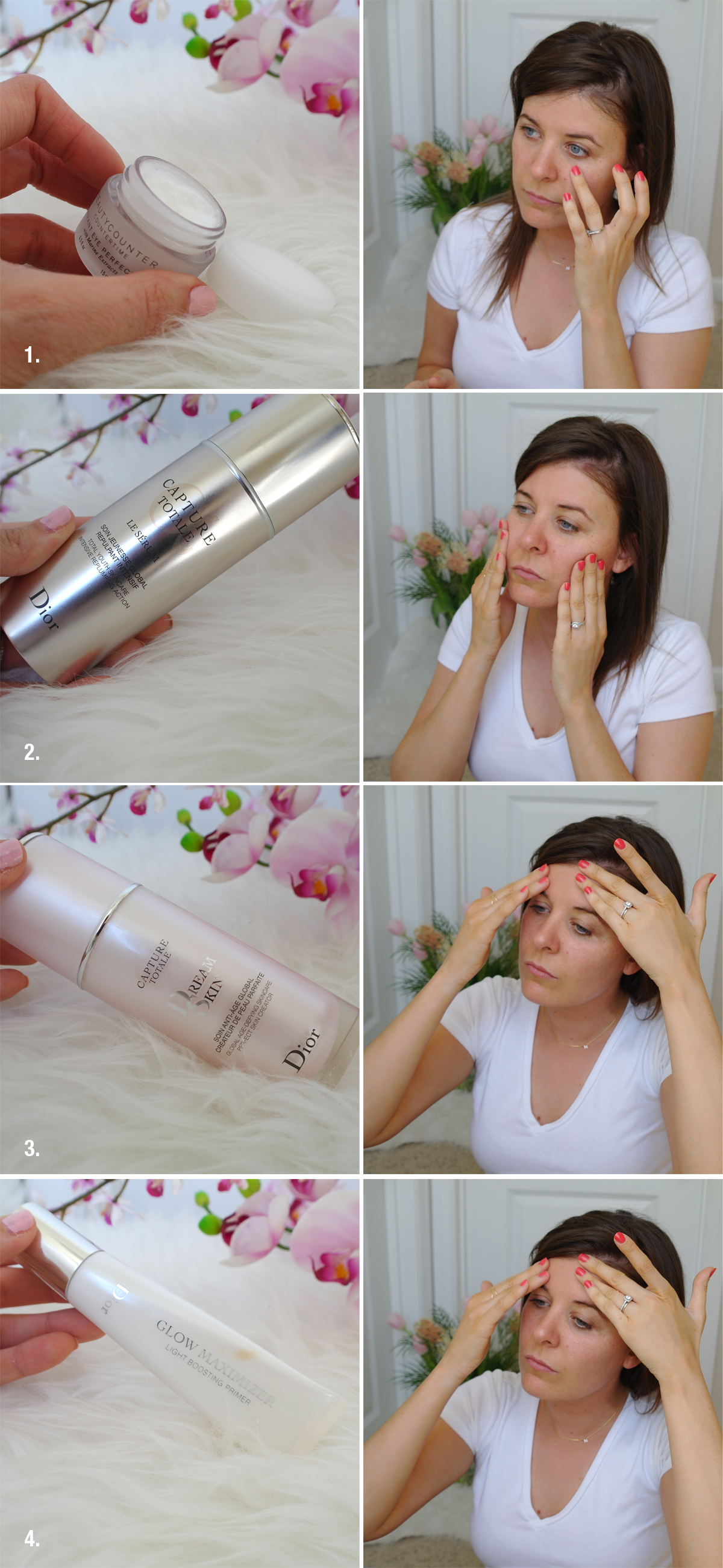 1. Beauty Counter Vibrant Eye Perfector: Use any eye cream you have on hand.I prepped my under eyes first for concealer and used this lightweight eye cream. Will I repurchase? Nope! It's not heavy enough for my super dry under eye area, so I'll use this up.
2. Dior Capture Totale Le Serum: A radiance boosting serum that will instantly hydrate and replump the skin. Serum is an important part of any skincare routine as it keeps your face completely moisturized (which down the road will slow down the appearance of fine lines and wrinkles).
3. Dior Capture Totale Dream Skin: Applied in a pressing motion, apply more in the flawed areas. This helps reduce skin flaws after time. It feels a little thicker than the Le Serum, and the quality of the Dream Skin product is truly amazing. However, I haven't used it enough to reep its benefits.
4. Dior Glow Maximizer Light Boosting Primer: Mix the glow maximizer in directly with your foundation (what I tend to do), or apply it on the areas on your face prior to your foundation to direct where you want your skin to glow. For me, I want all the glow — everywhere. My dry skin needs it! It's a two-in-one product as it provides your skin with glow, but is also a primer to apply prior to makeup to make your look last all day long without wearing off.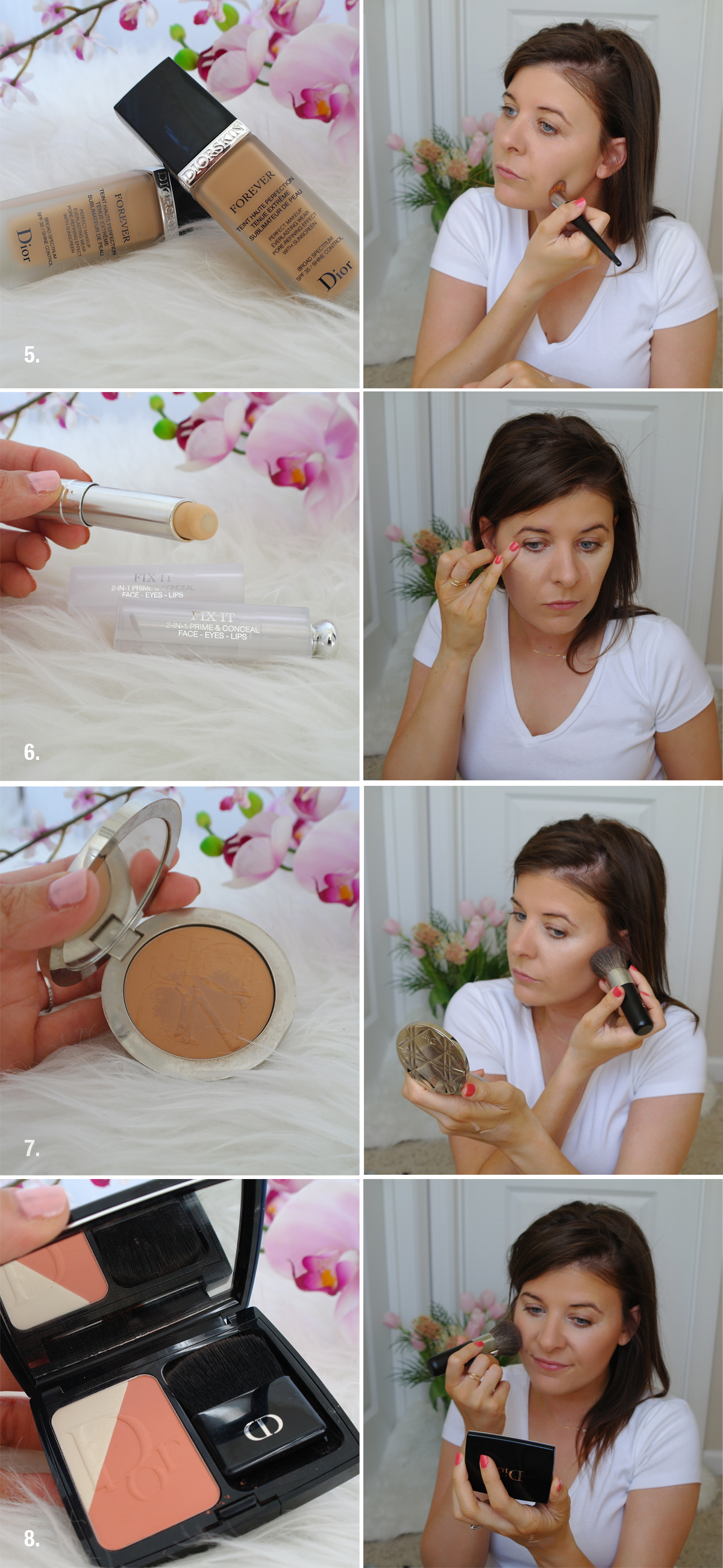 5. Dior Forever Foundation (shades 010 & 030 mixed together): I prefer mixing two foundation colours together to get the perfect skin colour no matter if I'm pale, or self tanned. This is a fantastic medium to high coverage foundation that looks like a naturally satin-finish to the skin. Forever foundation is not glowy, nor matte, it's the perfect in between. I applied the Forever Foundation using the Dior Fluid Foundation Brush for flawless, yet a luminous finish to the skin.
6. Dior Fix It 2-in-1 Primer & Concealer (shades 001 & 002):Â For the sake of the tutorial, I used both shades, the lighter one directly under my eyes in a triangular shape, and then I popped a little of the darker shade just below the lightest colour. Blend it all in with your ring finger and you'll instantly have a brighter under eye area.
7. Diorskin Nude Air Tan Powder (001 Golden Honey): Wow, I really need to start using this bronzer a lot more. I love the natural sunkissed look this shade gives me. I applied it underneath the blush (right under the cheekbones) and onto my temples, and a little bit down my nose too. You want to apply a bronzer where the sun naturally shines onto your face. Personally, I apply it everydangwhere I can. I used the Dior kabuki brush #17 to apply the product.
8. Diorblush Sculpt Professional Contouring Powder (002 Coral Shape):Â A matte coral blush (with a highlighter in the compact too!) was applied to my cheekbones to give myself a flushed look.
9. Diorskin Nude Air Summer Glow (001):  I lightly dusted the super fine summer glow powder to the cheekbones to faux a bit of glowy skin. I used a MAC 187 brush to lightly apply the product.
10. Diorshow Brow Styler (001Â Universal Brown): I love this shade of eyebrow pencil so much that I've already gone through one, and I'm currently on my second one. It's the perfect shade to fill my eyebrows in with.
11. Dior 5 Couleurs Eyeshadow Palette (536 Escapade): 3 neutral colours of eyeshadow was applied using the MAC 239 brush, and then blended together with a MAC fluffy brush. I then went in with the 366 Bain De Mer eyeshadow palette from the Milky Dots collection and used the vibrant blue under the lower lash line.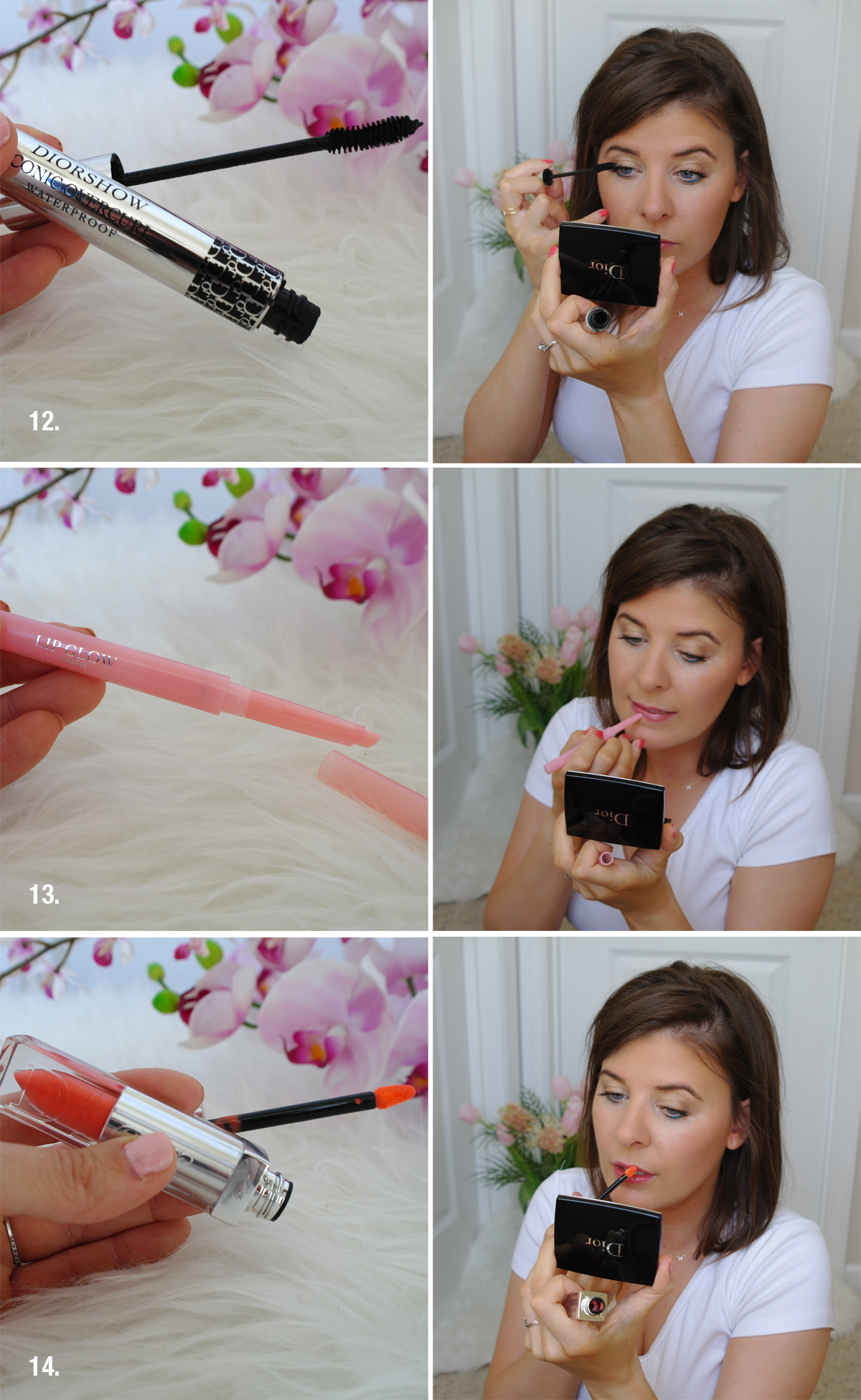 12. Diorshow Iconic Overcurl Waterproof mascara: This mascara completely gives your lashes incredible volume and holds the perfect curl. However, it's waterproof and of course a little difficult to remove at night, but totally worth it since it won't cause racoon eyes half way through the day. I curled my eyelashes first using the Tweezerman eyelash curler to prep the lashes for mascara
13. Dior Lip Glow Liner (001 Universal Pink): If you're familiar with the Dior Addict Lip Glow lip balms, this is the same but a liner version! Colour in your entire lips with this, or simply line them and prep them for gloss/lipstick to ensure that your lip products won't bleed when wearing them.
14. Dior Addict Milky Tint (356 Milky Peach): Polish off your look with a bit of colour to the lips with a gorgeous coral lipgloss.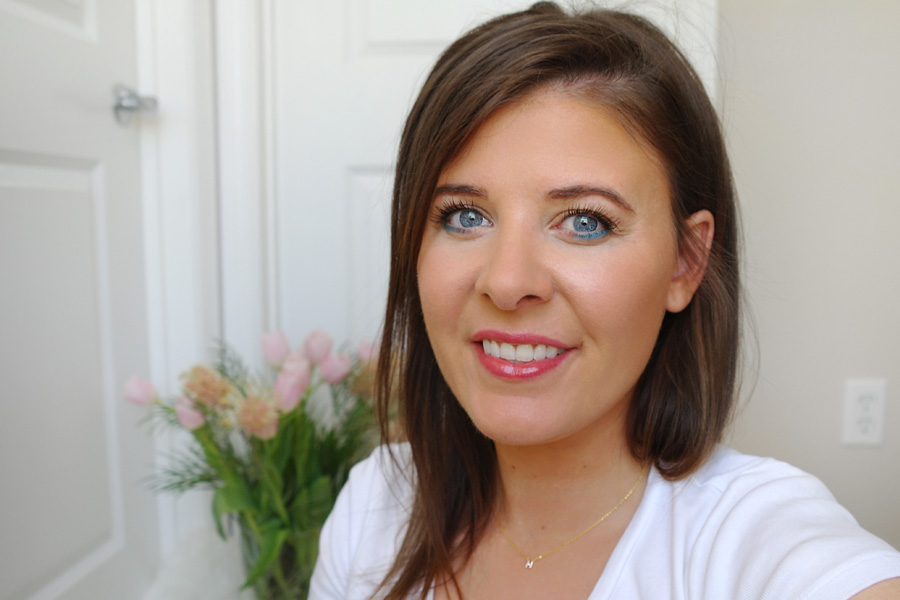 What do you think of the overall look? Would you wear coloured eyeshadow? I think it's fun to play around with, especially featuring in a subtle area like around the lower lash line.
Let me know your thoughts! Should I keep doing these tutorials? :)