Oof! What a week it's been.
I'm short on blog deadlines — and not because I don't realize it. I'm not sure I've officially announced it here on the blog or not, so I'll sneak it into today's blog post. We bought a house! It's just that we're super busy with the house, hunting for appliances, buying appliances, Alfie's been sick for a good week, and going to my many doctor appointments. Seriously I think I have 4 a month, or so.
This week they all lined up on Monday, Tuesday, and Wednesday. Between appointments I was packing up our kitchen and living space. There's a lot on our plate! But it's all good things. At one appointment (our detail scan) on Monday, as I was driving my phone rang (Scott answered) and they told us the power went out at the Dr's office. So, we drove back home and they rescheduled us for a different location, later that day. We drove to the second location, only to realize everyone and their dog had been reschedueled to that spot too, so we waited 1hr 15 min for our flippin' appointment. And you know what? You gotta have a full bladder too at some of those!
I'm pretty sure it all evaporated by the time my appointment came.
Speaking of those detail scans, I gotta be honest here… they're creepy looking by the way: 3D/4D scans. The kid is so little that obviously everything isn't fully grown yet. At one point I asked the sonographer if the kid even had a nose "yet". Then on the photo it looks like he's definitely taking after both parents here (hi, we have prominent schnozzes lol) Sheesh! I can't tell what I'm looking at lol. I definitely spoke up about it, and as soon as she flipped from x-ray looking to totally 3D/4D, I was all "WHOA…. weird." I'm sure she was simply expecting an "aww" out of us. I'll say it how it is b'ys. It's weird. But in kind of a cool way.
Sorta.
Needless to say I'm feeling subsconciously stressed. I always say subconciously because I don't feel stressed for the most part. It's just a few times a week when I get overwhelmed, not sure what to do next with the house-prep, etc….then we all freak out lol. This week has been the worst for it. I've never felt so angry and for no good reason! It's making me feel weird.
In other news, let's pop in another OOTD in here a few bottom pieces from prAna's fall launch (which was sent to me as a #sweatpinkpartner. #prAnaFallStyle17 #prAnaStyle #sweatpink). I've been diggin' outfit of the day posts lately.
Wearing:
prAna London jeans
Cardigan with hood
Black Tank top
Brown leather belt
Pink faux-suede slip-ons
Blue sunnies
Fossil Rachel Tote (also sent for review, from Fossil)
Shop the look:Â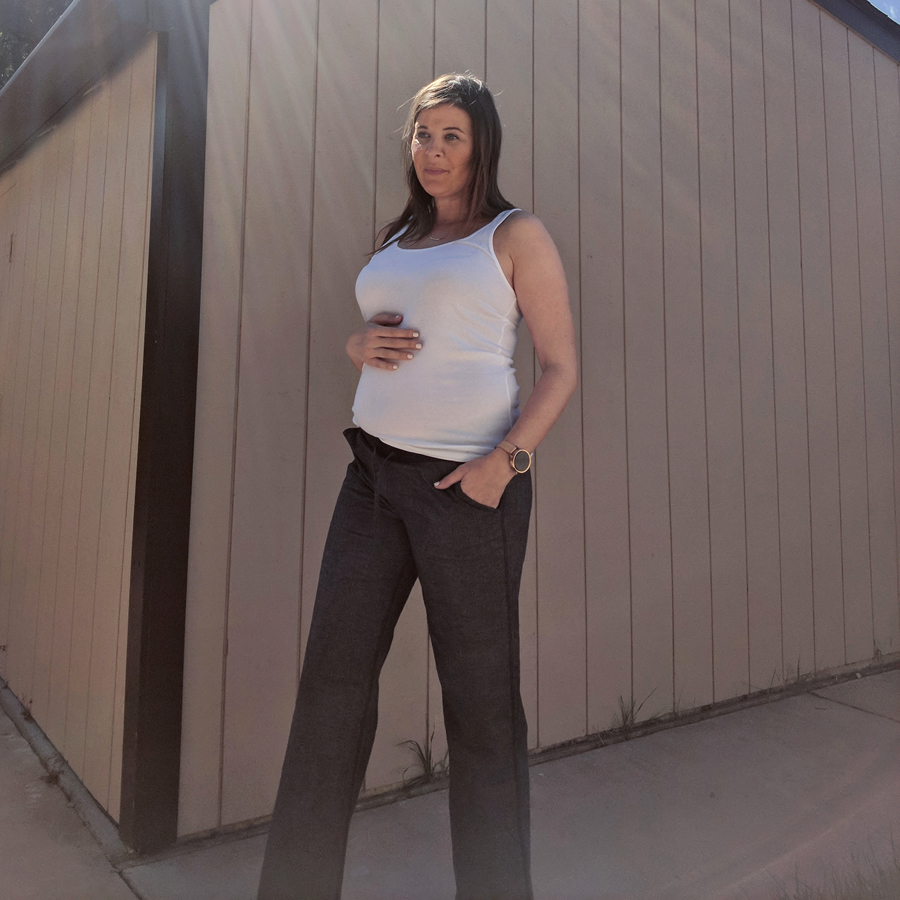 Wearing:
prAna mantra pant
White tank
Google Moto 360 watch
Shop the look:
Above: prAna mantra pant + prAna London jeans
Get 15% off your prAna order by using code FANG15 at checkout!
Thought I have to say, one of the first things in the apartment I packed for the move, was my clothing. I donated countless bags of unwanted pieces, and packed away 90% of my wardrobe. I have probably 10-15 tops hanging in my closet currently, and you know what? I don't miss the other items. Sure I don't even know what the heck is even in the packed boxes for heaven sakes. And guess what? I'm probably going to be ruthless when opening it back up to hang it all back into my closet — and back to the donation site with more bags. Now, let's see if I can do this with the majority of stuff (makeup, haircare, skincare, local friends — I know you'll want some! Ha!).
Who's ready for the weekend, raise your hand! Although I don't have a full-time job, I treat the stay-at-home sitch like one. I do the daily chores that I set out for myself, and whatever else needs to be done. Weekends are days off for everyone in this household.
What do you have on the go this weekend?
Psst..Can you tell I'm craving the oldschool blogging technique? Typing out thoughts in my head, not really spell-checking/grammar checking/etc. I am bringin' the good ol' days back you guys. Ha!!!