My co-worker and I went to get our nails done on Friday during our lunch break.
I got my second shellac manicure done. The last time I had these things on my nails was back when I went to California last summer.
Oh mojito memories.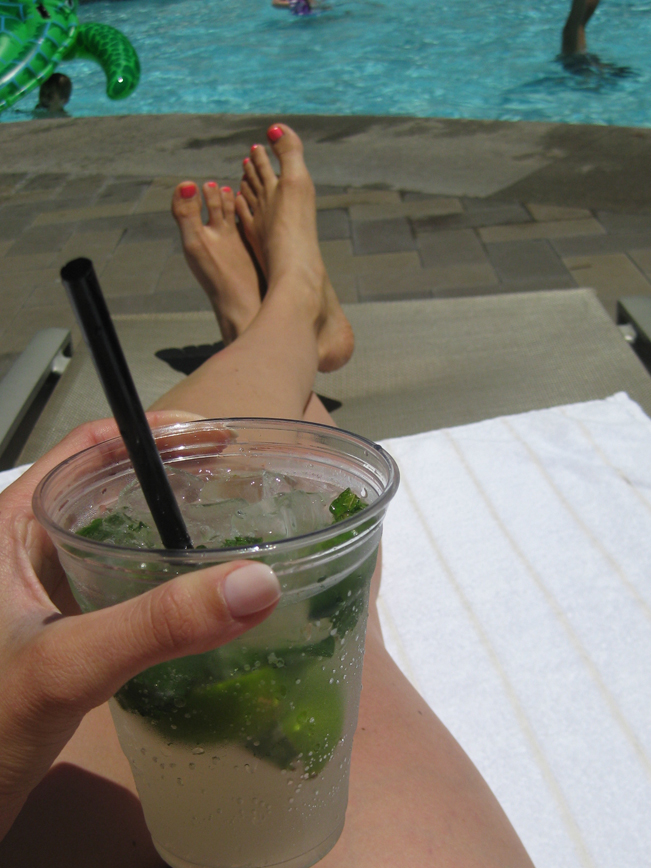 When I first went into the salon with L, I was a bit nervous because I didn't spot a color that I absolutely adored. I wanted something like I had in the photo shown above. In fact, I was wearing my own nail polish while I was picking out the colors. It's one of my ALL TIME FAVORITE colors to wear on my nails. A nice neutral white/pink, called Pink Slip by  Sally Hansen. I discovered this color from a receptionist at a hair salon once. I adored the color so much I had to ask what she was wearing on her nails. I went out and bought it the next day.
Did I mention it was my all time favorite color?
Well, when I went into the salon and the woman was trying to find a dupe for what I was already wearing on my nails. To no avail, she then convinced me to get this one color put on my nails. I cannot tell you how picky I am with nail polish colors. But,  of course we were on a limited time frame as it was our lunch hour. She picked out this pearl/opal color and said it looked way better than the nail color I had on previously. Oh, thanks for your opinion lady. P.S I hate this opal color already. (Not really).
It was the same brand of shellac (CND) that was used on my nails. But I'm not the biggest fan of pearl/opal colors. My Aunt wears it on her fingernails and always has. She's in her late 70's now and I just associate opal nail polish with….old ladies.
In certain light it looks like nothing on my nails, and other times it looks shiny. See above? Oh that nail polish! Such tricksters.
Then when I went to pay, she kept holding my hand and looking at my nails saying her color looked better than my all time favorite color that I had on when I walked in.
I'm sure the shellac will last a really long time and it is…kinda pretty. My co-worker gets hers done there regularly and it still looks perfect after 16 days of wear and tear. I also know that I could also request that she bring in that exact milky pink CND polish I had done last summer. I just wanted to tell a little story today, and maybe rant a little. hee hee! :)