Back in July I ordered my nephew a treasure chest for his 6th birthday (see the blog post). The treasure chest was shipped directly to my parents house in Newfoundland, from the seller. Then I started accumulating goodies for my nephew to go inside the box.
I didn't take many photos of the contents, but I did take a picture of the scroll (aka "Birthday card") once I was finished with it all. I stained it with tea, burned the edges and glued some sticks onto it to make it a real scroll. I sent that parcel down to my parents for my Mom to assemble it for me, and not everything I bought, fit inside but here is all of the little goodies inside for my nephew.
How adorable, right!?
The homemade treasure chest: Caenneth on Etsy. Kenneth was a pleasure to deal with and his craftsmanship as a journeyman woodworker with over 10+ years of experience, is incredible. Love this little piece! Read more below to see my nephew's reaction :)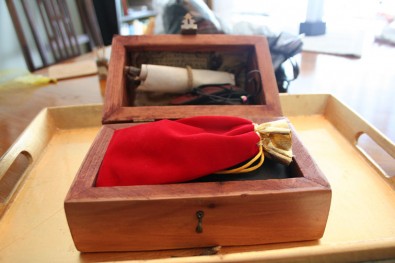 Red Velvet pouch: Smriti on Etsy (Seller is in India!) The velvet pouches come in a set of 5 and in either red, or blue. Smriti was very kind and great to deal with, we tried our best to get the pouches in time for my nephew's birthday but I ordered a bit too late, so I was unable to do so. I wanted everything perfect for this treasure chest for my nephew, so I was very patient in getting all of the key items to make it just so! :)
Medieval coin purse: KarenGunnaDesigns on Etsy. Plus the scroll, it's a little birthday card that I made him. You can see the close up of it below, if you click to enlarge the image.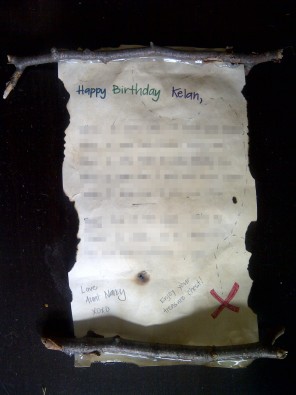 I blurred out the words, since it was a poem that my Aunt had written to me when I turned six. Now I'm passing the same silly fun poem onto my nephew. Oh I'm getting old, haha!
Kelan's reaction to his brand new treasure chest! I love how excited he looks.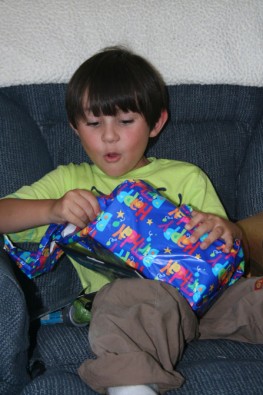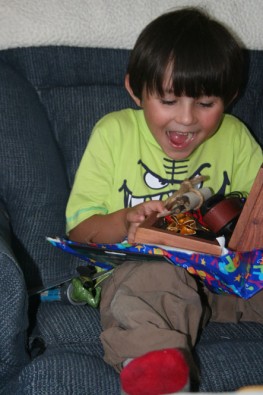 His favorite part of the gift? The three rocks I grabbed randomly, on a beach one weekend. Go figure.
I gotta say, I think it's really well done and a pretty cool gift. Man, I've got some good ideas ;)