One of the many benefits of having a blog, is getting to try out products that I probably wouldn't have otherwise tried, or purchased. This review, being one of them. Primarily because of the cost of the product ($59.99), but don't let that deter you from reading about it, or even going out yourself and purchasing it.
As always, I give my full 100% honest opinion. I'm hoping that everyone reading this truly appreciates my reviews. I put it all out there on the line. The blunt, honest truth whether it be good, or not so good. Thankfully, this one gets an A+ in my books.
I go through a ton of body exfoliators and lotions. Due to the nature of my already dry skin, I'm prone to it being itchy or flaky if I don't exfoliate on a regular basis. Plus, who doesn't want to have smooth skin all the time? Especially if you're like me and are semi-addicted to self-tanning. You don't want to have patchy dry skin while your tan is fading off.
A little background on GRATiAE. It's a Canadian premium skin-care company that offers certified organic products. They take minerals from the water and combines them with Sea of Galilee native flora and organic essential oils. Love how they adopted the name GRATiAE, as it originally came from the Roman empire who named the spring GRATIAE, meaning The Three Graces, after the goddess of charm, beauty and fertility in Roman Mythology.
To be quite honest, I don't read labels to make sure that they're organic, before putting them onto my skin. But the short ingredient list on these products definitely make me appreciate it. I mean, I don't intend to put unknown chemicals into my skin with body lotions, but it happens with generic brands. Speaking of which, which body lotion/scrub do you use on a regular basis?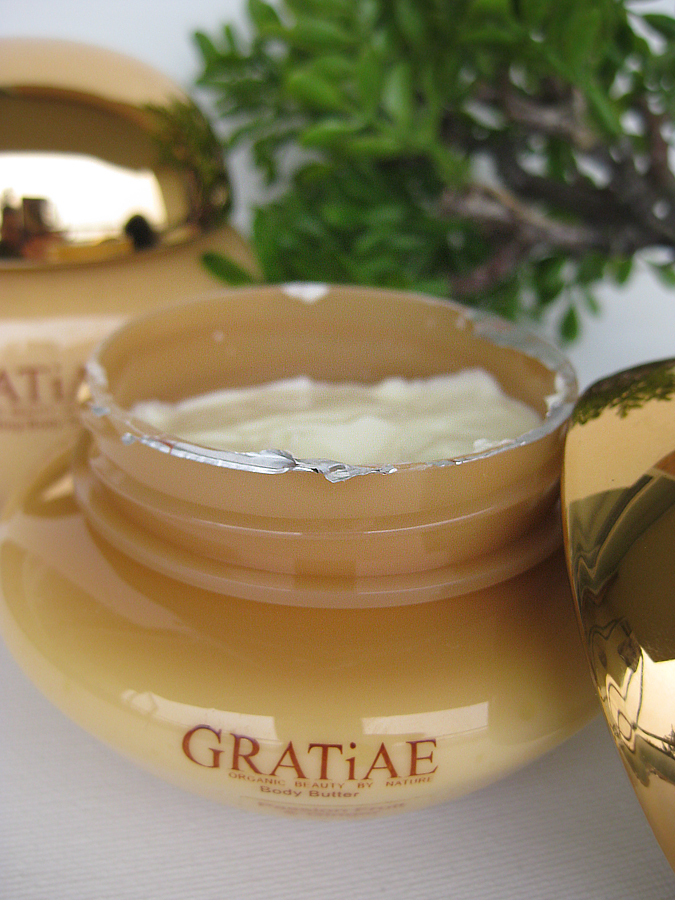 The Passion Fruit & Ginger GRATiAE body butter soaked into my skin but left my body feeling very moisturized for plenty of hours later. It felt rich but not too thick and the scent? Oh man, it literally smelled like a pina colada which smells great but tastes gross, haha.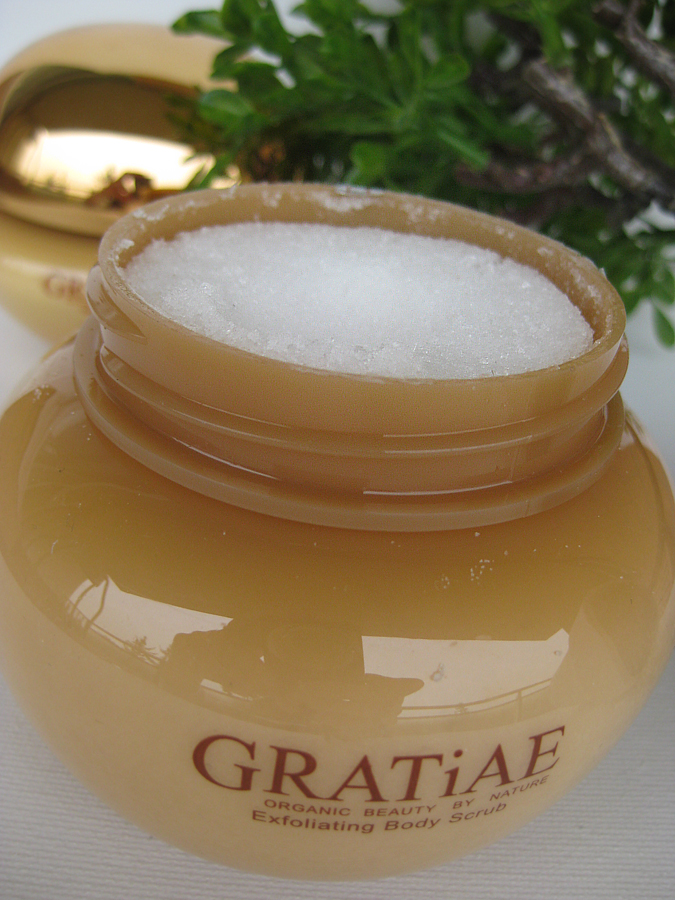 Passion Fruit & Lime GRATiAE exfoliating body scrub.
The scrub itself was a dry almost salt-like consistency. I found that the body scrub did its job, on wet skin while in the shower and it wasn't difficult to work with. Some scrubs end up rolling up into a little ball and doing nothing while I'm in the shower. This one was effective, and left me feeling very moisturized after. Had somewhat of a "greasy" after-touch.
Both products shown above retails for $59.99. A little steep, but that's what you get for a luxury product. Will I re-purchase these products once I run out? Probably not. Only reason, is that they're quite pricy and a wee bit out of my price range. If they lower the cost, I would reconsider for sure.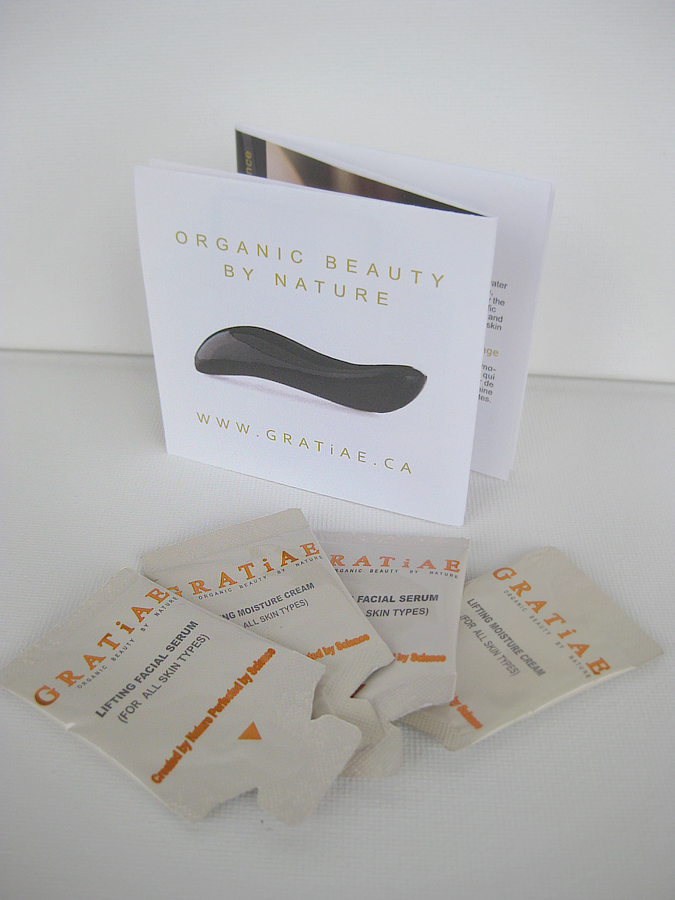 I also got a few mini samples of the lifting facial serum, and lifting moisture cream. Nice little moisturizers for sure. I usually use a serum at night before bed, and then moisturizers in the morning.

The packaging is in this luxurious looking tubs, ready to be whipped up on my body after a nice hot soothing shower. Unfortunately right now they're only in Alberta, and Nova Scotia but you can view on their facebook page a full list of GRATiAE retail locations.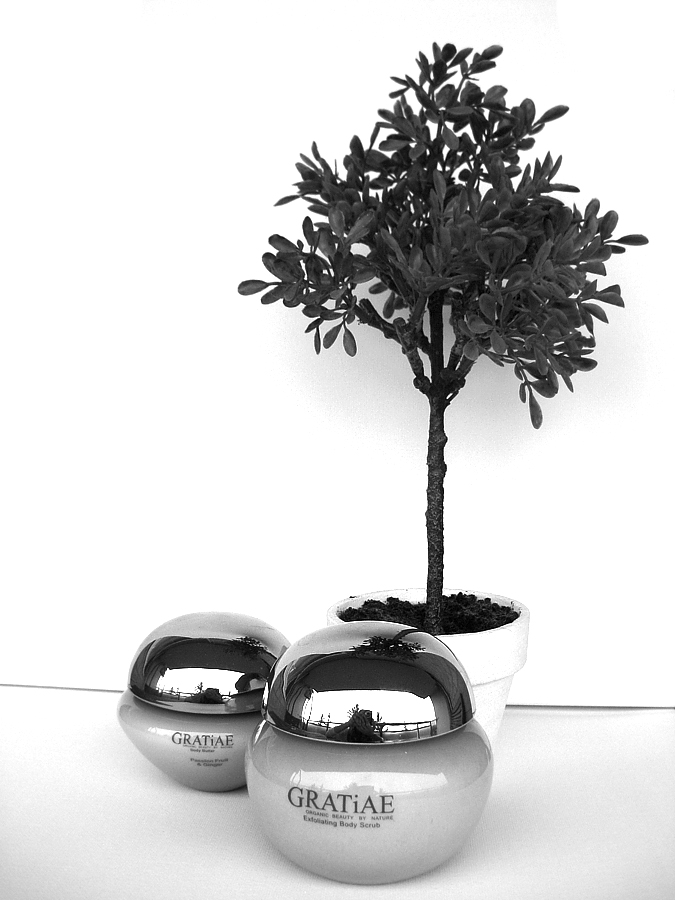 You can find GRATiAE on twitter, and on Facebook!