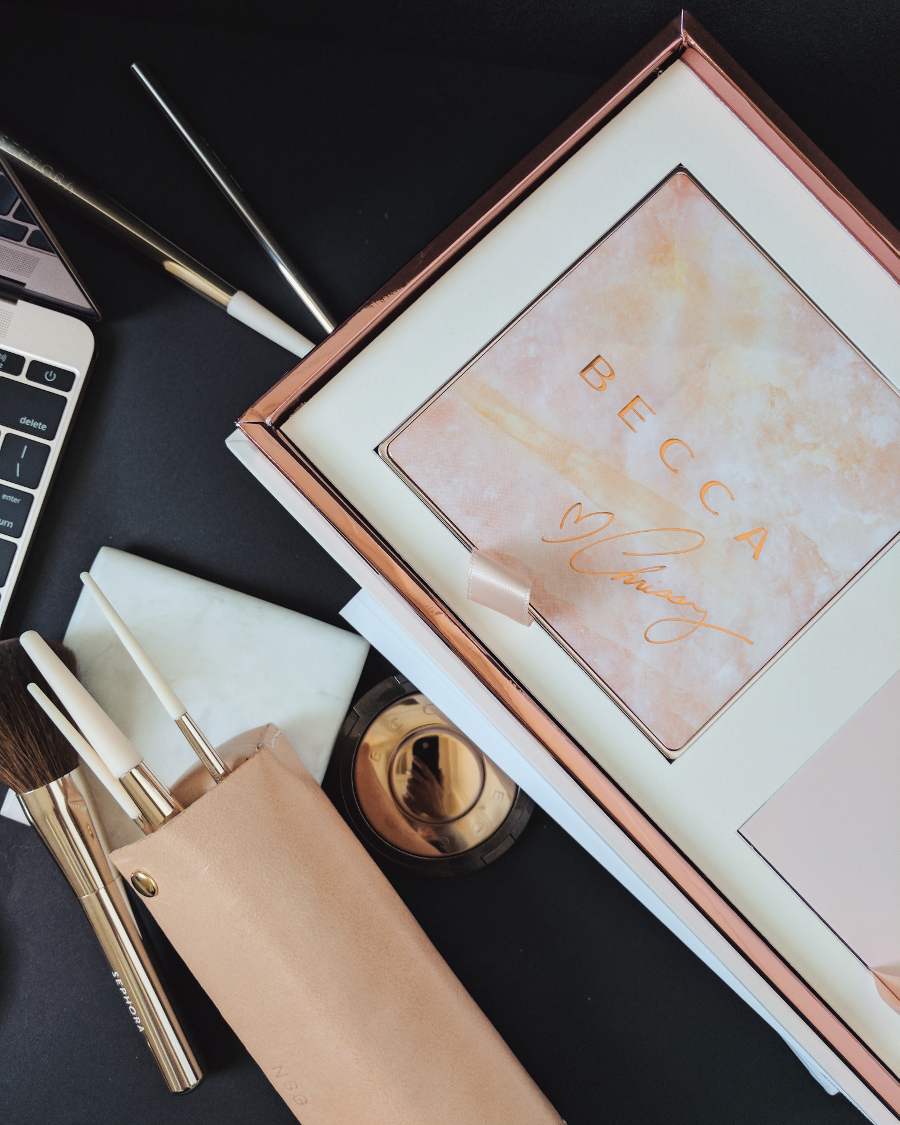 I have yet to dabble into the world of highlighting products, although I try to achieve a glowing complexion with the products when I wear makeup. Mainly for the fact I didn't want to add yet another step into my beauty routine. Why do I need a serum, primer, moisturizer, sunscreen, eye cream, then foundation, concealer, blush etc. I prefer a quick and easy go-to complexion look and amp it up with tons of bronzer. I guess you could say I have a signature look already? By the way, I totally do wear sunscreen on the daily. I am in California ya know, and this face doesn't look its age for a reason.
The BECCA Cosmetics x Chrissy Teigen palette recently launched and people are going ham over it. No wonder. Chrissy is hilarious and keeps it real, plus it's a highlighting palette. Everyone seems to love highlighting lately. I'm always late to the bandwagon anyway.
To be honest, I was most excited about the 5 new BECCA Sunlit bronzers they launched around the same time — and here I am pushing people to try that out (see my review here!). By the way I still don't know which one is my favourite because I keep rotating between the 3 darkest. Maybe you should just make your decision for yourself, rather than my recommendation, ha! Clearly I'm still excited over this launch. Alright back to the Chrissy Teigen palette.
The front of the palette is my aesthetic, with that blush pink marble and rose gold (though I do prefer gold over rose gold), with the colours of the product written on the back. Remember, I don't wear highlighting products ever so I think this might be a bit difficult for me to review as I have nothing to compare it to. But perhaps that gives me some leverage on the review. Thanks to my pal Erin, she suggested I'll tell you about the texture, and about the shimmer.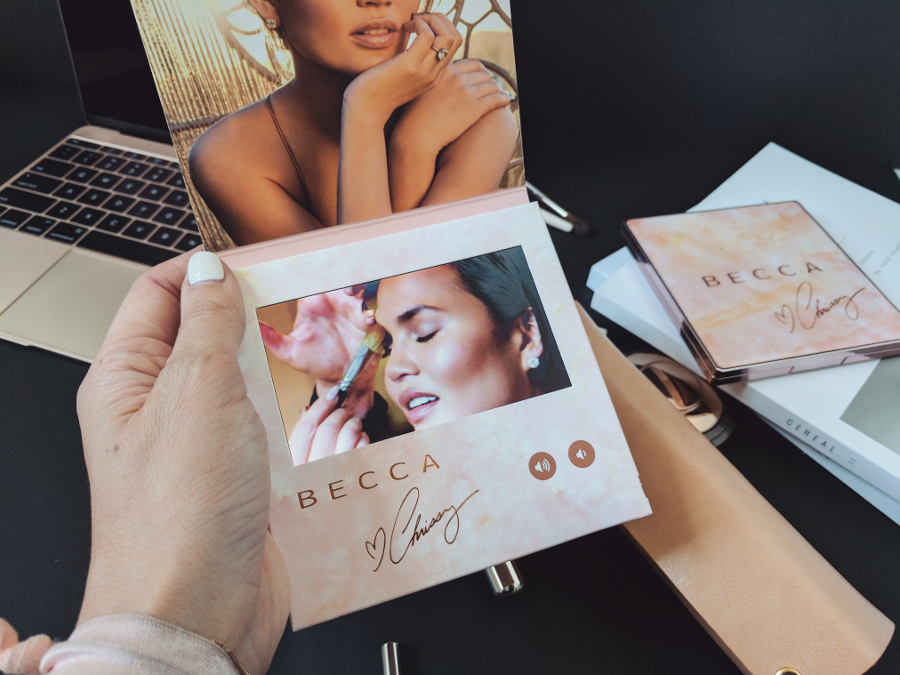 Upon opening, I thought it came with two palettes, and the other one I hadn't heard of (Lol… my bad). You know I'll be candid either way (especially if you saw my unboxing on Snapchat/Twitter video when I said I got a t.v. in the BECCA box haha!!). How rad is that? I must say it's probably quite the expense to build and send all those out. I'm not entirely sure what to do with it but it was a gorgeous presentation.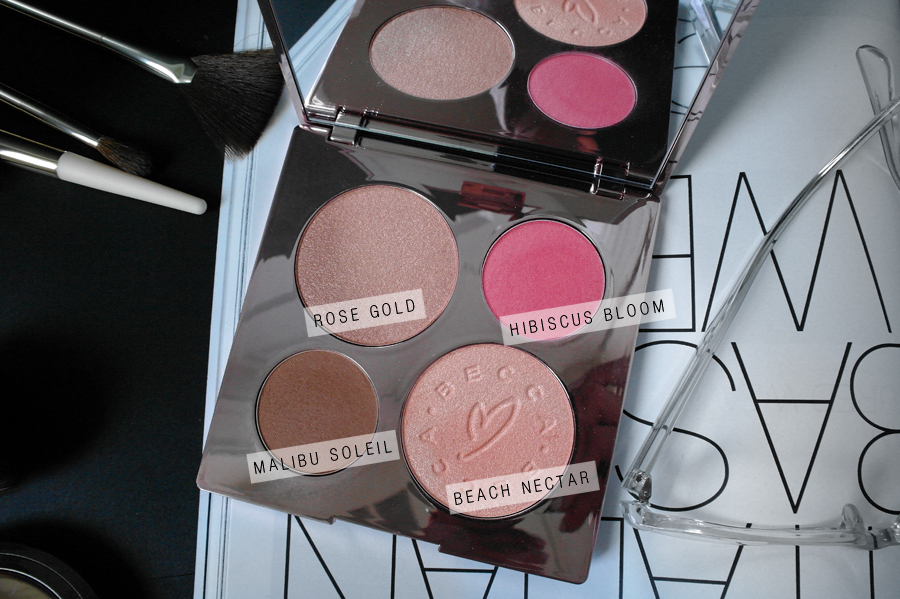 For $46 USD you'll receive 2 highlighters, 1 blush, and 1 bronzer. I'm not sure how much product you get in each pan, but the total for the 4 combined powders is: 15g. In hind sight, I wish they'd switch the sizes of the bronzer with the rose gold highlighter. I go to town on bronzer, but maybe others prefer highlighter to bronzer, and this is why the palette was made the way it was, given the name: Chrissy Teigen Glow Face Palette.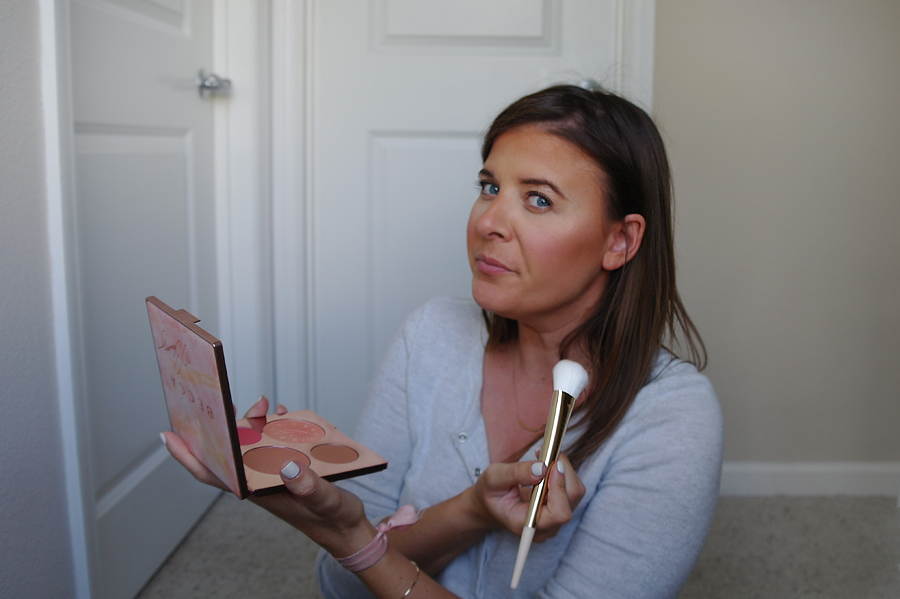 Upon first inspection, I noticed the mirror was absolutely huge — that's a great thing! It'll probably stay on my bathroom counter because I always need to check the back of my head on second day to see where I need to apply dry shampoo (hey, no filter over here folks). The mirror does not stay put where you move it. It'll stay open up until (lol gettin' technical here) it passes the 130°/obtuse angle. If you're sitting at your desk and you want to apply your makeup using this palette, you'll have no trouble — but open it further than that 130 mark, and it'll plop back onto your desk. I mean, if you cared that much — just tellin' you some facts. I also wouldn't travel with this since quite frankly I have a tiny makeup bag and refuse to put anything that doesn't fit in it, while traveling. Plus, I wouldn't want it to smash!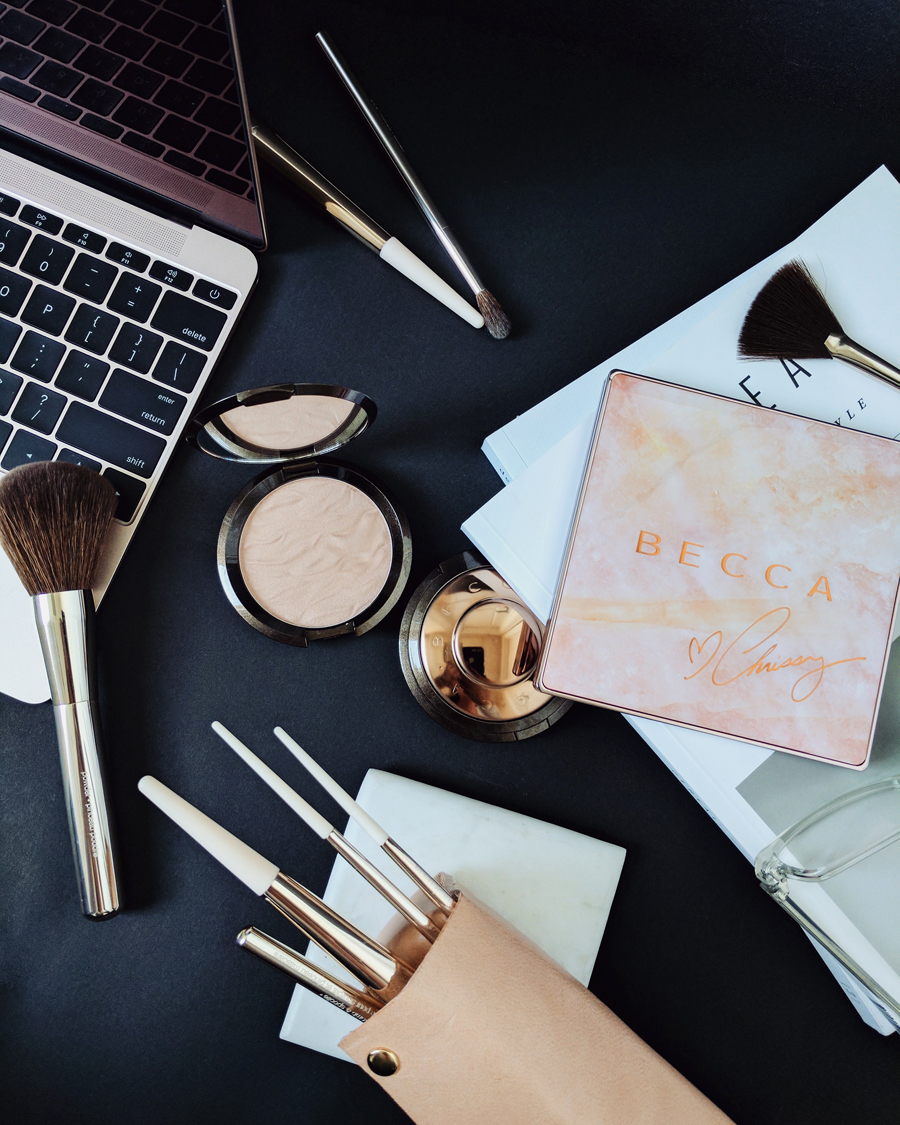 Check out BECCA's picture on Instagram showcasing how well it translates on various skin tones. BECCA's long-time favorite Shimmering Skin Perfector Pressed Highlighter makes an appearance in this palette (Rose Gold highlighter), along with three new shades created in collaboration with Chrissy — Shimmering Skin Perfector Pressed Highlighter in Beach Nectar, Sunlit Bronzer in Malibu Soleil and Luminous Blush in Hibiscus Bloom.
Each of the products felt silky to the touch, and blended out smoothly when applied. Neither of them are overly sparkly, nor chalky, and lordy for-the-blog I even tested these beauties out on my eyes, because I love a good diverse multi-use product. I don't have any dry skin patches on my face so I can't let you know if it does/doesn't cling to those.
Rose Gold highlighter|Â "Chrissy's favourite"
On my skin it pulls more on the reddish warm side. This highlighter has a sparkly sheen to it, larger sparkles than the rest of the palette but it's definitely not a chunky glitter as you can see from the swatches on my arm, above. However it's not as soft and buttery as the others, but not gritty. Maybe not as finely milled.
Beach Nectar highlighter|
A warm baby-peach shade. You know, like baby pink/blush pink; it's like that, but peach. My favourite of the two highlighters as it pulls more golden, but also felt softer in the pan than the Rose Gold shade, not to be mistaken with the word chalky, it just kicked up a bit more powder.
Malibu Soleil Bronzer|
This warm toned bronzer with incredible pigmentation has the least shimmer in the palette (okay the blush too isn't as shimmery as the highlighters, but that's to be expected, right? Highlighters gonna glow). It's not a complete matte bronzer, but the finish of it is quite similar to the Sunlit Bronzers, a hint of glow without being overly glittery/shimmery. I've been pleased with the BECCA Bronzers I've tried so far this past month (6 in total!) and they're all great if you're looking to add a new bronzer to your makeup wardrobe. Malibu Soliel doesn't resemble any of the new BECCA Sunlit Bronzers I received, I'd say the closest would be Bronzed Bondi.
Hibiscus Bloom blush|
The blush didn't seem to have much shimmer once applied to my cheeks. The colour leans more on the rosy peach side. Not too pink, not quite peach. Although swatched on my arm it wouldn't be something I'd reach for, but on my cheeks I like how it looks on my complexion. I'm definitely going to be combining the Beach Nectar highlighter with this to achieve my own 'custom' colour.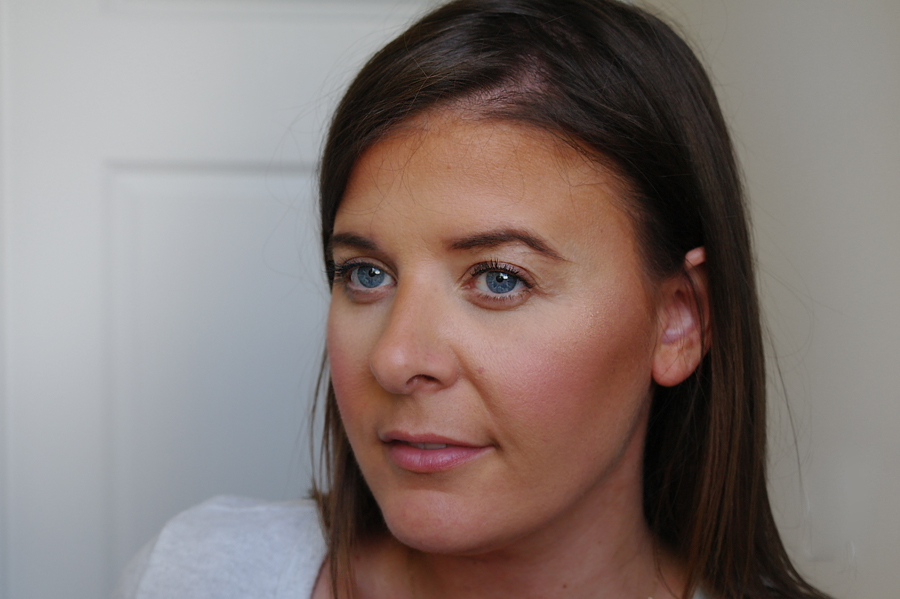 I used 3 of the 4 products on my face: malibu soliel all over, hibiscus bloom on the apples of my cheeks, and beach nectar on the cheekbones.
I'm pleased to announce that these aren't harsh highlighters, and look more glowy than "instagram-worthy" on the face, nor do they accentuate any pores. The right side I applied way too much and it definitely looked too crazy on me. A light hand is needed with the highlighters since they're so pigmented. Showing you my left, I kinda like a natural-and-glowy look, I'm diggin' it. However I doubt I'll add this extra step into my beauty routine since IÂ don't like the look of a highlight placed on the cheek bone.
Can I also add that I'm a bit upset that brands are releasing so many limited-edition goodies? What if I don't realize I love this palette until another year down the road? Either way you look at it, the palette is limited edition so I wouldn't hesitate to get your hands on it quickly if you want to add this to your collection.
Will the BECCA x Chrissy Teigen Glow Face Palette be a staple in your summer makeup routine? Shop the BECCA Cosmetics x Chrissy Teigen palette $46 USD/$54 CDN