Two food posts in a row? Now we're talkin'.
Baskets to give for any occasion is pretty much my signature gift to people. Having a baby? You get a basket! It's your birthday? Here's a basket I made for you! While I do love shopping for individual items for adding to a basket, it's always really fun to see how other people (meaning… companies) put theirs together. I'll probably save these items for Easter morning to give to my husband (and eat some myself, too of course.. duh I love me some candy).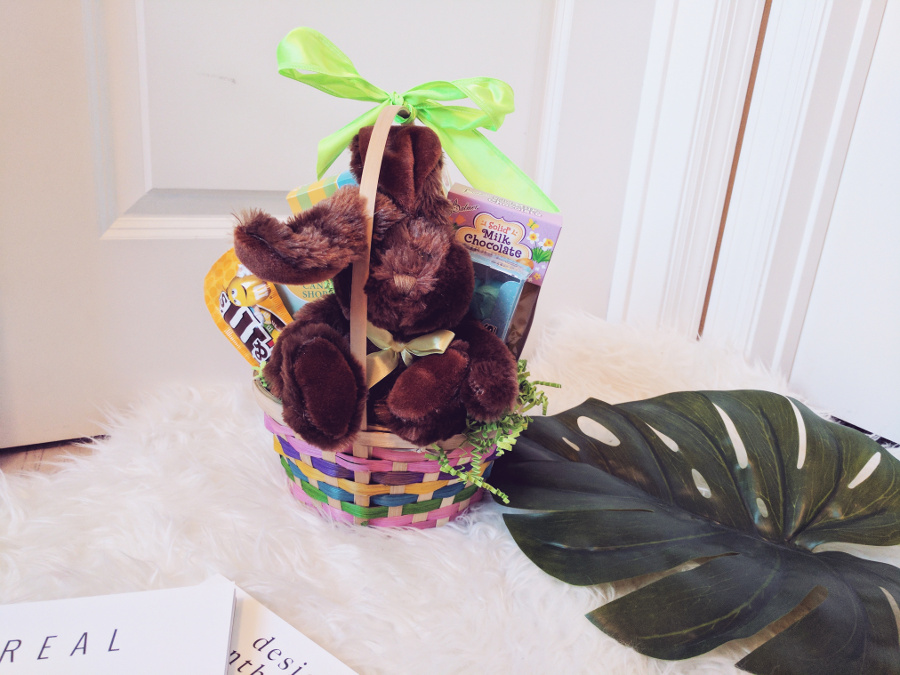 This lil' Easter bunny filled basket is the Classic Easter Bunny Basket (on sale for $44.99) from Gourmet Gift Baskets.
Oof. Pretty late to the game posting this, since if you order the basket now, it might arrive in time for Easter as they have a 'counter' on their site saying if you order in the next 22 hours, it'll get to your door on time! Excuses, but I've had a few things on my plate and haven't been blogging as much as I wanted to. BUT! Gourmet Gift Baskets not only does Easter goodies, I have another one coming up to show you in the future, for a nice Mother's Day present. Can you guys remember me blogging about Gourmet Gift Baskets a few years back? I searched my site and one of the first times I talked about the brand on here, was in 2009! Their site is still going strong, and selling everything from Easter Baskets, to Mother's Day gifts and everything in between. Huge thanks to them for sending this basket for review, too.
What are your Easter plans? I'm excited to finally have my husband home with me after him traveling on two trips — it's been a while since we've had a nice weekend together!