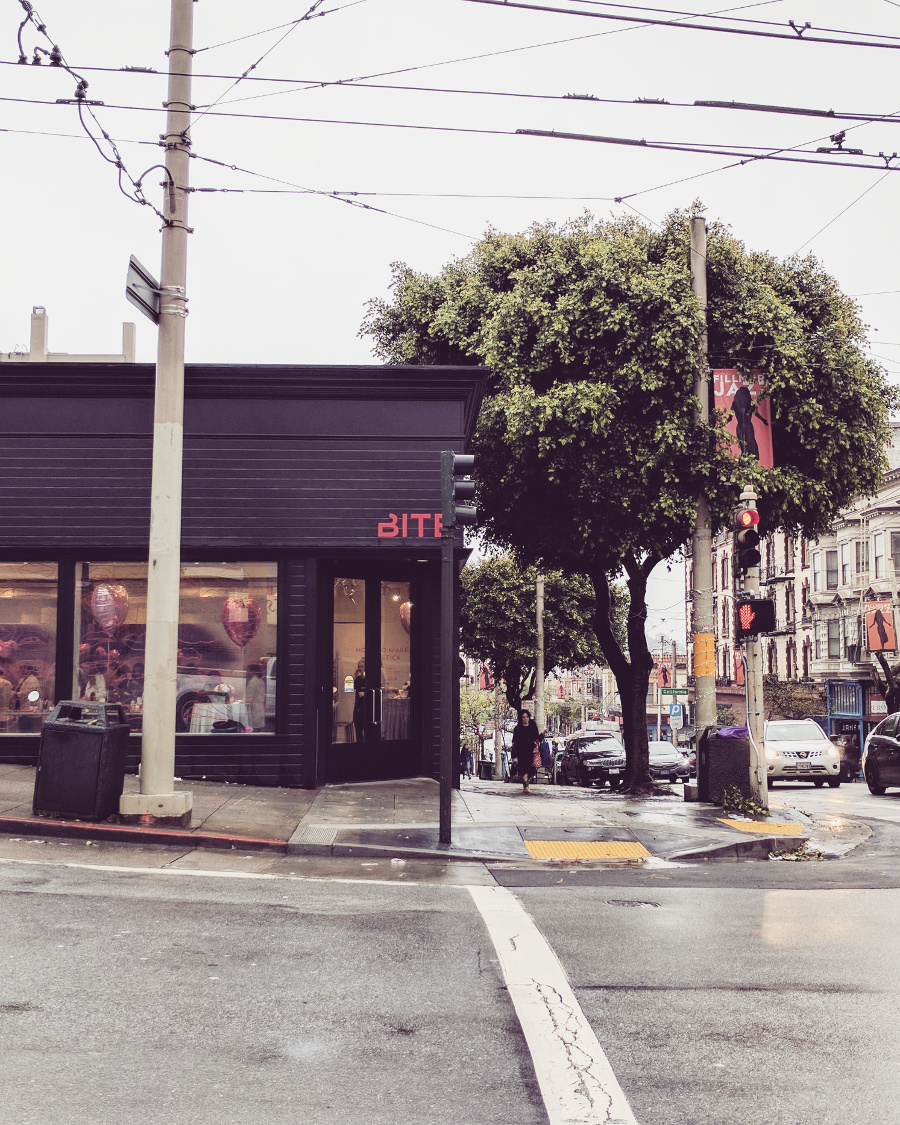 I would say my first introduction to the brand BITE Beauty was a pretty fantastic one. Having knowing about the brand, but never trying their products I was invited to create my own custom lipstick at the 4th, and brand new BITE Lip Lab in San Francisco on Fillmore Street.
As soon as I received the e-mail invite I knew immediately what kind of lipstick shade I wanted to create for myself. I have a Burberry gloss in a colour that I think is the perfect nude shade for my complexion, and I love it so much I wanted to make it in a lipstick form.
While the event happened a few weeks ago in the stormy weather (with tons of landslides, eek!) I'm Canadian and I'm going to admit that driving through the rain in Sunny California was just as bad as a mild Canadian snowstorm. Driving to The City (what the fancy folk call San Francisco) took twice as long, calling the roads treacherous was an understatement. California highways are not built for rain. Ya can say I was white-knucklin'er the entire way trying not to hydroplane too often. I made it, and I was early enough to snag free parking on a side street. Unheard of!
As soon as I stepped inside from the gloomy weather outside, I was greeted by many smiling faces, and Canadians too! Susanne Langmuir, founder of BITE is a Torontonian and came down for the event — definitely cool to meet her in person.
When you arrive at a Bite Beauty Lip Lab, you'll work with a Lip Lab Artist and have your choice of the following services:
CUSTOM LIPSTICK
1 lipstick | $55 -Or- 2 lipsticks| $80
a] choose a shade from 200 lip pigments
b] pick a finish: glossy sheer, matte creme, amuse bouche
c] pick an all-natural scent: 9 scent to choose from
–
BESPOKEÂ LIPSTICK
2 lipsticks | $150
a] Work with your Lip Lab Artist to create a unique lipstick colour of your choice
b] pick a finish
c] pick an all-natural scent
Katie, a BITE Lip Lab Artist sat down with me and we got to work on my custom lipstick! I prepped my lips before starting, and applied their Agave Sugar Lip Scrub followed up with the Agave Lip Balm. They gifted us those two in a goodie bag in addition to their popular seller, Lip Mask.
I was so prepared you guys. I sat down in front of their 'new neutrals' set of pigments as I knew that I wanted to venture into that realm of colours. Because I work with many lipstick colours as a beauty blogger, I already know what shades suit me and what don't. I found my peachy-nude shade on the second go, and was ready to select the finish and create the lipstick then-and-there. What I wasn't expecting was to choose a matte finish, assuming it would be drying for my lips. Not this one by BITE though, it was a matte creme and felt so comfortable on. I also got to pick an all-natural scent for my custom lipstick. I ended up mixing coconut and mint together for my nude lipstick! An odd paring, right? But it smells fantastic. Here's the colour on me!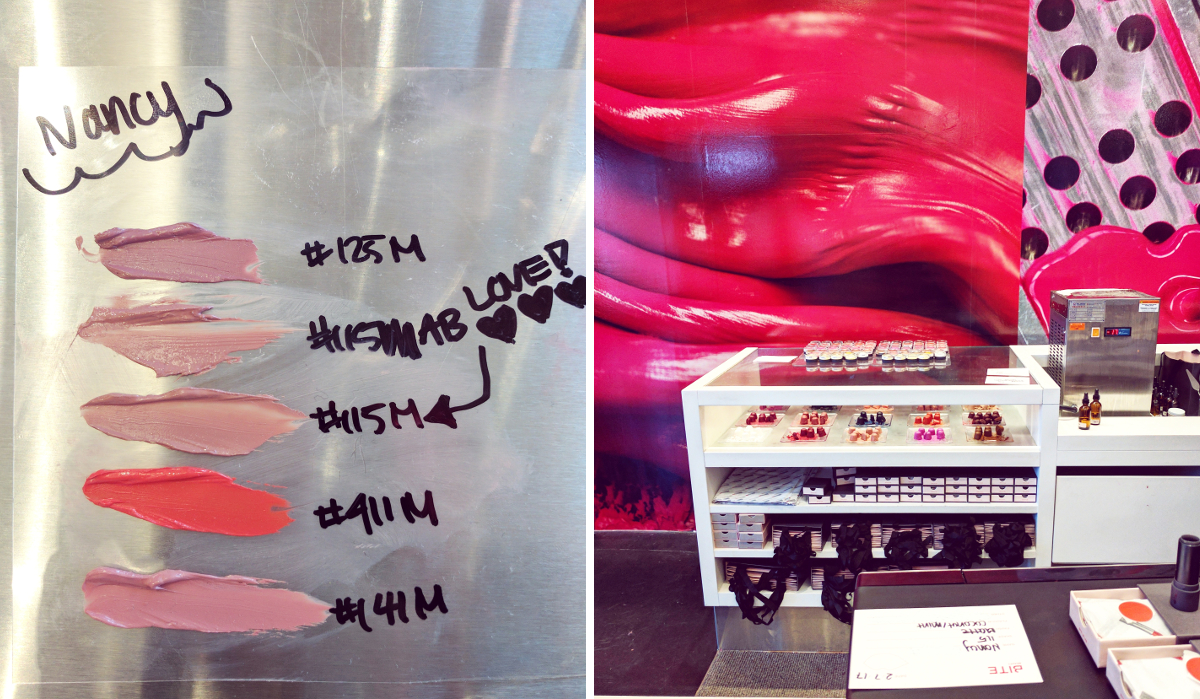 Since I found my perfect shade so quickly, we decided to play around with more colours. If I was going to made a second colour, it would hands-down, be this orange-red shade. I love a good orange-red and although definitely an outstanding bold colour, I think it pairs well against my teeth and skintone, Ha! Not humble-sounding at all, am I?
Most noteworthy, the entire experience at BITE Lip Lab is pretty impressive. From picking out your custom shade, to watching it get mixed with a finish + scent of your choice, then have it be frozen-in-time to a solid in 7 minutes, then carefully applying the bare naked lipstick colour to the plastic bullet. So fun! Therefore, I suggest a lipstick lover to do it at least once in your life, especially if you're one of those ladies who had a favourite lipstick that ended up getting discontinued. This is the way to bring that long-lost shade back to in your life by choosing the Bespoke Lipstick service.
Products mentioned:

BITE Beauty Lip Lab
2142 Fillmore Street
San Francisco, CA
628.444.3770
Hours: Monday – Saturday 11 – 7 / Sunday 11 – 6
Instagram | Twitter | Facebook