Since I'm still on the hunt of what is causing my hives (I've had them daily since July 2015) I haven't ventured out of my regular realm of skincare, because I knew what worked for me and I stuck to it. I used those products years before my hives ever appeared.
I've always been cautious of using different skincare brands hence why I've mainly stuck to reviewing makeup over skincare. You guys know what my holy grail skincare products are, if you've been reading here for any length of time (philosophy hope in a jar moisturizer, and bobbi brown extra eye repair cream). Those are the front runners for the past 4+ years.
But over the course of the past year, I've been interested in dabbling into natural skincare. Products that have better ingredients for your skin — maybe my skin really needs a break?
I reached out to a few natural skincare brands that I spotted on Instagram and I wanted to give them a try. They're around the same price range I've been paying for my not-so natural skincare brand I've been loyal to for the past few years.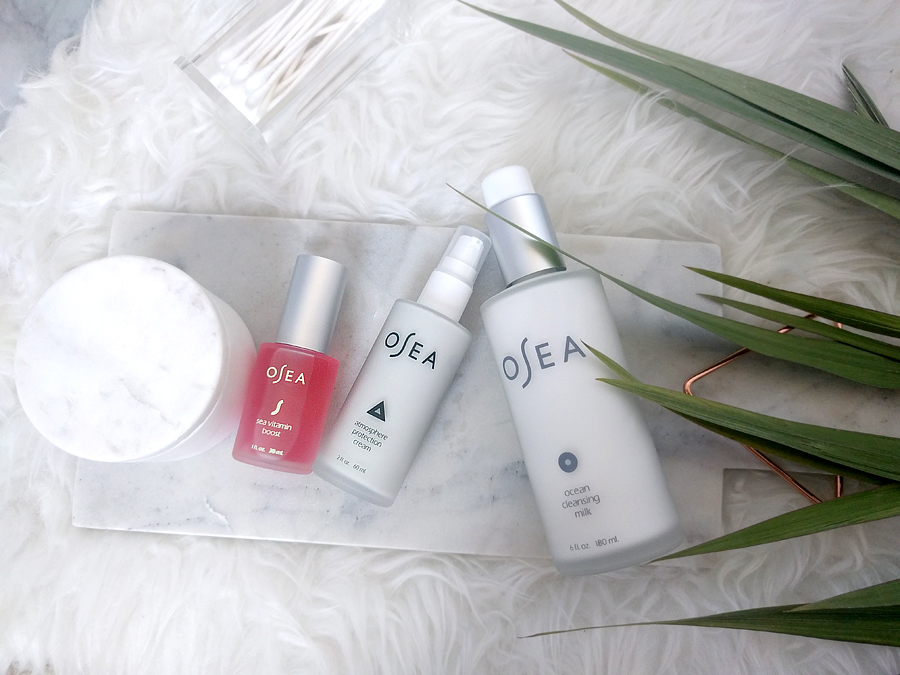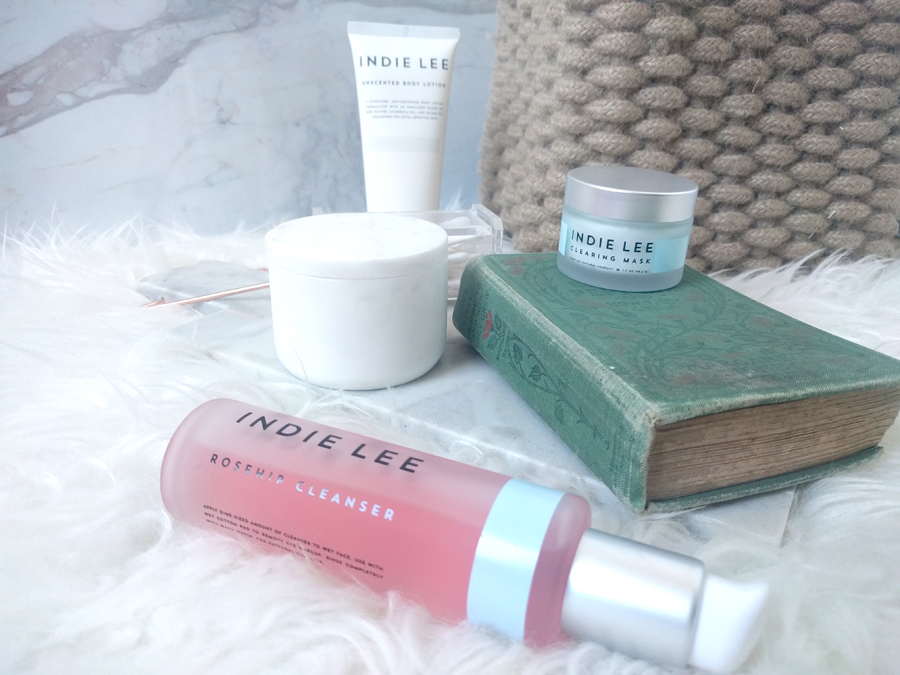 Introducing OSEAÂ and Indie Lee, two different natural skincare companies that I've been trying out since September.
OSEA is a family run business that has been on the go since 1996. They make pure, vegan, organic seaweed skin & beauty products. The story behind the OSEA is incredible, read here!
In 2008, Indie was diagnosed with a brain tumour that changed her life forever. Indie's story is incredible. You gotta read it.
It makes ME think — what am I using on my skin that's making my skin act up the way it is. To a newbie like myself with reading skincare/makeup label ingredients Indie Lee's website has a learning section about the good ingredients, and bad ingredients on what to watch out for, it's quite helpful and eye opening.
When Indie Lee's parcel first arrived at my doorstep I immediately busted out the clearing mask (see? I tweeted it!) and applied it onto my skin after a run and post shower. This mask is going to last me a long time seeing as I'll only be applying it to the places on my face that need extra attention and clearing out. Indie herself told me she gets like 30 masks out of it! On their website it says 15-20, but I've used it about 4-5x and there's definitely no significant dent into the product just yet. Perhaps I'll get the same amount of treatments out of this 1.7oz jar, too. Crossing my fingers!
Due to my weekly-self tan routine I notice that my pores get clogged with tanner (it's gross, I know) and need a little extra love when prepping my skin for the next week of darkness (lol). I'm happy to report back that the cleansing mask didn't get all tight on my face but it did the job at literally clearing my face (I notice some build up around the nose area).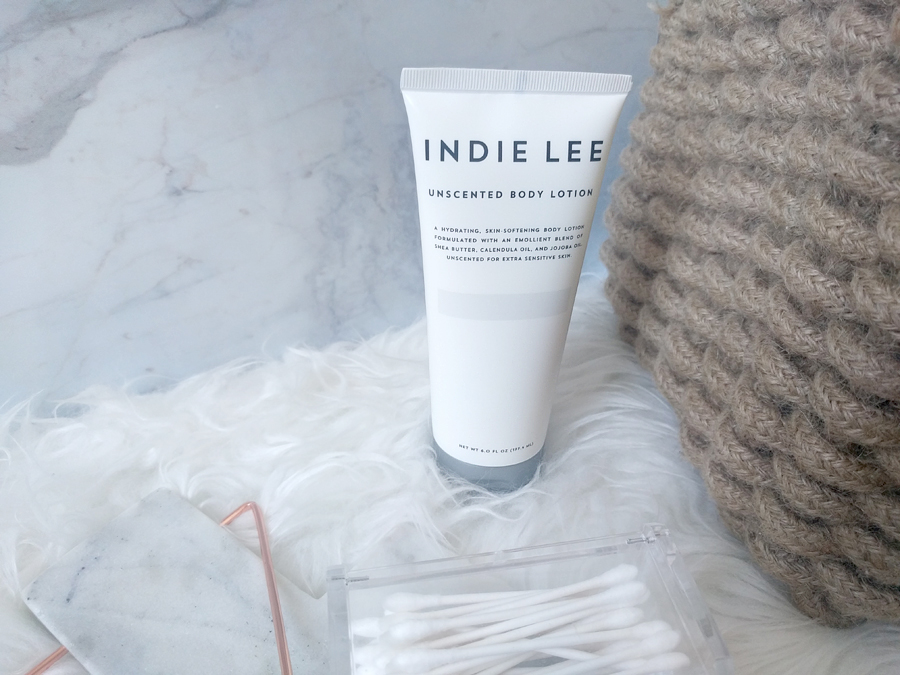 The Indie Lee Unscented Body Lotion will be great for me when my skin is acting up (unscented, and natural!) but I wish it was a bit thicker in consistency.
I don't ever want this Rosehip Cleanser to be used up! It smells amazing, it's a gentle gel-like makeup remover. I don't like anything that'll strip my skin, and this works similar to my philosophy purity cleanser (except that one is more of a cream-based).
Shop the products:
01 – Indie Lee | Clearing Mask $60 USD
02 – Indie Lee | Unscented Body Lotion $22 USD
03 – Indie Lee | Rosehip Cleanser $32 USD
—
04 – OSEA | Ocean Cleansing Milk $48 USD
05 – OSEA | Atmosphere Protection Cream $48 USD
06 – OSEA | Sea Vitamin Boost $38Â USD
OSEA Ocean Cleansing Milk:
  I've always been a fan of soothing cleansers for removing my makeup, this is similar to the Indie Lee one I mentioned above, it's gorgeous. Creamy, soothing, fragrance-free, anti-aging cleanser for sensitive skin and is great for rosacea and eczema. Key ingredients are DPHP (firms and restores elasticity), Water Lilly Extracts (soothes redness and irritation), and Rose Flower Wax and Cassie Flower Wax (for deep hydration).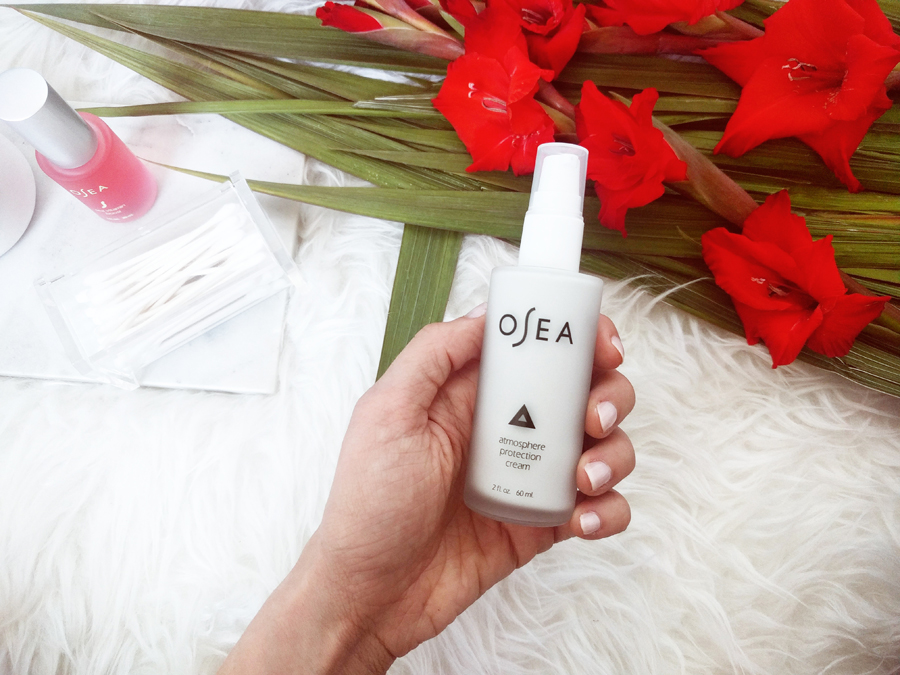 OSEA Atmosphere Protection Cream:
After I cleanse my skin, regardless of if I'm wearing makeup after, I apply this lightweight moisturizer over my face, but don't forget to applyit onto your neck and upper chest! You want to protect those delicate parts of your body from the sun, too. This moisturizer looks beautiful under your makeup, too.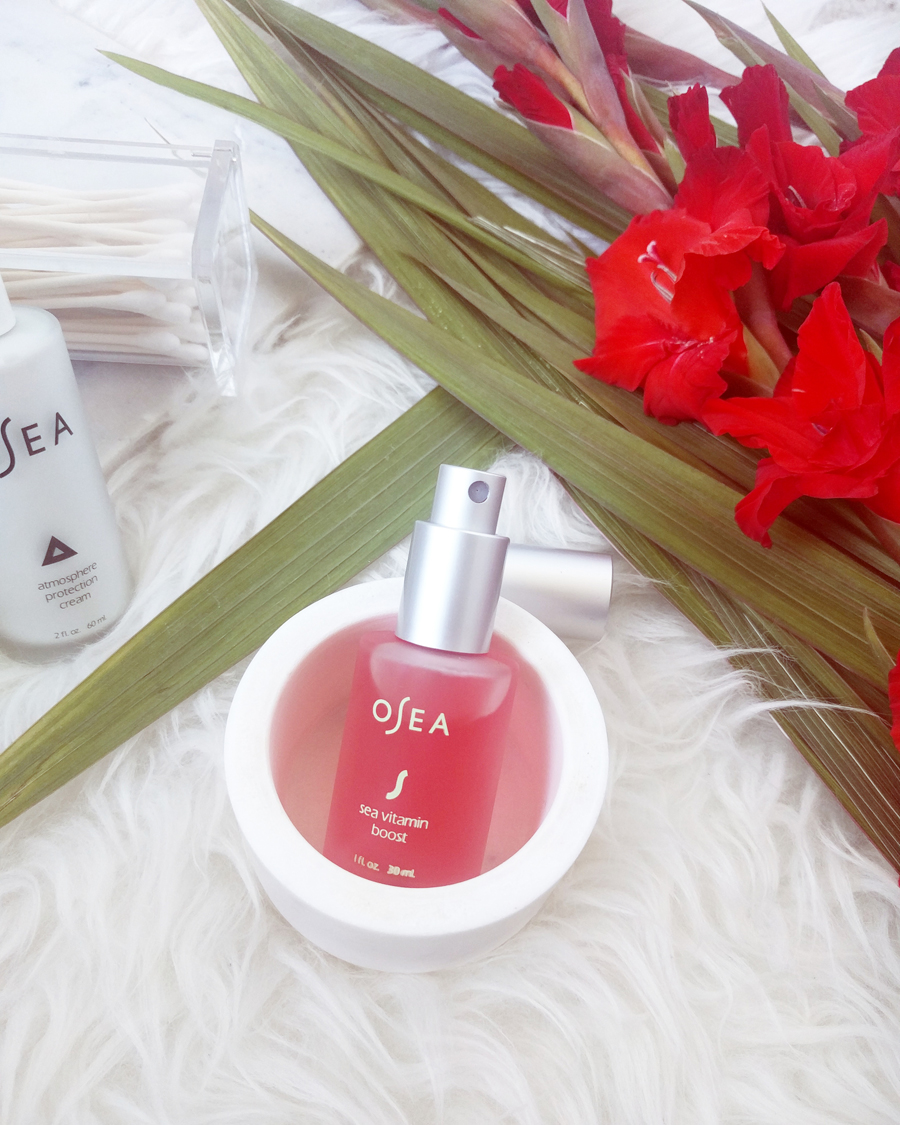 OSEA Sea Vitamin Boost: Â 
Mists are a must when living in California. Most days the sun is blaring down and it's pretty warm out. I actually have been keeping this Sea Vitamin Boost on my desk side, and I even apply it on my husband, hehe! It's really hydrating and soothing on the skin. You can even use it as a makup setting spray. Made with USDA Certified Organic Gigartina Algae, which boosts immune response and has been found effective for skin ailments such as psoriasis, and eczema. Pomegranate Extract and Red Wine Extract contain high levels of antioxidants to protect skin from cellular damage and even out skin tone.
If I had to pick one product from each brand mentioned I'd tell you to pick up the Indie Lee Clearing Mask (if you need that) otherwise definitely buy the Rosehip Cleanser, it's fantastic. Then for the OSEA products: the Atmosphere Protection Cream is a gorgeous silky moisturizer with SPF. Highly recommend you wear SPF every.single.day regardless of the season!