Looking back through my Instagram feed or even here on the blog, it looks like I haven't done an outfit of the day (OOTD) or showed much fashion, in a long time! If you're a long-time reader you know that I used to post OOTD's each Friday to showcase what I wore to work that week. I miss it! And to be honest, my outfits aren't as interesting as they once were, because sometimes I wear the same jeans and shoes multiple days in a row, just swapping out for a clean tee.
But I thought I'd put together some outfits that I wore over the last few weeks and post'em up in a nice little OOTD sort of post, because the feedback from the other one (months back!) was great. So here we are again.
So I guess Tobi liked my post back in May, and contacted me in early July to see if I wanted to work with them. I love it when that happens! Although, I've said before that Tobi clothing is sort of like the quality of Forever 21, there's definitely a few hidden gems on their site along with clothing I might not usually go for considering my age lol.
Let's get do it to it.

California Casual // Go With Me tank + Zara jeans + American Eagle belt + Fossil Emi Saddle bag + Charlotte Russe flats + Moto 360 watch.
I'm a huge fan of the baseball tee style, so when I saw Tobi had this tank available, I asked to review it. It's super cute, and it's sort of tunic length but has a slit up either side of the tank, so it's easy to do a front-tuck to show the belt/jeans combo. My jeans are worn almost every day of the week, I'm not ashamed haha, I love how comfortable they are. Now, speaking of comfortable, the flats are the complete opposite. If I want to wear them for any length of time, I put bandaids on my heels. Ouch!
Black and White // Target hoody + JC Penny pants + Charlotte Russe flip flops. 
 I mean, really I'm not entirely sure what I was thinking on the third photo. But I love it, so I left it in. Mid-dance? Robot? Who knows. Love this basic but semi-stylish outfit. The hoody is so lightweight, so it's easy to wear it in a climate like this.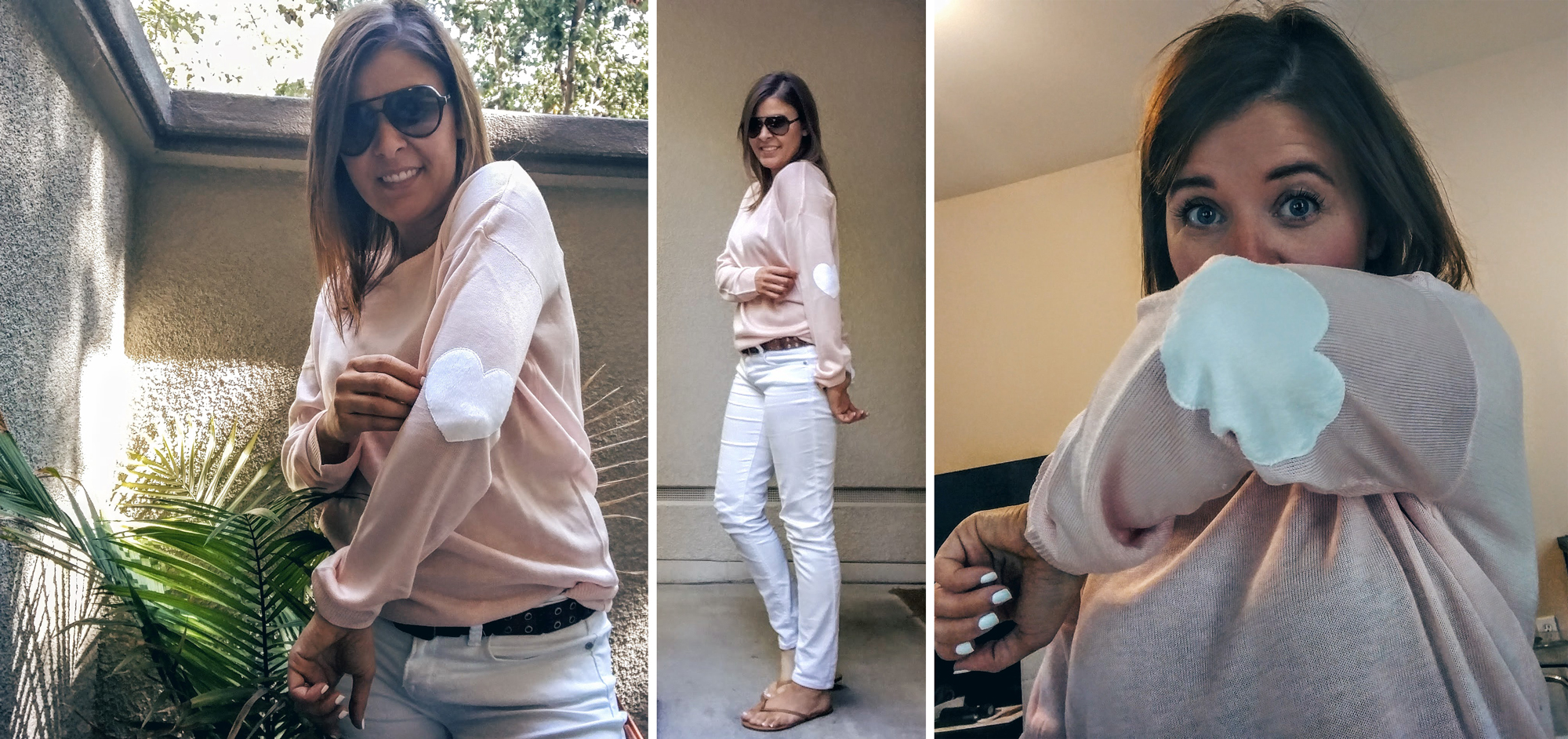 Wear your heart on your sleeve // Heart On My Sleeves Sweater +Â American Eagle Belt + JC Penny jeans + Charlotte Russe flip flops
The CUTEST sweater there was. The only size left was a large and I didn't care. I wanted it badly! It also comes in purple and a nice mint green which I was debating on getting. I think this outfit is the epitome of summer. Heehe!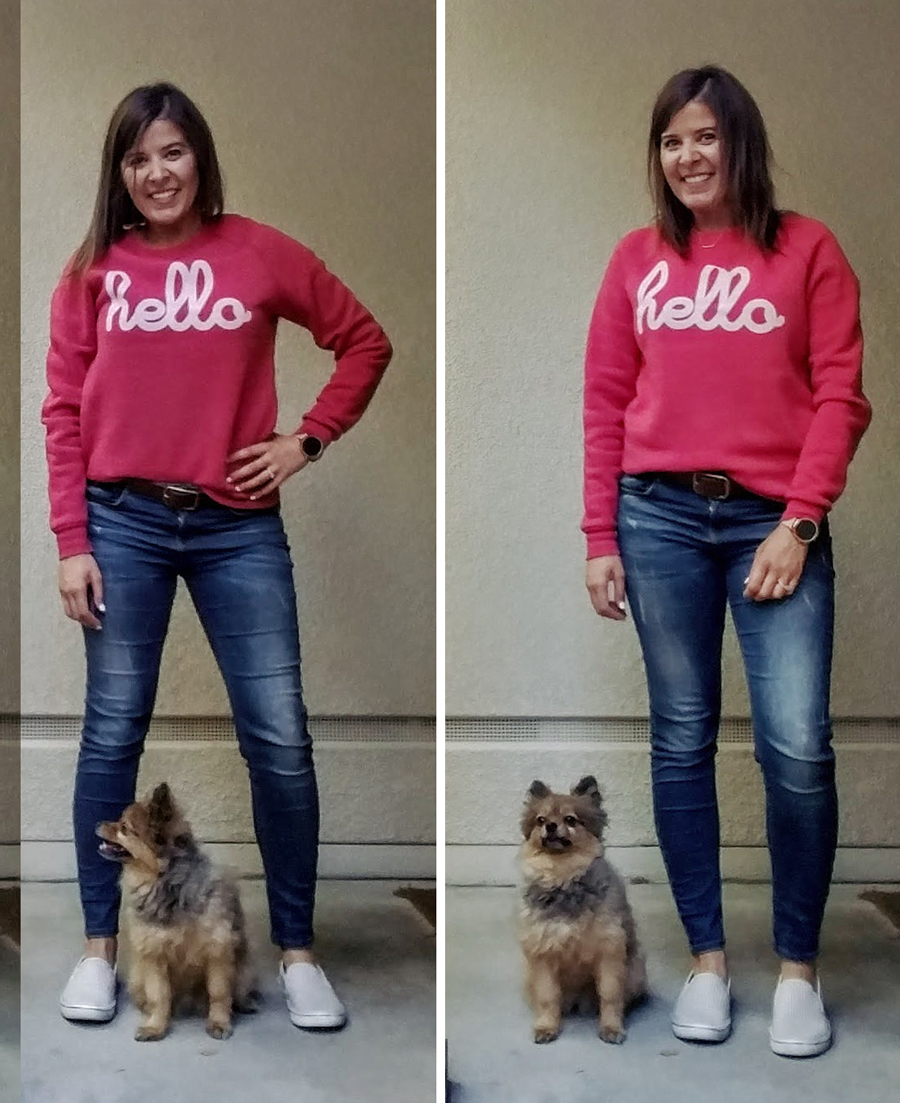 Hello! //Â Zara jeans + Target shoes + Hello sweater + Moto 360 watch.
Believe it or not, California does get 'chilly' (hey I've acclimatised here!) and on those days, I reach for a super comfortable sweater. This one is awesome, and so soft, and it's from the brand Hello. Cute hey?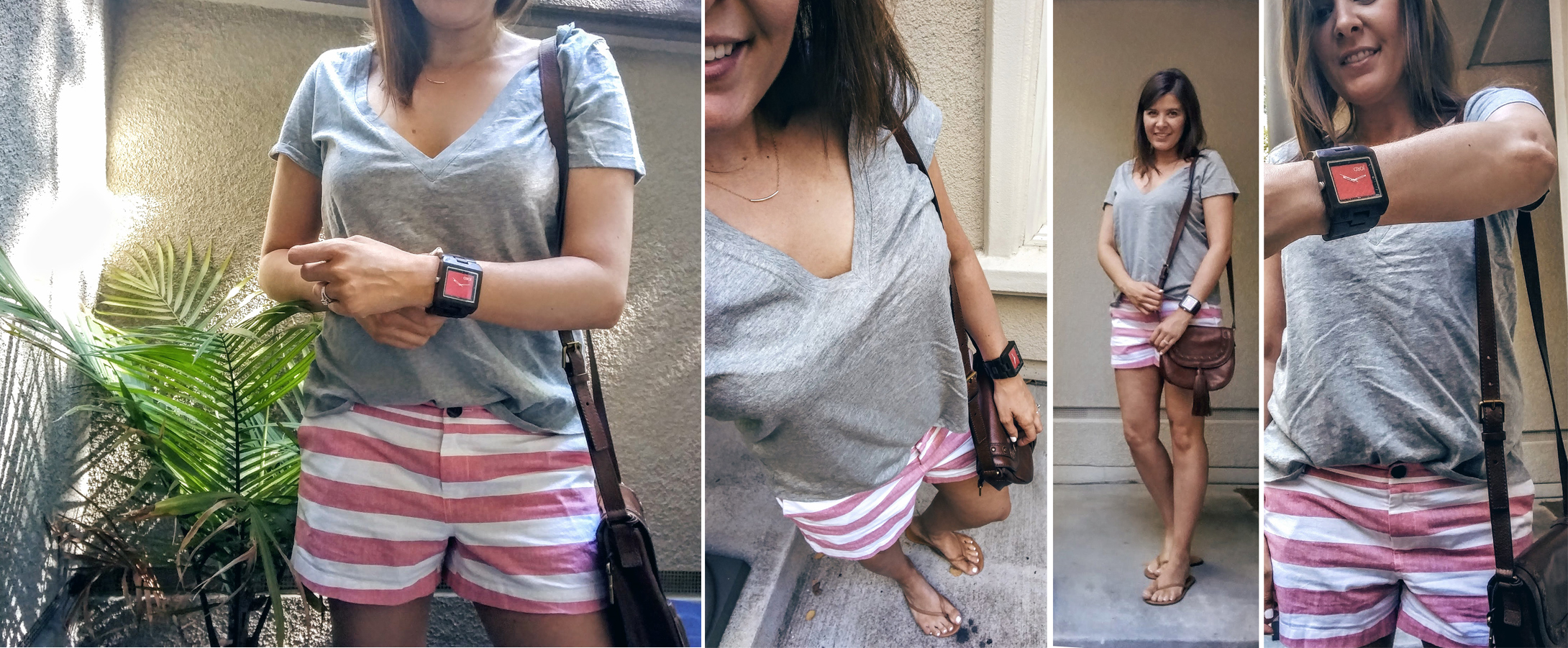 It's super hot out // Target shorts + Sunday Love Deep Tee + Jord Watch +Â Fossil Emi Saddle bag + Charlotte Russe flip flops.
Guys, I rarely wear shorts. There's only one particular reason I don't. I'm always cold! Even in California. So when I'm wearing shorts, you know it's a scorcher out there. I love these stripey shorts I recently picked up (on sale too!) for $12 at Target. Deals man. Deals. Love 'em. My Jord watch is new. It's from the men's section of their site, I love huge oversized watches, but I need to put a link back in because I asked them to send it with some taken out, and now it's cutting off a bit of my circulation hahaha. No biggie.

My Everyday Style // Pocket T-Shirt + Target pants + Charlotte Russe flip flops
Oops. I only took one photo this day. That's okay. I love the jeans, they're a deal from end of summer last year. They're ankle jeans with a bit of stretch to them. I like it. The shirt has a wider neckline than I anticipated, but otherwise it's pretty great. 
Comfy Casual // California Sweater + JC Penny jeans + Charlotte Russe flip flops + Moto 360 watch
A huge favourite of mine. I swear this sweater almost every day. Hey kinda looks like the reverse outfit from the one above. Guess pairing Green and White together is something I do.
Love the looks I created? Here are some more of my top picks on Tobi's site: white dresses, shorts,  gold dresses, peplum tops, sweaters, and fun tank tops.
Disclaimer: Tobi sent me 4 pieces of clothing to review.