I'm old school. I have never taken advantage of the 'notes' section on my cell phone. I prefer the instant gratification of crossing something out on my to-do list with a fine, crisp ink. And on Monday's I get my notebook of choice out (used to be MUJI til I got majorly upgrade thanks to Cloth & Paper), and get down to business writing down my to-do's for the day. I do this every morning!
But Monday's especially is a huge productivity day at home. From laundry to cleaning and vacuuming. In the afternoons I get to work and organize blog work. I also tend to go to my fave coffee shop to give me that jump start to the week. Anyone else old school like me and don't use their phone for tasks?
If there's anything I hoard in life, it's most definitely stationery goodies. I have piles of unused notebooks, and tons of pens – mainly in super fine point. I'm talkin' 0.25 or 0.38mm thickness, ah the scratchier the better! My husband hates my pens, so we have a stash of thick gel-like pens above the fridge that are for his use only. I've been known to make plenty of pen purchases from JetPen's online store. They have fantastic choices, and I often spend hours browsing for my next best stationery purchase. Ha!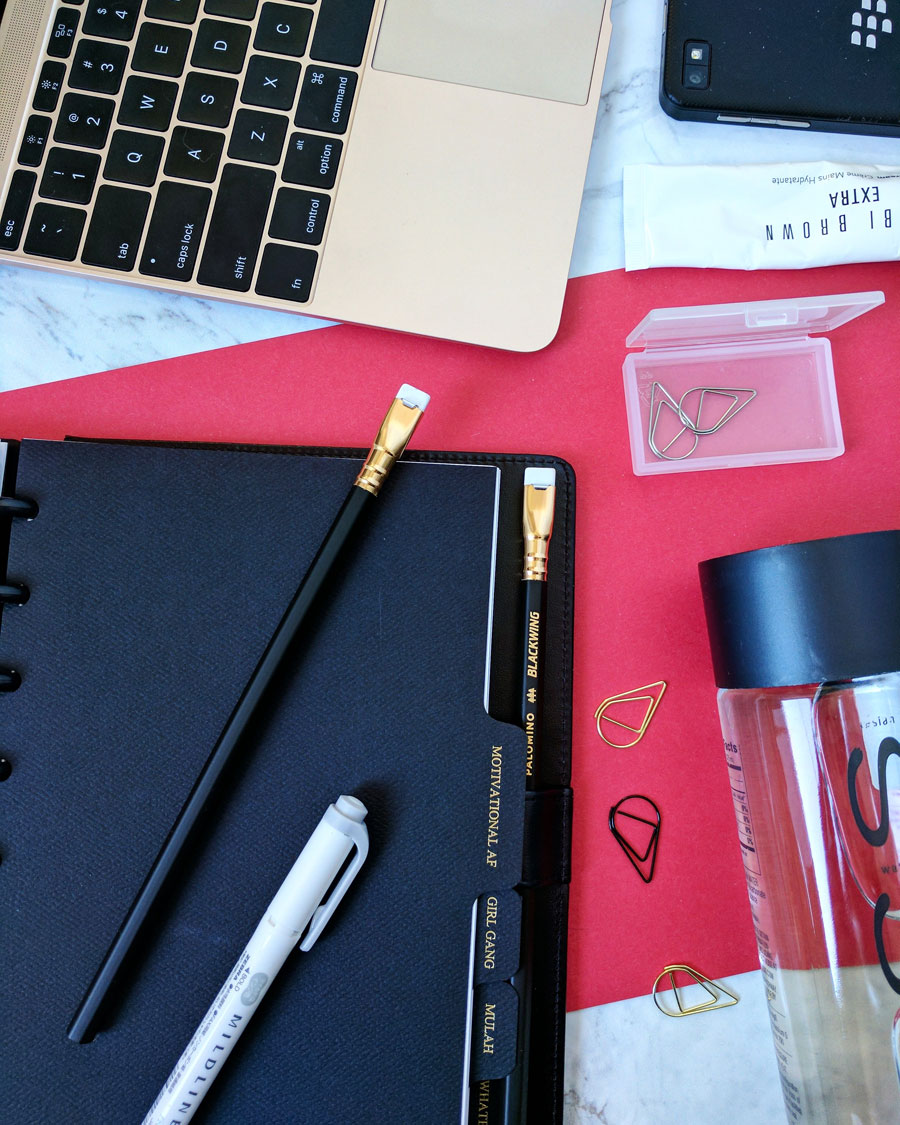 But the star of the show today is Cloth & Paper. I gotta tell you, everything is perfectly monochrome with that minimal style everyone is grasping at these days. And I don't mind one bit, it's gorgeous. Basically I'm telling you, you need to upgrade your stationery supplies with goodies from Cloth & Paper. Omg ♥
[items shown:Â Gold foiled black dividers (girl gang set), folded planner insert cards, grey marble sticky notes]
I've been eyeing up Cloth & Paper's Instagram feed for months on end (I'm featured on their page, too btw!!!). Their online store is soo aesthetically pleasing and their flatlay game is strong. I reached out to them in hopes of a collaboration, and they happily sent me their January Stationery Box, where they teamed up with Office Depot. Plus…. 15% off for you guys, too. Um wicked. Use code SPIFFY15 upon checkout. Code cannot be used with their subscription boxes.
Black leather notebook goals. The funky pencils were purchased by me (from that jetpens site I love). For the January Stationery Box, all the papers I received have been punched to fit the Tul System for the Office Depot collaboration.
Thanks for Cloth & Paper for the January Stationery (subscription) box!