I'm all about the Bioderma products for the past couple of years. Their incredibly popular micellar water is still hard to purchase here in the USA, but it's readily available at stores in Canada. In fact, the micellar waters were included in part of my SpiffyClaus event back in late December.
While I was home from December to mid-February, I received a parcel in the mail from them and only had a chance to try the items out a handful of times (because there wasn't enough room in my luggage to cart a couple of litres of bath products back to California with me), so I left it with my Mom and she's been using it ever since. But I can review what I've tried, since I had written a few notes down, before leaving Newfoundland! Here we go :)
Bioderma Atoderm Shower Gel (dry sensitive skin) $19.95 CDN: You can see from the sample I have in my hand, it's a clear liquid consistency, and has a creamy foam texture when latered onto the skin with your loofa. I loved that it came in a pump bottle, since a lot of shower gels have a squeezey tube you have to fumble with in the shower. It's a huge 1L container too, so it's going to last you ages.
Bioderma Atoderm PPÂ balm $29.95 CDN: More like a lotion than a thick balm, it was pleasant to apply all over the body after getting a warm shower on a bitter cold Canadian winters day. My skin was still acting up with the whole hive-situation back in Canada, so this was nice and soothing to apply, since it didn't have a scent and it wasn't too thick or irritating on my skin.
Bioderma Sensibo H2o makeup wipes: I'm a huge fan of makeup wipes, and actually went through 2 packages of them while I was home in Newfoundland. They were a bit more dry than I was expecting. And as most of you know I don't wear a ton of eye makeup or heavy foundation, so this did the job — but I wish they could add a bit more moisture to the wipes.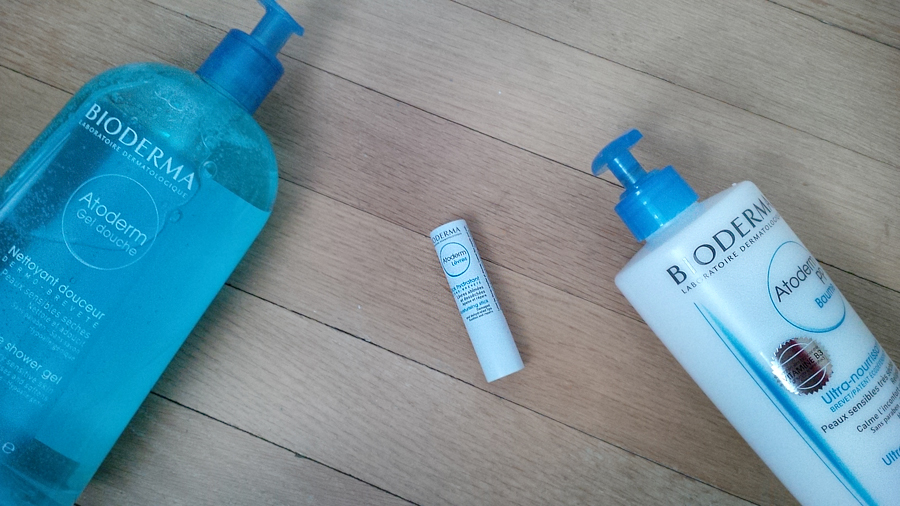 Bioderma moisturizing stick (damaged and dehydrated lips) $6.95 CDN: I have been buying this lip balm for a couple of years (the bioderma one shown here, and the one from Avene are my two favourite lip balms, ever). I didn't open this one because I have a few in rotation at the moment, so this one stayed home with my Mom.
If you have sensitive skin, try out Bioderma products since they are hypoallergenic and paraben-free.
Products were sent from Bioderma for review. Opinions are my own. I have been using Bioderma for years prior to working them!