Like many brands, Dior is getting in on the contouring, sculpting action too. And rightfully so! It's the way I love to apply my makeup on a daily basis, sculpting my face and playing around with it all to create different looks.
Dior Diorblush Sculpting Powders in Pink Shape (left) and Coral Shape (right), it also comes in two contour shades (see Julie's review of the brown contour shade here). While I'm not comfortable with highlighting my skin yet, as much as I love a nice glow to the face, I appreciate that Dior made the blush side of the compact much larger than the highlighting side.
Gliding on smooth, opaque and with perfect blend-ability, these two sculpting blush-highlighter duo's are easy to wear and apply. As you can see, they even come with a mini sculpting brush, which I don't mind using with it (for the most part I throw out a lot of the brushes that come with compacts, but not this one!).
See them in action, on my face.
Before and after using blush. On the right picture, Coral shape is applied on the left, and Pink Shape is on the right. When I have my self-tan applied, I love using the Coral, and when I'm a bit pale, I opt for the Pink!
Up close 'n personal swatches:
Pink shape blush on cheek.
Coral shape blush on cheek. Blushes were applied heavily so it'd pick up on camera!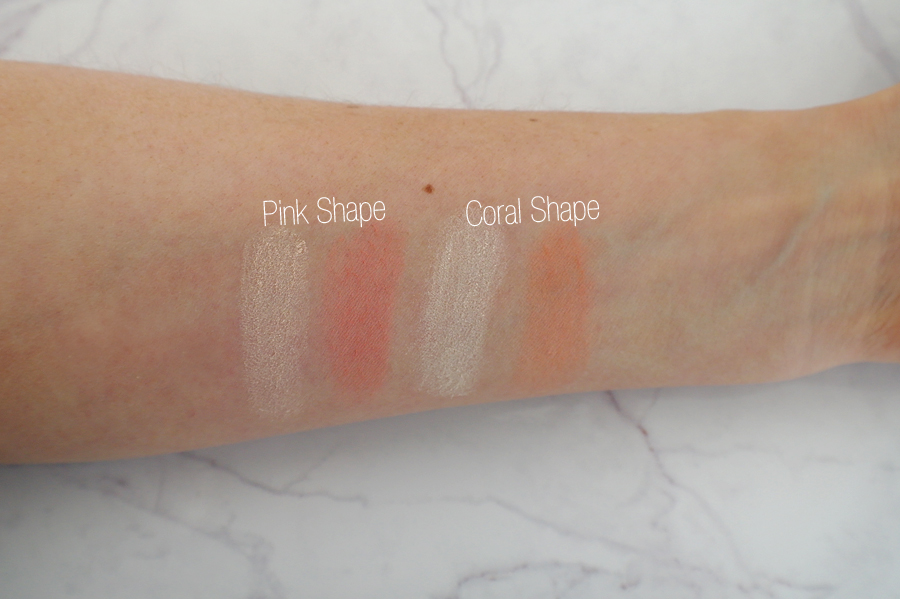 Dior Diorblush Sculpting Powders in Pink Shape and in Coral Shape.
And if you want to get real crazy around these parts to even out your cheek swatches, apply them together instead of removing your makeup and reapplying. Hah — I mean it works, right? My pal Zoe said it perfectly in her review of the two blushes, that the two gives natural looks to the skin and would work great on skin of any age.
Dior Diorblush Sculpting powders ($43USD / $54CDN) are available at Dior counters.