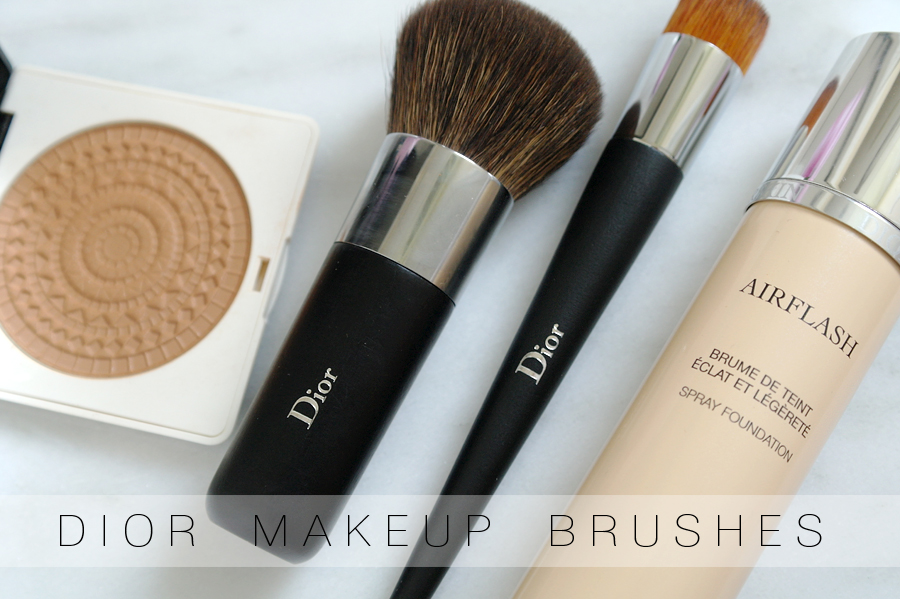 Here's something I haven't spoken about with you guys on my blog before, Dior makeup brushes! I've had these two Dior brushes for months, and I've been using them — just not speaking about them. Guess now I should share the love of them on my blog, and let you know what I think of them. Spoiler alert, they have stuck around my makeup bag ever since!
Dior Fluid Foundation brush is a brush I prefer to use when I am wanting a higher coverage, flawless face due to it being so dense. The fluid foundation brush mimics synthetic fibers, with the softness of natural fibers. It's a layered and tapered brush, so it applied foundation easily but quickly too. The brush is small enough to fit underneath the eye to blend in your concealer, and perfect to glide softly around the nose, making sure you don't get that caked-on-foundation look around that part of your face. 'Cause sometimes, that happens! But with this brush, it won't. I feel like I look totally natural when wearing makeup, using this brush. Plus, I love how slim/tiny it is.
Dior Kabuki Brush no. 17 has been the brush I've been reaching for the past few weeks to apply a quick bronzed and chiselled look to my face, without having to blend it out after. Hashtag I use this when I feel lazy. This does it all. It's not the softest makeup brush I own, but it's compact enough to fit into my mini makeup bag, does an excellent job of getting the job done quickly, and picks up the perfect amount of product. To apply my bronzer, I lightly dip the tip of the brush head into the bronzer, and apply my bronzer using circular motions allllllll over my forehead, under my cheek bones, a touch down the bridge of my nose, and finally finish off with a dab of bronzer under the chin #EraseTheDoubleChin.
Do you have any Dior face brushes? What one's do you use? If not, what is your favourite brand of makeup brush?