A complimentary Dior facial that you can take advantage of. Do I have your attention now? :)
The Dior Beauty Boutique store exudes pure luxury. Its shiny floors, comfortable couches, and plenty of Dior products to play around with and test out. Many of the items, much too far out of my budget, might I add. However, I definitely have a love for Dior and do know a lot about the products as I've been using a lot of it on a daily basis for the past couple of years.
Although shopping there when it first opened last year, I had no clue Dior Beauty Boutique at the Westfield Valley Fair Mall had a spa room. It was only recently when I connected with Valley Fair Mall and then to Dior, where I was invited to receive a complimentary facial at the Dior Beauty Boutique last week and I already can't wait to go back. Kristine the manager greeted me, and introduced me to the Dior spa room towards the back of the store.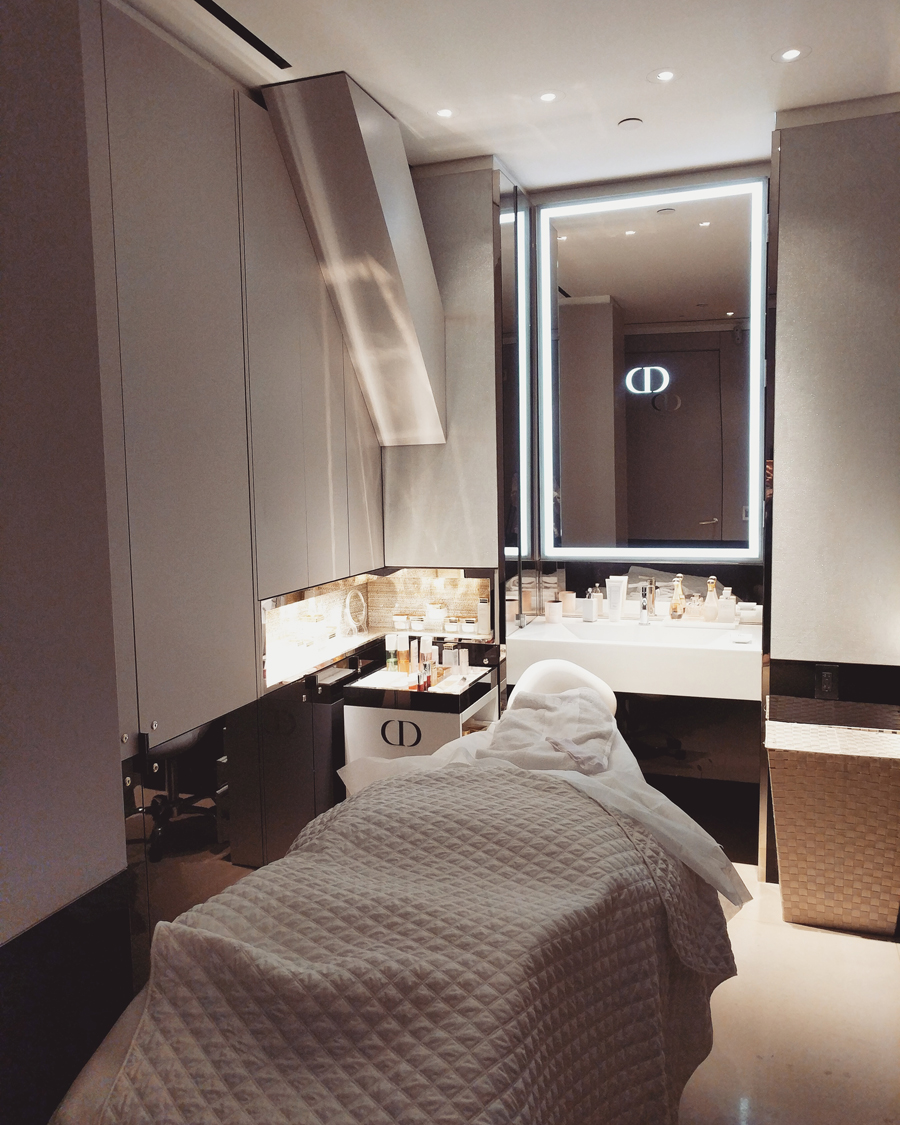 Dior not surprisingly, knows how to impress. The walls painted this lovely grey-purple (might I add that it was Christian Dior's favourite colour) with many Dior products laid out ready to use. A towel along with a hairband was laying on the spa bed for me to put on. Even the towel was monogrammed with Dior on it! Fancy pants!
It's the little things that impress me. Just me over here nonchalantly posing with the Dior dish where I put my jewelry for the duration of my treatment.
The best part about this experience? Anyone can get this free-of-charge Dior facial! I mean, it's pretty booked up so you're required to book an appointment. Your first one is complimentary — and after your first experience of Dior luxury, all you need to do is make a purchase (and still make that appointment in advance) and boom you're in the spa room again getting that relaxing facial. You betcha I'll be back to take advantage of that. I already need to stock up on a few Dior items (cuticle oil, and mascara are calling my name).
I applied a slight amount of makeup (bb cream, mascara and concealer) before driving to Westfield Valley Fair mall to the Dior Boutique. Mainly because I didn't want to go in bare-faced making a first impression. Although, I knew Kristine would be removing my makeup with the Dior cleansers.
As Kristine was removing my makeup she noticed my skin was dry, and semi-sensitive. She focused on Dior products that would combat redness and also target more hydration into the skin using products with hyaluronic acid, so with that, she applied mostly the Dior Prestige line which felt heavenly. The facial itself is definitely worth going in for. My skin was gently exfoliated, masks were applied, and hydrating products added to seal in moisture for a healthy glow. I could've easily fallen asleep had I not been so chatty. Ha! A gentle hand massage concluded my Dior treatment, and at the end I was offered a bit of a finishing touch with a makeup and perfume. An ultimate Dior beauty experience!
Because the Dior Beauty Boutique is inside the mall, the spa room isn't completely soundproof. It doesn't bother me at all, because I can tune out background noise pretty easily. Since I don't use a lot of Dior skincare (I mainly focus on the Dior makeup since I already really love the skincare routine I curated for myself over the years) it was a nice luxury treat for myself.
Sidenote, I'm trying to gauge the vibe of how many locals here in the Bay Area of California read my blog. The Dior Boutique team and I were chatting and we were thinking of me hosting an event there at some point. Although this terrifies me like no other (as I'm naturally shy although I can be pretty loud when needed, ha!!). If I put out the invite for those to attend, would you leave a comment here below letting me know? I'd love to meet some of your faces! :)
Dior Facial appointments available Tuesday to Saturday (and remember, book in advance!).
Dior Beauty Boutique
Westfield Valley Fair
2855 Stevens Creek Blvd
Santa Clara, CA 95128
t. 408 484 3089
Disclaimer: Although a lot of Dior products have been sent to me to review in the past, this isn't a sponsored post by any means. I was introduced to the Dior Boutique and decided to book in a facial and try it out.