Hello from St. John's Newfoundland! I have been here for almost two weeks and soon heading back to warm, sunny California. I thought I'd write about my in-flight beauty routine. Kinda different, right?
It's bound to happen, a 10+ hour flight to now get home to our family in Newfoundland, I've become more prepared and organized when it comes to in-flight routines. I also wanted to show you what I wear during a long haul flight. My main goal is to be comfortable.
Can you spot the Canadian clothes? There's two items… :)
Here are a few top essentials I keep with me to occupy my time, or freshen up if need be.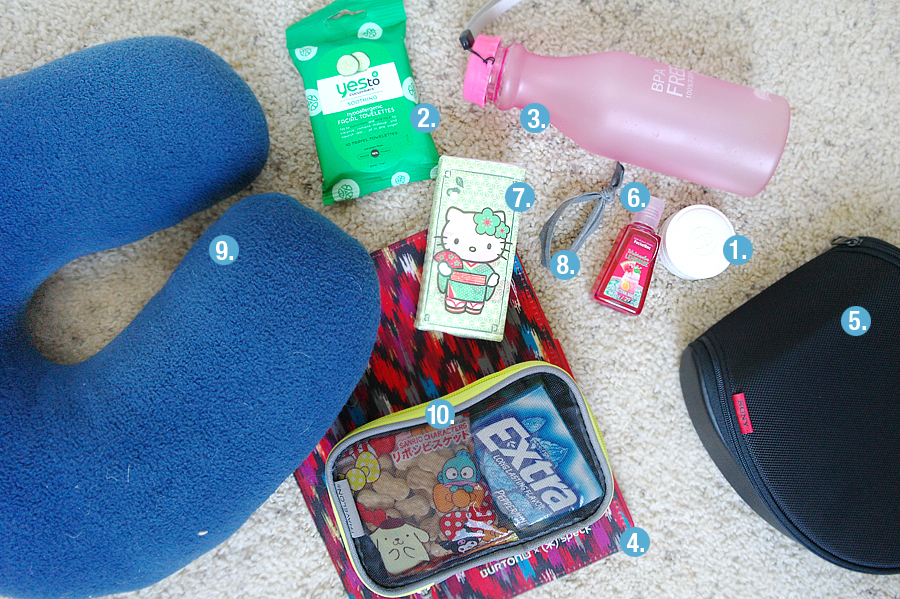 1. Dior Creme de rose: perfect for dry lips 2. Face wipes: Because my skin dries out and gets weird. 3. Empty water bottle: After going through security and to avoid costly bottles of water — fill up at a fountain after security to stay hydrated. 4. iPad: for playing games or writing blog posts if you do so desire, and hey — what if your in-flight movie screen doesn't work? It happens. It sucks. 5. Sony noise cancelling headphones: to tune out the chick snoring next to you, or to zone out and listen to a movie comfortably without ear buds causing aches after hours of chillin' out in your ears. 6. Hand sanitizer: Because. Germs. 7. Tissue/toilet paper: Crisis averted when the airplane bathrooms runs out of t.p during a flight and you don't have to resort to wiping with a paper towel. 8. Hair tie: My hair gets gross easily. Why not. 9. Neck pillow: A god send for those long flights when you're not sharing a row with your beau and don't want to do the dreaded neck bob to the person next to you. 10. Food: Some flight provide snacks. I get hangry when I'm hungry, so I want to eat when I want to eat. This time I packed crackers, japanese cookies, and a boat-load of pb/jelly sandwiches.