It's Saturday. It's time for a haul.
I don't do much shopping now considering my income is limited. But I knew my friend from Canada was coming down for a visit, months in advance so I saved up some of my dolla bills and pretty much let loose when she arrived. Some of these items are also from my trip home to Newfoundland just a few weeks before her arrival, so here's a little Spring Beauty haul!
Diorsnow lotion* | Acca Kappa lipbalm with SPF I picked this up while I was in Newfoundland, you can get it downtown St. John's at my favourite store called Home, on Duckworth | Diorshow universal eyebrow pencil* | Bobbi Brown extra skin care set I purchased this from the ouetlets since the cost of 3 items was the cost of just the 1 eye cream that I've been using for years, inside is my fav eye cream, a hydrating serum and moisturizer | Estee Lauder Body lotion which was free with purchase with my Bobbi Brown skincare set.
Noticing a trend here, where everything seems to be mainly black and white. So on trend. Eye roll. But really. I'm loving everything. Well, minus the NARS birthday gift from Sephora because I fail at applying a red lip at the best of times. Some of the stuff of course were sent for review during this time, I'm not made of money. Notice the one's marked with an *, they were given to me. Reviews coming soon!
A small preview of the Dior's summer 2015* collection! Come back Tuesday for more.
These pants have been causing a bit of controversy in our small household. My husband hates them. I personally love them. He calls them my wallpaper pants, and says that only women would like these pants. I'm going to keep wearing them! Next up is the Diorsnow makeup remover*. Not sure how I feel about this. I'll chat more about it, because this is a haul — not a review.
I popped into Sephora last week to pick up my birthday gift. The NARS lip duo lipsticks. I am terrible with applying deep lip colours! With 100 of my Sephora points I redeemed them for the sweetest little Bobbi Brown lip balm. Oh, and because I felt guilty going into Sephora simply picking up my free birthday gift and leaving, I bought the Bumble and Bumble pret-a-powder hair texturizer/dry shampoo in one. I've heard great things about it, have you tried it? Two self tanners. Vita Liberita* & Dior Bronze*, I'm excited to try these out.
Notice the Forever 21 Hoody? Do I really need a hoody when it's warming up here in California? No. But I would have totally regretted not buying it. So my colours. Plus, stripes. It's still available online for twenty bucks.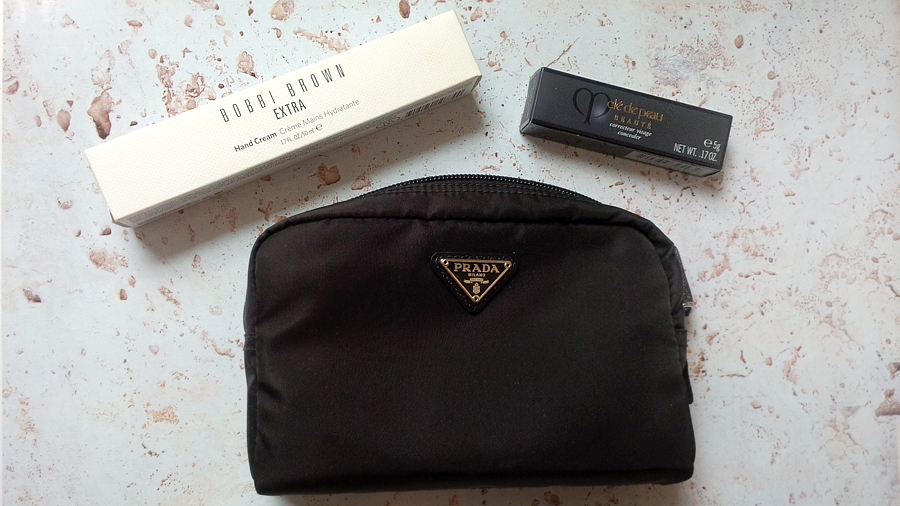 Saving the best for last. A few of my must-have's in my makeup bag at all times. Bobbi Brown extra hand cream (purchased at the outlets, because I'm not paying $30 for a hand cream), and a Cle de Peau concealer, which is on the complete opposite end of the spectrum at an exorbitant price — but this is a re-purchase for me. It's that good. The prada bag has a bit of a story to it.
Before ya all get your knickers in a twist, I bought the Prada "makeup bag" as I like to call it, from the outlets. It was 50% off the original price, and it's a product they have been making for as long as I can remember. I noticed my friend/hair stylist back in the early 2000's had one in his bathroom – and ever since then, for ten years straight I had it in the back of my mind that I was going to buy one, one day. And why not — especially when it's at the outlets? It's finally in my haaaandsss.
Is this something you'd like to see more of? Let me know in the comments!