Imagine waking up in a quiet secluded apartment with fresh flowers hanging from the balcony, overlooking a cobblestone street. You simply just want to throw on a casual loose linen tee and an old pair of comfy jeans and sandals, walk out your front door to grab some freshly baked french pastries and steaming hot coffee to wake yourself up on a lazy weekend morning.
Not so easy when you don't live in Europe, right?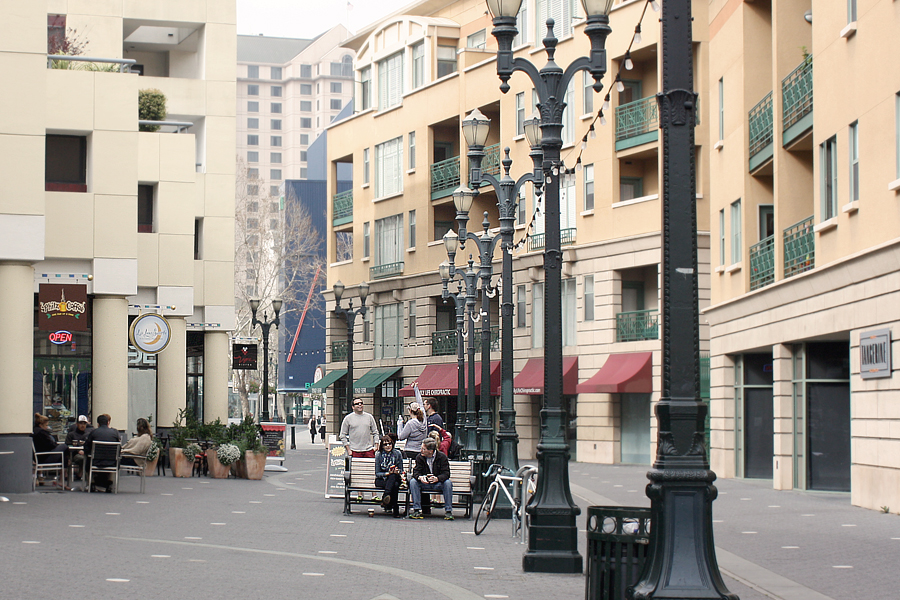 I'm happy to say you don't have to venture too far if you live in the Bay Area and want to recreate that European feeling in San Jose. That's exactly what we did one morning while we were playing tourist in our new home city.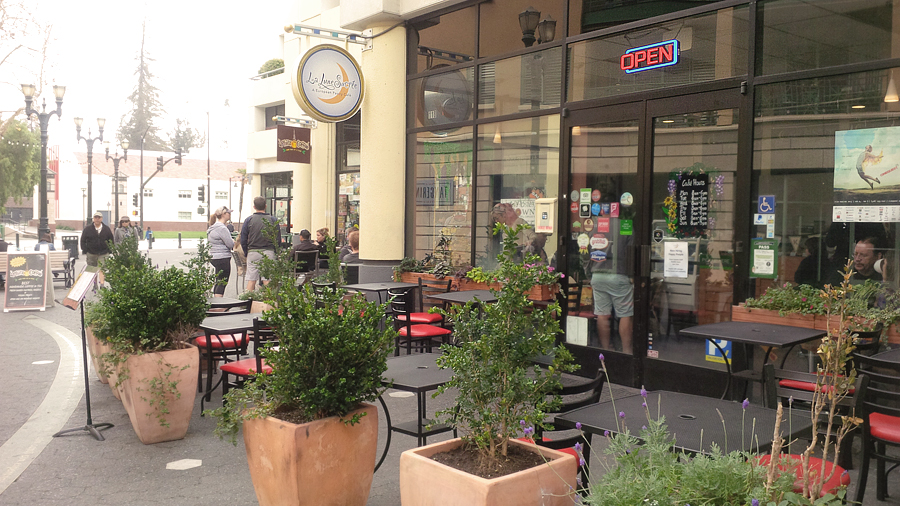 I've been across the pond a couple of times (once to England and Ireland x2), but nothing in the last ten years. I can get my fix of European bistros by simply visiting La Lune Sucrée, a quaint little restaurant in downtown San Jose. This is definitely a spot where I'll be taking out-of-town visitors to, and will be popping in here for morning treats and lattes. Yum!  It is a small café, and only has a couple of tables, with more seating outside on the walkway, so keep that in mind if you're travelling with a larger group of people.
Too bad I had to have manners and only order a regular amount of food. I could have easily consumed numerous plates offered at the café.
Although I do plenty of café and restaurant reviews around the area, I don't always rave about them and recommend you must try the place. Some of them are average run of the mill restaurants that aren't all that special, but this place I want you to go visit if you're ever in the city of San Jose.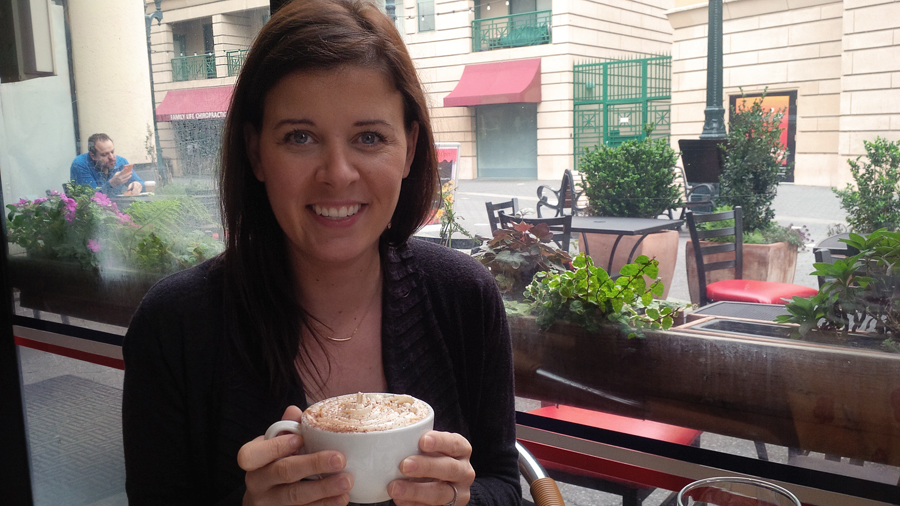 Especially if you want a few pastries and a cuppa joe.
Or in my case a white hot chocolate with whipped cream.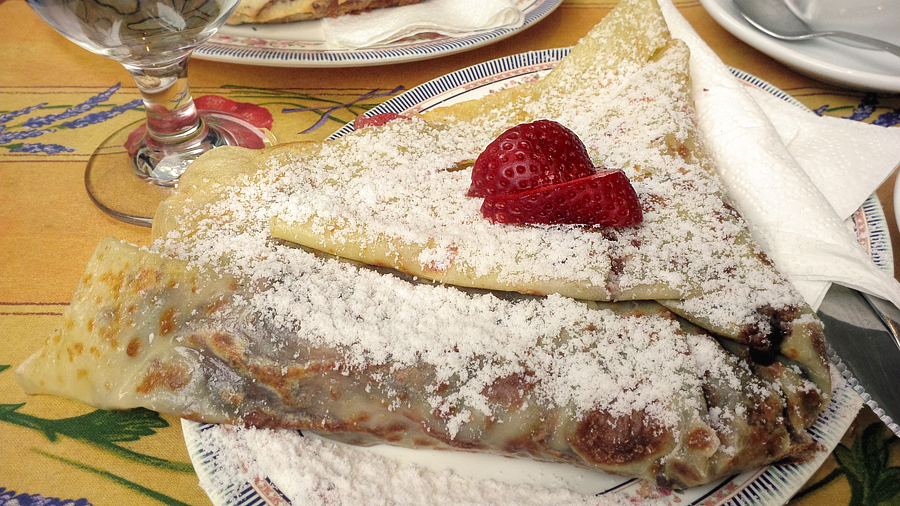 The Guy and I both ordered sweet crepes (as opposed to their liqueur or savoury options which also looked incredible). Their menu is cute and each crepe is labeled by country. I ordered the Italy crepe and my husband went for the Milan. Next time I will definitely add in à la mode which is an added scoop of hand-made gelato. Oh boy. Both crepes were heavenly, but thinking back we should have ordered one sweet and one savoury to split between us. Because two sweet crepes was a bit too much for a morning breakfast, but absolutely fantastic none the less.
I had a chat with both Mark and Bettina, the owners of La Lune Sucrée and enjoyed their story of how they came to open this french pastry café. Bettina learned how to make her pastries and most popular item in the cafe, the Almond Chocolate Croissants in a tiny village in France by a French pastry chef. To make a long story short, Mark and Bettina met in Europe, and fell in love. They relocated back to the Bay Area where he is originally from, and opened this café years later! Now, aren't I glad I moved from Canada to California, so I can enjoy some of this wonderful piece of Europe that Bettina so carefully creates with her desserts? :)
I had one of my closest friends come for a visit shortly after finding out about this spot (where my husband and I ate breakfast) so I took my friend for brunch the day we got back from our three day Yosemite climbing trip. We split two sandwiches between each other so we could nibble at both to get a bit of variety. It's a running joke that I could eat sandwiches for every meal of every day if I had to. It was a good choice to order these, instead of breakfast – even if it was just 10:30 in the morning.
Alright, so I'm pretty picky with my sandwiches and at first I didn't really want to share since Lori ordered hers on a croissant.
She had the chicken salad sandwich with pecans, apples, raisins, honey dijon and romaine. Mine was the turkey bistro, which had jarlsberg (cheese), dijon, pear pomegranate jam and fresh rosemary. The jam was a great addition to the sandwich, so kudos to Bettina coming up with that creation, and I've never heard of jarlsberg cheese before. Apparently it's similar to swiss. It was really good.
Which one stole the show? Honestly, it's a tie. There's no way I can go in there and tell you which one I loved the best. Like I said, picky sandwich-er over here and not all are created equal. But these are excellent, and even on a croissant! I'm a huge lover of a nice crunchy on the outside chewy on the inside ciabatta bun.
Do you think we look related? We used to get it a lot when we were younger and both living in Newfoundland, hanging out at our local climbing gym.
I have another best bud coming down in May and I've already planned most of her itinerary, and you better believe that I'll be taking her here, too. Each time I popped into La Lune Sucrée, the staff working there were super friendly and really helpful with indecisiveness to order off the menu. After taking some guidance from them, I ended up with excellent choices from their great selection of pastries. I already can't wait to go back, luckily they're a quick drive away!
116 Paseo de San Antonio
San Jose, CA 95112