The Guy and I have been going to independent films since we lived in Waterloo, Ontario (Canada). We used to get our fix of an array of movies just a block away from our old apartment. Clearly since moving here it's impossible to know each and every thing a city has to offer — so I was pleasantly surprised our weekend staycation in downtown San Jose overlapped Cinequest which was also going on that week.
Little did I know how huge the fest was! Cinquest Film Festival recently finished it's 25th consecutive year and my husband and I had the chance to check out a couple of films at the historic California Theatre in downtown San Jose. It reminds me a bit of the Banff Mountain Film Festival that we attend every year, and went to on March 14 in Los Altos. Except the Banff one is all about films that have to do with outdoor excursions, mainly in the mountains. Cinequest is an annual week long independent film festival held in San Jose, with multiple films to choose from each night. Where as Banff goes on a world tour for the entire year yet only visits 'your' city for 2 nights.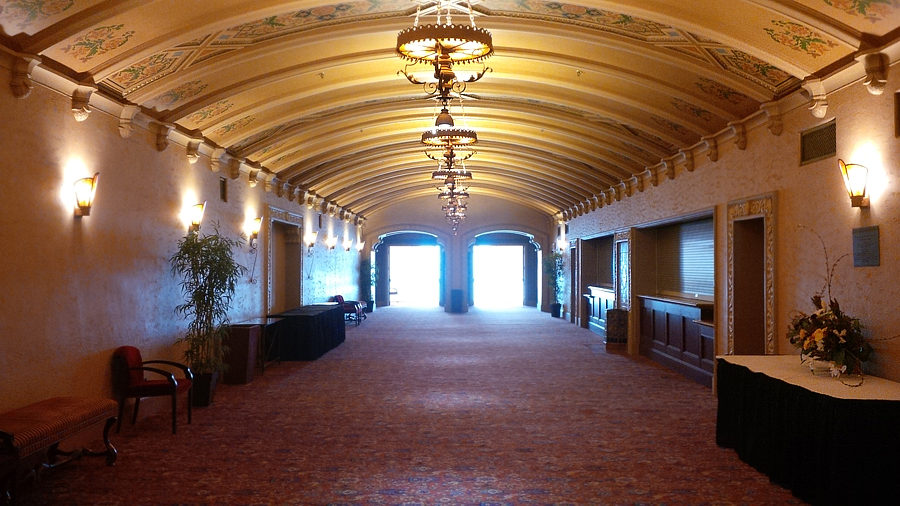 America's history is so old, and I'm a huge geek for beautiful craftsmanship and architecture (I get it from my Father the ol' retired architect, I spose!). Although Cinequest was hosting films at a couple of theatres, we managed to catch two flicks at California theatres both times. I didn't get to photograph the beautiful theatre with the lights on, but I did snap a few photos while walking around.
So gorgeous right? I felt so fancy just to even be inside the building.
Cinequest also has film awards on the closing night of the festival, we didn't attend that since we had a fairly busy schedule that weekend — but it would have been great to see what was awarded as top film, best feature, and other popular films so we'd know what to watch when we want something other than a hollywood film.
The entire building was quite classy and grand inside. Here was one gentleman introducing the film we were about to watch: Champs.
We watched two films over the course of the weekend, first being Traces of Sandalwood which was a movie filmed in both Spain and India, and the base of the story was two sisters were separated at a young age. The older one ended up being a famous bollywood actress and dancer, who was constantly searching for her younger sister. When she did find her, it was hard to watch. I never cry at films, and towards the end I had a huge lump in my throat — sitting between two guys (one being my husband) trying to contain myself. Oh, it was heart wrenching for a little bit! So much emotion. Definitely a great movie.
The final film we ended up seeing was the one you see in the photo above, called Champs. It was mainly a documentary about pursuing the American Dream through boxing, how it challenges the boxers and what success inevitably does to them. I gotta say, I'm not sure if Mike Tyson is an incredibly smart man, or if he is completely foolish and out of his mind. The film had some funny parts and boy, Mike can be a funny dude.
After we left I snapped this picture upon leaving the theatre. Check out the man in the top hat and white suit, waving to everyone! Ha, super awesome.
To give you a brief run-down on the theatre, here is what I grabbed from my buddies at Team San Jose:
The California Theatre in San Jose, California is managed and operated by San Jose Theaters, a division of Team San Jose. It regularly hosts performances of Opera San Jose, Symphony Silicon Valley and more. This beautiful theatre, originally built in 1927 and renovated and upgraded from 2001-2004, marries the opulence of its movie palace origins with state-of-the-art attributes.
Now that we know Cinequest Film Festival is an annual event in downtown San Jose, we'll be keeping a watchful eye for next year, and hopefully one of the films we want to watch is at the other theatre, so we can take a peek inside that one too.
California Theatres
345 South First Street, San Jose, CA 95113