This shop is part of a social shopper marketing insight campaign with Pollinate Media Group® and BJ's Restaurants, but all my opinions are my own. #DineInOrderAhead #pmedia  http://my-disclosur.es/OBsstV
When we first moved to California (it's like I'm a natural here now, being here for all of five months), my friend Jessica, as I've stated before was a Godsend to me and my little family. She took me around Silicon Valley, showing me the sites, and basically showed me the ropes on how to get around the cities.
Not only that, I'm glad that we live close to one another — I'm talking walking distance. Except I never walk to her house, always drive ;)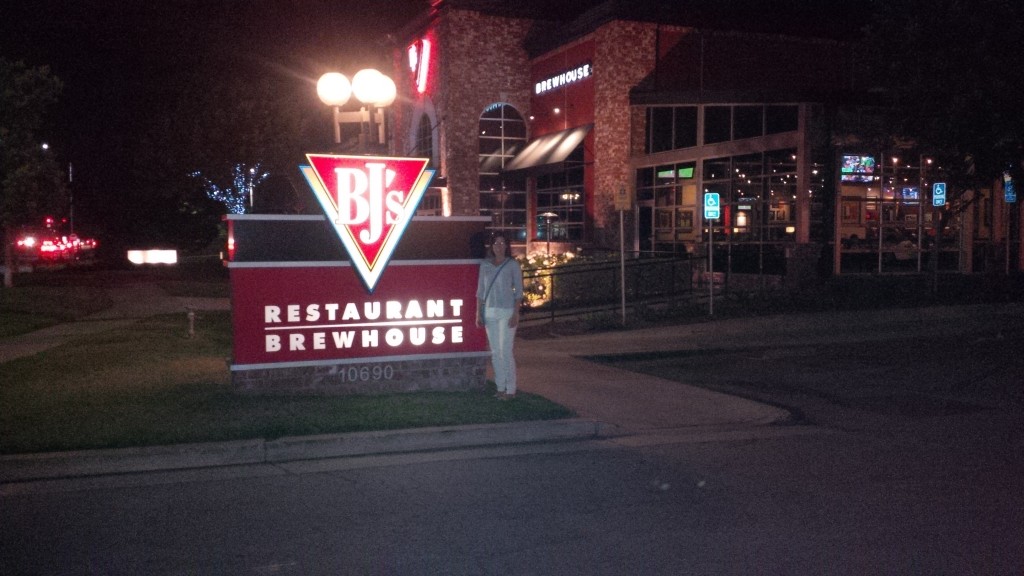 One point, we were coming back from browsing around at a few stores and stopped into BJ's restaurant and Brewhouse in Cupertino, where we ordered a quick lunch. I enjoyed the meal last time I was there, so I decided to have a little date night supper with my husband.
Rather than the usual dinner and a movie, we opted for a 3.6 mile run before supper, then quickly stopped by the mall to pick up my wedding rings as they were finally back from getting resized. So our bellies were empty, grumbling and ready for some grub.
It wasn't just any date night supper, it was our first time ordering food on our smart phone's, and paying the same way! I'm telling ya, technology these days have come a long way in the last 2-3 years. It's crazy to think of.
We used the BJ's Restaurants Mobile App (found on any iPhone/Android) to use the Dine In Order Ahead to choose our food and beverages, with options to customize your order. For instance, since I chose a regular favourite of mine, a grilled chicken sandwich I could easily use the drop down menu on the app to select any additional or ingredients I didn't want on the sandwich.
The overall process for the app was incredibly user-friendly and easy to use, especially for first-time users. I still can't get over something like this exists, I love it.
Once we arrived to the restaurant, I checked in with the hostess and let them know we made reservations and ordered online. She quickly found our name, and guided us to a booth. Can I just say how much I love booths, and not only that, a booth fit for two?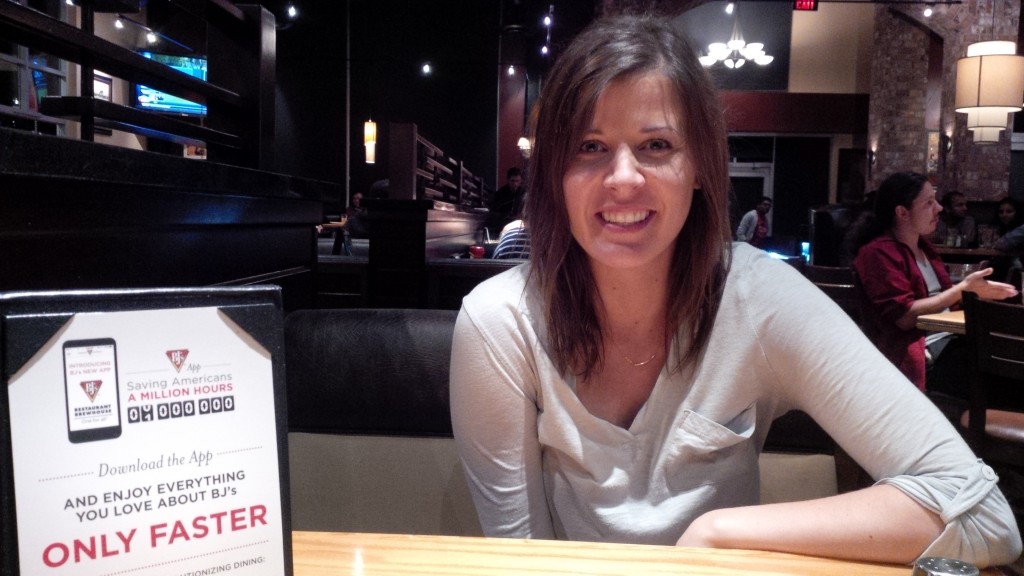 Any time I eat out, I always request to sit in one.
Our waiter was punctual and came over to us with our drinks after we sat down, mentioning that our food would be out in ten minutes. We sat and chatted about our day, while watching the World Cup soccer game that was on the TV at the restaurant. Anyone else keeping track of the games? It's one sport I enjoy watching on TV, since I played for more than half my life. I actually get the sport as opposed to being completely oblivious to it.
….and there it was.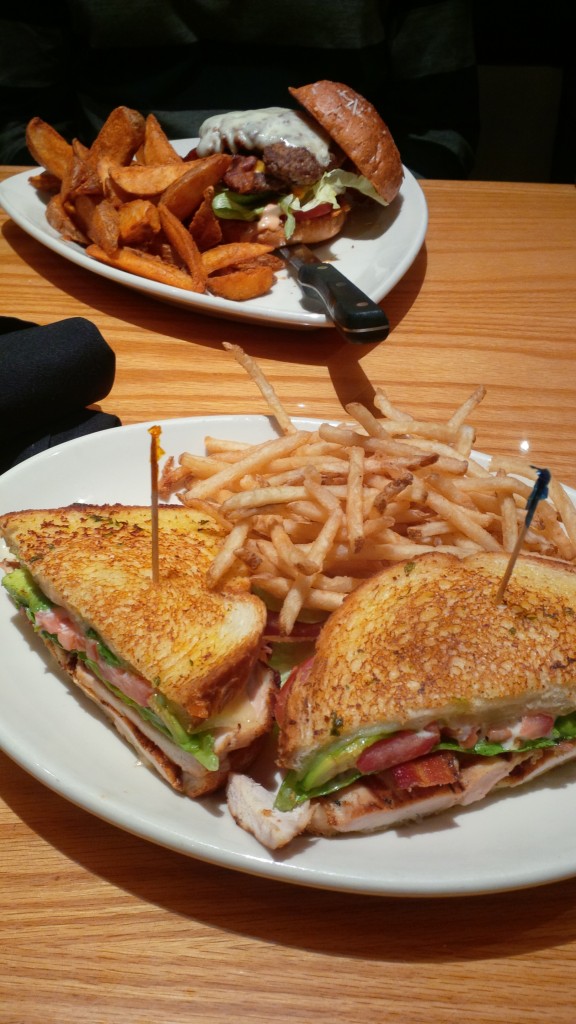 I got a good feed of grilled chicken club sandwich with avocado and bacon with a garlic mayo and crispy fries with a pepsi. Mmm.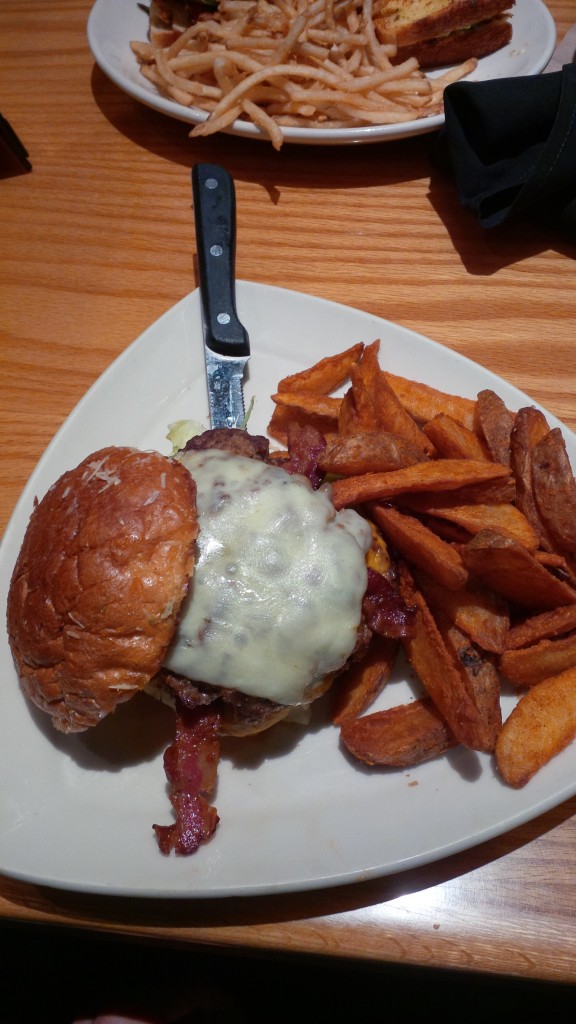 My husband ordered a half pound burger called Brewhouse Double Deluxe with wedge fries, and water.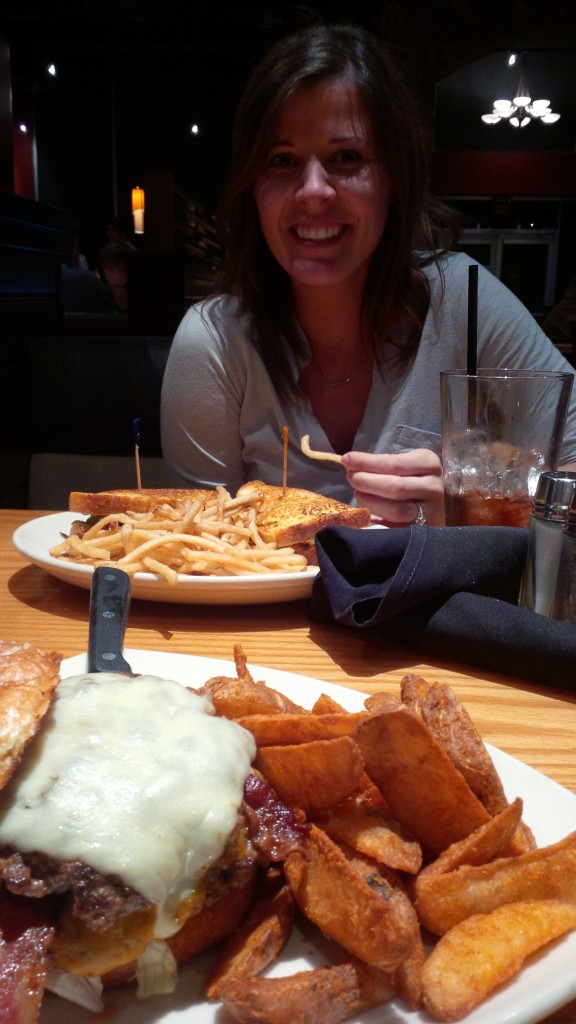 I love heading out for a meal with my husband. We rarely eat out, primarily because we're such clean eaters at home. But I have to remind him it's okay to indulge once in a while. Plus, it gives me a much needed break from cooking in the kitchen. ;)
The server we had was great and efficient. He joked to us that "they" are trying to get rid of servers, but not all is lost in the waiter-industry! Servers are definitely still needed in the restaurants to check in on how things are going with our food, refilling drinks and simply the social interaction between the customer and the worker. I mean, looking at a menu at a restaurant takes up valuable time, where as if you order ahead of time, that's more customers coming and going out of your restaurant. More bellies filled, more tips for him.
The Guy's dessert finally came out at the end. As we were ordering online, I asked him to get something I knew I wouldn't like, because I didn't want any. Out came the peanut butter cookie (the size of a small pizza, hence "pizookie") — and I dislike anything peanut butter. My hand is there for size reference. It was topped with a vanilla and a chocolate scoop of ice cream drizzled with oreo cream around it. As soon as I saw it, my mouth started watering. I definitely had a few spoonfuls of the toppings. It was tremendous.
The young server we had was so friendly to us, and did a great job, so of course we tipped him well using the Mobile Pay app on my husbands Android phone. He said it was also quick and easy to use. We received the O-K from our server that everything went through fine, and we were on our merry way. It felt so much easier than waiting on a server to grab the wireless paying device, give them the credit/debit card, walking back and fourth with the card. This was a much faster process, which I'm pleased with.
I have to say, the ordering online via mobile app, would be sufficient if you know what type of food is already on the menu and have an idea of what you're craving. Especially if you've spent a long day at the beach, are already on the road. Whip open that application on your phone, and order away. It's also pretty great if you have younger children and need to eat and run in a hurry for fear of them having a fit.
If there's one around you I encourage you to try out the BJ's Restaurant Mobile App available for iPhone and Android.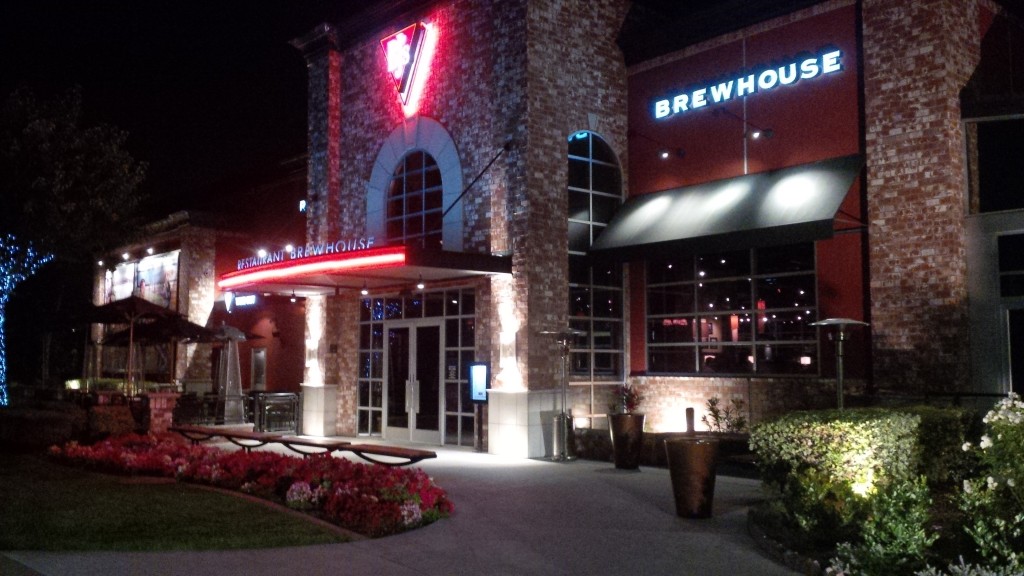 BJ's Restaurant, Cupertino
10690 N. De Anza Blvd. Cupertino, CA 95014
T: 408.865.6970