Guess you can classify this as a "What I Ate Wedensday" sort of post. Except this is an accumulation of meals I've been eating since moving to the sunny state. The produce here in California is unreal. I've never been much of an orange eater, mainly because they're not as flavourful and juicy as I'd like.
I dug into one the other day and it was probably the best orange I've had in my entire life. Not even a little bit of an exaggeration. Those little orange suckers are just looking for a way in my shopping cart each week, I just know it. Sneaky buggers.
I swear I'm like a child when it comes to preparing (healthy) meals and eating on time. The hours just go by and I either forget to make something, or I grab something unhealthy. Which is why I've been only buying good stuff and trying not to resort to all of the little stores around me that sell fun American candy. Or Five Guys Burgers and Fries. Mmm.
Been eating a lot of sandwiches for lunch since I'm the only one in the house that is around during that hour of the day, and who wants a sandwich for breakfast or supper? Oh wait. That's me, too, sometimes.
The tables have turned. I never used to eat bread or sandwiches when I had a full time job!
I do miss my orange pekoe Tetley Tea. Grocery store brand will have to do. At least I'll be stylin'.
However the Japanese grocery store impressed me with their enormous tea selections. This was only one row of it. There was another underneath, plus tables with featured teas like CHOCOLATE TEA, and even some Hawaiian inspired teas. Might have to go back and grab a few.
Jessica took me to a restaurant in Los Altos on my first day in California — I'll be blogging about this sweet spot in the future.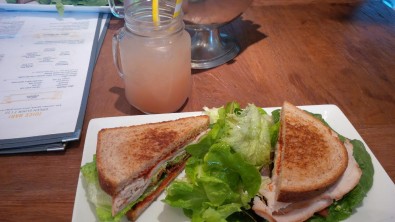 It's all starting to balance out a little bit, isn't it?
Delicious starbucks drinks, macaroons from Santana Row (these weren't for me — I'm not a huge fan. I bought them for my husband), Five Guys burgers, the rest — fairly healthy! I think I can maintain this lifestyle… if you keep me out of the candy aisles in the corner stores ;)
Is there anything you won't eat?
Me? Freakin' onions. Scott's the same way, thankfully.
What is your favourite food?
chicken!