Dior Addict is the perfect name, no? Addiction at its finest. Well beauty lovers — Dior Addict Lip Glow is now available in Coral! Hold the phone, I'm about to buy the store out, stock up and give them as gifts to my besties. Alright, only one or two besties, 'cause I mean that stuff is kinda pricey to give as a just because gift. Right? I ain't made of money.
I've been using the Dior crème de rose lip balm which I carry around in my purse, aka everywhere with me including my wedding day. I always sanitize my hands before dipping my finger into the little jar and applying it to my lips. It smells great, gives just enough shine and colour. 
I've heard a lot about the Dior Addict lip glows and quite honestly I was going to pick one up after I finished my crème de rose, due to the fact I can't justify spending $50 on two lip products. One at a time here folks, every products needs my undivided attention until it's finished, or I throw it away if it's not good ;)
I lucked out and Dior sent me the coral lip glow. First of all, I don't need to bring hand sanitizer, so that's a bonus. I can apply it whenever and wherever. That may end up being an issue because I'll probably go through it quicker.
Side by side comparison. On the left, Dior Addict Lip Glow in Coral. On the right, Dior Crème de rose.
Swatched on my hands. The deeper colour is the Lip Glow.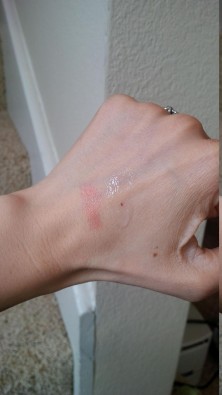 How do the two compare?
First of all, I love the packaging on both products. Classy white container for Creme de rose, and a see through pink for the lip glow.
Lip Glow:

Deposits much more colour. A nice deep coral colour that would look ideal on olive toned or tanned skin than a ghostly pale winter skin.

Thicker and applies more like a lipstick

Feels like an ordinary lip balm on the lips
Crème de rose:
Upon opening the product the first time, make a dent in the balm with your finger. I feel like there's a waxy film on the top and once you get under that, the real goodness begins

Subtle pink colour which adds shine

Can get goopy on the lips if you apply too much

Has a rose scent which I wasn't a fan of when I first smelled it but once it's on the lips I really dig it ("Dig it"… is that a nerdy 70's term?)

More buttery on the lips than Lip Glow
If I had to choose between the two? I'd go for the Crème de rose.
That doesn't mean I dislike Lip Glow as I may end up trying it in the pink colour just to see if it's a similar colour to Crème de rose. I just love the feeling of the crème de rose on my lips much better. I also apply a generous amount on my lips right before I sneak into bed. Amazzzing.
Have you tried any of the Dior glosses?

What are some of your all time favourite lip glosses?