When I was at my cousins house in Guelph talking about skin care products and what we all use on our faces and bodies, we got to talking about how women aren't aging as quickly any more. People in their 60's look like they're in their late 40's. It's all because we're starting to take better care of ourselves, eat right, and keep skin hydrated and of course, limit sun exposure. (Side note: I have yet to go to the beach this summer. I really do love the beach, but haven't had an opportunity to lay on one yet.)
This new product by Philosophy called Time In A Bottle was recently launched. I first heard about it when I sat down with the representatives from Philosophy in June, when they were doing an early launch at Sephora in the Eaton Centre.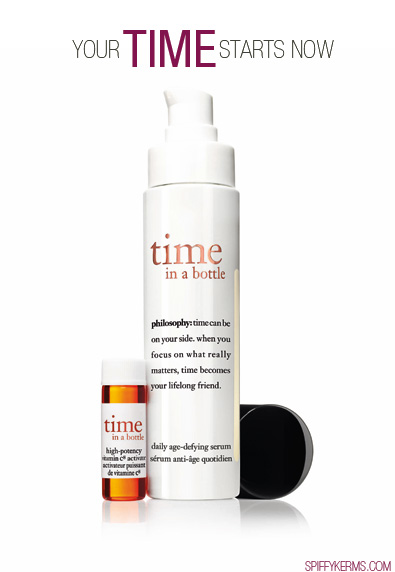 Since I'm no stranger to Philosophy products I wanted to learn more about it. I mean, look at the hoard of products I have from them already. I could open my own skin care store!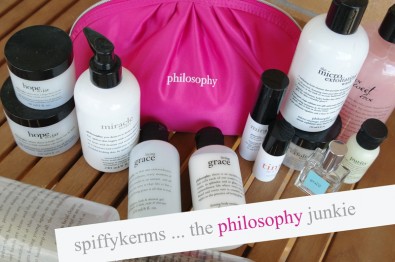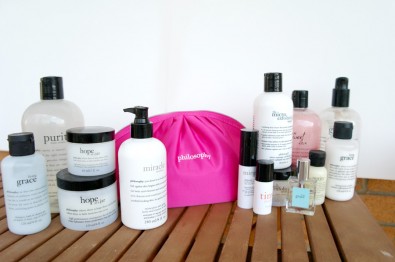 I sat down with a few of the women who were demonstrating the product and getting skin analysis' done. I should've really kept my skin analysis because it would've been helpful to your to see. But it was gross looking, so I chucked it out a few days after I got home from Toronto.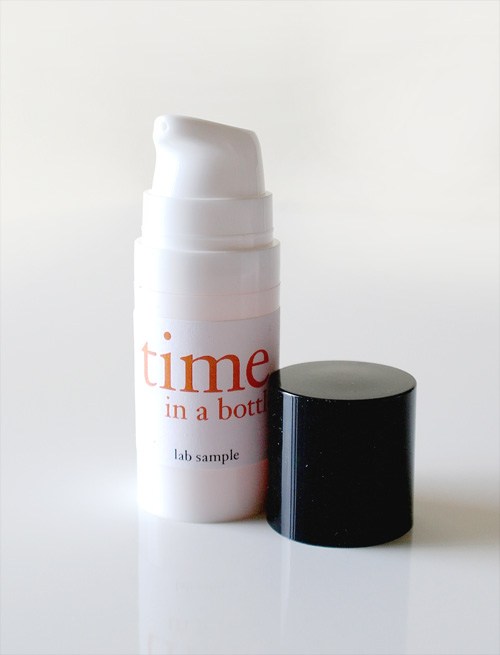 Time In A Bottle is quite the expensive serum and since I have a huge love for Philosophy products I asked if I could review this one. Thus, the sample sized bottles shown in the pictures.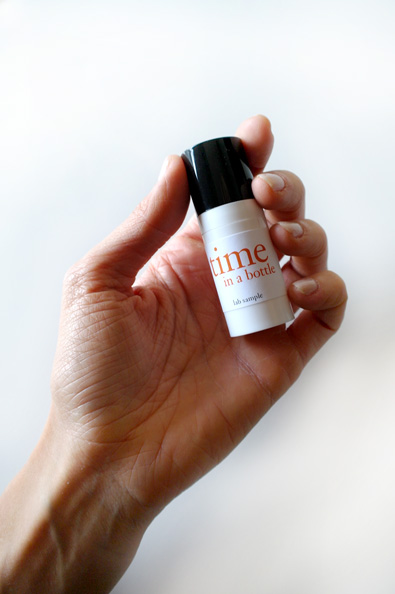 The full sized Time In A Bottle comes in two separate containers. One being the product, the other being the activator. Apparently it maximizes its benefits that way. Who knows. I think it's neat marketing on their part to make it feel extra special.  Note: you only have three months to use up the bottle after mixing it.
Why I wanted to use it:
If you're concerned with age spots, you can reduce them with the vitamin C to the power of 8. (C8 for short).
How to use:
Cleans your skin, apply Time In A Bottle, and follow through with your regular routine after that. Mine would be putting on more Philosophy products: Hope In A Jar moisturizer, then Miracle Eye Cream that I purchased in June.
Sometimes you can get a little discoloration in your face from skin damage, or even pregnancies. I've applied it morning and night. Like most Philosophy products, it works on my skin. It doesn't sting, or have a scent — just absorbs perfectly into my skin.
Have I noticed a difference after using the two product samples up?
Well let me say this much. I do like hydrating my skin and keeping it quenched. Plus, at my age you're not going to tell a significant difference as I don't have large pores, noticeable wrinkles or much sun damage. I mean my skin texture is smoother and even though I don't have…. saggy skin or anything my face feels a bit firmer. Is that weird?
Will I be buying the full sized product of it? No, not at this time. I'm going to keep using Philosophy products but it's much too far out of my price range, and I already moisturize my skin twice a day with Philosophy product, so I think I'm on the right skin-care road.
How often do you moisturize?
What kind of skin care do you use?