I'm a little late on the Golden Globes blog post, but that's because I don't have cable TV and I missed out on it. That didn't stop me from tuning in. Social media works its wonders and by the end of the night I knew who was stylish, who was wearing rugs, and who looked orange. The next morning I woke up and knew exactly who to google-image.
What isn't really documented much, is the painted nails that are styled with the dresses and expensive accessories that the actresses wear. I don't doubt that a lot of the stylists use expensive products but what kind of nail polish are they wearing? Who knows, right? Unless people like Jessica Alba were instagramming while they were getting ready, we'd never know!
By the way, Jessica Alba did instagram that photo.
As for the Golden Globes, manicurists turned to Sally Hansen to create some of the nail looks for the red carpet for Adele and Jennifer Lawerence!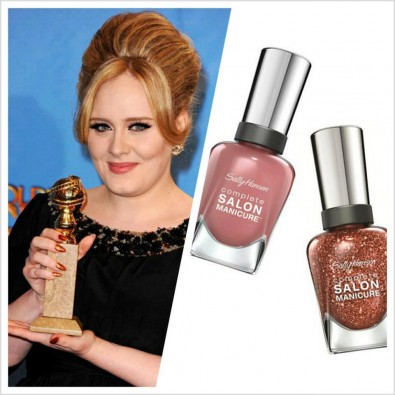 Adele's nail look was created using both Sally Hansen colors in 'So Much Fawn', with two 'Copper Penny' layered on top.  The top coat was finished off with an exclusive just for the Golden Globes. It had gold in it to help enhance the color in Copper Penny. Crazy hey? Wonder if that last coat is available in stores.
Jennifer Lawrence, wore Sally Hansen Complete Salon Manicure in Sheer Ecstasy. Lawrence's nails were shaped "sqound" giving both a square and round look. Betcha never heard that term before! Knew to me, too. Sqound…I like that.
This color reminds me a lot of my favorite nail polish of all time; Pink Slip by Sally Hansen.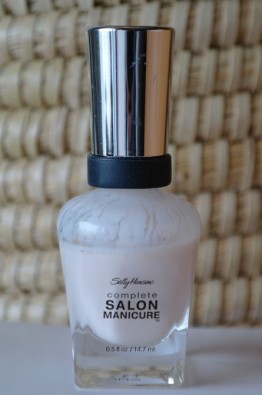 I picked up a bottle of it in Target when I went to California two summer's ago. It's still my favorite polish color. I found out about it at the hair salon I used to go to. I asked the receptionist if her nails were acrylics or shellac but it wasn't. It was good ol' Sally.
What is your favorite nail polish color?
For my fingernails, I've already answered but for my toes I love China Glaze's Flip Flop Fantasy for summer, and OPI An Affair In Red Square for Christmas.
Not a sponsored post!