I have to admit something to you guys.
I was really scared to start the 50 day push-up challenge, and start running with a coach all within the same few weeks.
So, I decided to blog about it, and tell as many people as possible so I would be held accountable, and that way would feel "guilty" if I skipped a days push-up, or a week at the run. Committing to myself which eventually provides a lot of positive feedback from my coach, and you guys as readers (on my Monday workout weekly re-caps).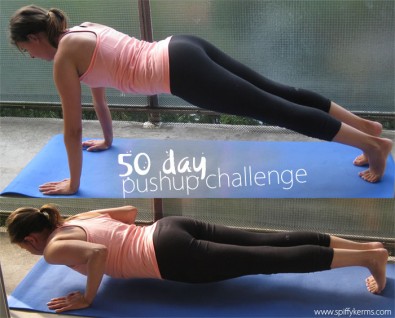 Starting the push-up challenge was so easy, and I'm glad I told people, because as soon as I hit that day 30 mark — it was very difficult for me and I've found it hard to get the motivation to do it.
I did most of the push-ups in the morning before work so I could say that I've accomplished it already. I've seen positive results and while I didn't enjoy doing them at the time, as soon as I was done I was proud of myself. It takes a lot of effort and strong will, but it's worth it.
My push-ups used to be unbalanced and though I'm right-handed I'm stronger and more flexible in every sense on my left side. My shoulders were weak and I was getting annoyed at CrossFit not being able to do push-ups properly without doing sway-ing back and forth as I went up.
Exercising affects me positively, in a mental and psychological way. It helps me set specific goals (50 day push-up challenge! Running 1x/week) which I can achieve. I am aware of my abilities, and I accept my weaknesses and my self-esteem goes up with all of my hard work.
Sports distract you (me) from problems at work, school, friends amongst other things. It gives you time to think about yourself and no one else, since it keeps your mind active and busy.
Enough rambling. I feel lost on day 51 without doing push-ups. I'm debating whether or not to re-start the push-up challenge and start doing them from my toes. Each and every one I did during those past 50 days were on my knees. I didn't feel it was worthy enough to do a video about it. But maybe while I'm home over the holidays I'll re-do them and perhaps get someone to film me. We'll see!
Anyway! I've got one more blog post to finish up and post before the night is over. Then the boyf wants to hop on my computer and look up some computer parts for the one he built me a few months ago!