I wish I had taken a photo of my supper tonight. I had another set of chicken wraps made with the always juicy Maple Leaf Prime chicken breasts.
I will never get sick of making these, or eating chicken altogether.
For the past few months all we've been eating is chicken or pork. That's it. Sometimes fish. I should start diversifying our meals and get back onto doing my weekly menu's. It definitely saves a lot of time, especially when you don't have that much of it.
I know this isn't a valid excuse, in fact it's a great one because I'm keeping my health my #1 priority right now. My schedule is just honestly jam-packed in the evenings. I'm trying out new work out's with my co-worker L. Yoga, TRX, Running, Climbing and of course keeping CrossFit going as well. I love keeping my workouts different from each other. That way I can never get bored.
I was like a starved gull there tonight and really didn't feel like making anything gourmet-like. So it's either been chicken wraps or chicken sandwiches on these new ACE chewy ciabatta buns found at Zehrs and Sobeys. They're amazing!!
Okay so it looks like I've lied and I only eat those ciabatta buns. I do make those wraps at least once a week for either lunch or supper. I guess I'm too hungry to take a photo of them before I eat.
I even order them when I'm out at restaurants! You may remember this photo that I posted a few weeks ago, when I was up in Ottawa visiting my bestie.
I usually keep the recipe fairly the same with a few different variations to it:
Fresh mushrooms

Bell peppers

Tomatoes

Spring mix lettuce

Boneless skinless

maple leaf prime

chicken breasts

Ranch dressing
OR
Grated cheese

Red bell pepper

Boneless skinless maple leaf prime chicken breasts

Lettuce

Roasted red pepper aoili 
The last one listed is my go-to sandwich or wrap, it's soo crunchy and fresh. Especially good served with a side of in season veggies.
I've scoped out the Maple Leaf Prime website for some new wrap ideas.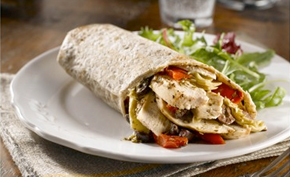 Like the Chicken Artichoke wrap (minus the olives) and…
I'm sure my Boyfriend would love the Buffalo Chicken wrap much more.
What is your favorite way to prepare chicken?
What meal to you make for you/your family when you don't have much time?
You can find more information about Maple Leaf Prime on their Facebook page, Twitter, and even Pinterest!