I may have gotten carried away this past weekend labeling everything there was to label. Gotta say, I'm feeling pretty organized as of late. Truthfully though, I've fallen off the organizational wagon.
For the past few months I've been pretty slack at keeping our home organized. Clean laundry has been piling up on the couches, junk mail left in the porch ready to be shredded, and tons of Tupperware strewn all over the cabinet underneath the sink.
It was time to get into beast mode. Pump up the music and get organized.
I'm not the most organized organizer….

I received the DYMO® LabelManager® 160 handheld label maker and literally went to town with it. Making labels to keep things organized is so fun and super easy, I can see how it could get out of hand if given to a child. Or a Nancy ;)
First I had to assemble the label maker. Easy peasy. It takes a lot of batteries.
So far so good!
I have to say, I was even tempted to label Alfie's food bowls.  In all seriousness this is what I ended up using the LabelManager for:
Labeling things in our pantry.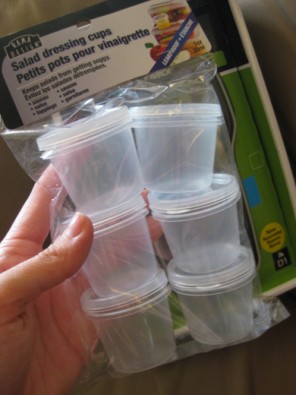 I purchased these small salad dressing cups to label. Perfect size for spices! You can get them at the dollar store.
A little trial and error. I didn't realize at first that I could do different font sizes. I laughed when I first stuck this huge LEMON PEPPER on my tiny containers. You can also include symbols, bold, underline or italicize your fonts.
It's definitely a handy little device as I don't need to keep my spices in the plastic baggies anymore. I've decided to keep the bulk spices in the containers I recently purchased. It's a pitiful amount to start off with, but it's just that. A starter spice kit for just the two of us.
One giveaway ends, and another begins. Aren't you folks just lucky!?
One of you lucky readers will be also eligible to win a DYMO® LabelManager® 160. In addition you will receive the batteries you need to power the device and an additional label cartridge, bringing the total value of the package to $50. Please note that the contest is available to Canadian residents only.
Contest ends Saturday night at midnight. Get crack-a-lackin'!