I gotta say, I'm so tired of looking sicky pale in the spring. My white legs blend in with my white capris. I miss my dark tanned self — I used to be obsessed with going to the tanning salon and ruining my skin. I mentioned to someone that I was going to use self-tanner this weekend and I was half-scared since I wanted to be tanned, but didn't want it to screw up and make me look streaky and orange. She rudely asked me why don't I go to the tanning salon, and I said "because I don't want cancer" — she snapped back "it's the same as going out in the sun" keep in mind this woman has 15 years on me and is ignorant about that sort of thing. SO! I did my research online for months. Then I found out which product to buy. Everyone seems to love the St. Tropez either bronzing mousse, or spray.
I ordered St. Tropez bronzing mousse from Sephora's website and watched countless spray-tan, self-tan videos on YouTube on how to prep your skin for it, how to apply it and what to do after.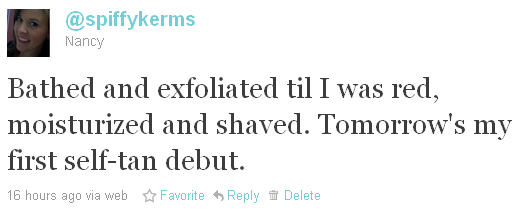 I purchased an exfoliating mitt from The Superstore (a grocery store) and went to town on my skin after I bathed and soaked in the tub for a good twenty minutes. I moisturized with Dream Cream by Lush and that whole night I couldn't get over how soft, silky and smooth my skin was. I guess since I've never bought an exfoliating mitt before and only used scrubs sans loofa, that I was really missing out on getting a good scrub. The next afternoon I took another shower, and exfoliated some more.
Once out of the shower I moisturized again with Dream Cream (my body was totally pampered this weekend! I never moisturize! lol). When that was all done I applied my face moisturizer, deodorant and got dressed. I didn't know whether or not to self-tan myself right as I got out of the shower or before bed. So I went back to my favorite Self Tan 101 video by Torts And A Tiara (see video below, she also has a blog) and re-watched that on when/how to do everything again.
My confidence was up! I was prepped and I got to town working on my tan. Unfortunately the lighting in my bathroom is very yellow and it was semi-difficult. We need to replace those lights with 'white' ones. I didn't have any latex gloves and since we alreayd had some of those subway restaurant type of disposable gloves from the grocery store I put those on my hands, and secured them both with a hair elastic on my wrist.
I ended up having one calf/shin darker than the other by the end of it, but I evened it out and it wasn't a huge issue. My face on the other hand, I put maybe ¼ or ½ pump of mousse in my hands and applied it straight to my face. It was definitely scary and a bit too dark so I tried working really hard and quick to get it all rubbed in (and not wiping any of it off). I am a brave one. But it all worked out in the end and….

here is the final product!!! It was fool-proof and looks great, right??
I'm really pleased with how easy it was, seeing how I've never self tanned before.