I love taking the greyhound bus into Toronto and spending the day wandering the streets aimlessly all by myself not knowing a soul.
That is, until  I get lost in the subway and almost take the Northbound train instead of the Southbound. Whoops. Thankfully us Canadians are helpful when we ask questions.
I worked backwards this time and headed up to Bay and Bloor first to get the higher end shopping done before I went back to the Eaton Center. I spent a good amount of time at Sephora right when it opened. I really like the Bloor Street location since it's never packed (when I go at 10am lol) and the stock is never really picked through as badly as the Eaton Center.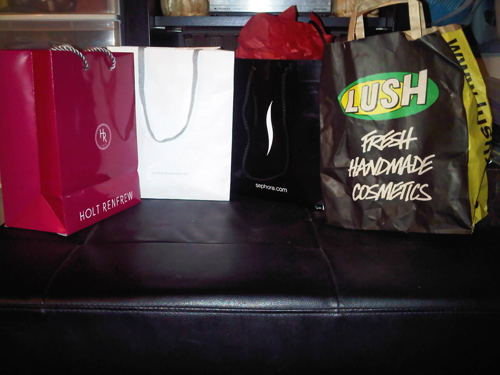 Shopped til I dropped! I went to Sephora, then Anthropologie and picked up some cute bowls and tried to find this, but couldn't, so then headed to Holts to get some Bobbi (I totally spelled out boobi just then) corrector and YSL touch eclat. I'm going to film a YouTube video soon about it, so I'll keep you guys posted!
After that I was surprised that I didn't buy anything at Forever21, I was mainly looking for a new pair of inexpensive jeans (think < $25) but since spring/summer stuff is out everywhere, only shorts and stuff were in stock. Boring! No thanks. I walked around the Eaton Centre for most of the mid afternoon until I got so sick of the crowds that I had to go home. Too many people there on a Saturday for sure.
I'm disappointment that the Eaton Center is now putting a Forever 21 in place of the Pottery Barn that used to be on one of the lower levels. WHY! There's a massive one just right outside the building of the eaton center. ugh.
Even though it was 5ºC, freezing cold outside with rain to add to the factor—I had soaked shoes but either way I had tons of fun going around the city by myself!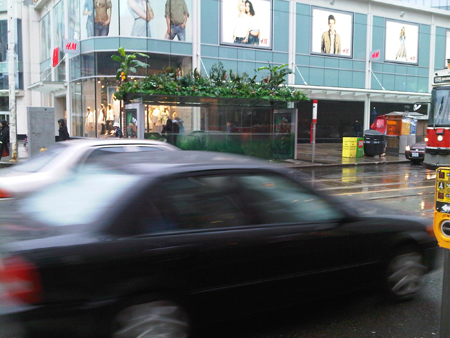 Funny bus shelter…
Next time I'm going to scope out the Kiehl's free standing store on Queen Street. I was way too chilled to go find that store! Shoot—now that I google it, one was already inside Holt Renfrew. I bolted out of that store as soon as I picked up my necessary products. I didn't want to be haunted by the beautiful purses, handbags and everything else that cost a thousand and one dollars there. Dangit!
Would you ever go solo in a big city like this? I love doing it!