This is a sub-post to my other blog post titled: Ebay Purchases, rated. I thought it would benefit people to see what I bought online and if it is, in fact a good representation of the photos they show, in order to sell their product.
The advertised ring.
The ring on my finger. It's really a glossy old color and very shiny like it showed online. Note: I got a size 6, but it happens to fit on my middle finger and ring finger comfortably (my ring finger is like 5.5 and my middle is about 7). What's cute about this ring is that you can order a super small size and wear this ring in a very trendy way. On your next knuckle, up by the tips of your fingers.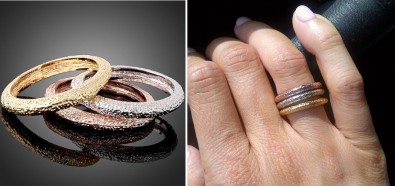 Seller: jewelleryplaza
Item: Lady Party Ball Jewelry Simple Style 3-in-1Silver Gold GP Fashion Ring
Paid: $0.99 + $5.00 shipping. Worth the price? Yes
Location: China
Delivery: 16 business days from when I placed the order, to when it arrived.
My opinion: I don't think I'll wear the gold or silver rings on their own but the 'rose gold' one is pretty on its own. Also, stacked how I have it is also my favorite way to wear the rings.
Overall rating: ♥ ♥ ♥ ♥ ♥
Seller: maemovement bracelets
Item: bracelets
Paid: $35.00. Worth the price? Yes, because it goes to a great cause.
Location: USA
Delivery: 14 business days from when I placed the order, to when it arrived.
My opinion: Love the bracelets. Have yet to wear my red one as often as the other two colors though.
Overall rating: ♥ ♥ ♥ ♥ ♥
Seller: Tatame77 on Ebay
Item: Pink/White Korea Ladies Womens Chiffon Top Blouse
Paid: $13.26 + $2.99 shipping. Worth the price? Yes
Location: Hong Kong
Delivery: 6 business days from when I placed the order, to when it arrived.
My opinion: Holy moses. The fastest shipping ever from Hong Kong. Six business days. The top was really pretty online, a nice peachy pink sort of color. Very faint. In person it's more of a true baby pink. Though, it is quite nice and you can see how it fits on me, above. I don't know if I'd purchase this in a store if I saw it on a hanger. I wish it were more peachy like it was shown on the model.
Overall rating: ♥ ♥ ♥ ♥ ♥
Seller:Â Amazon.com
Item: Seychelles Women's Time Will Tell T-Strap Sandal
Paid: $96.88 Worth the price? Yes
Location: USA
Delivery: 2 business days from when I placed the order, to when it arrived.
My opinion: These are way more comfier than I had imagined! I love Seychelle's shoes, my flats from them have lasted years (purchased in 2006!), so I didn't mind dropping the bills on these wedges.
Overall rating: ♥ ♥ ♥ ♥ ♥