I'm choosing to keep it short, sweet + simple for this Valentine's Day. A mini gift guide on what to get your Valentine! Everything shown, you can grab at the stores in Santana Row, and the links for the ten items are below!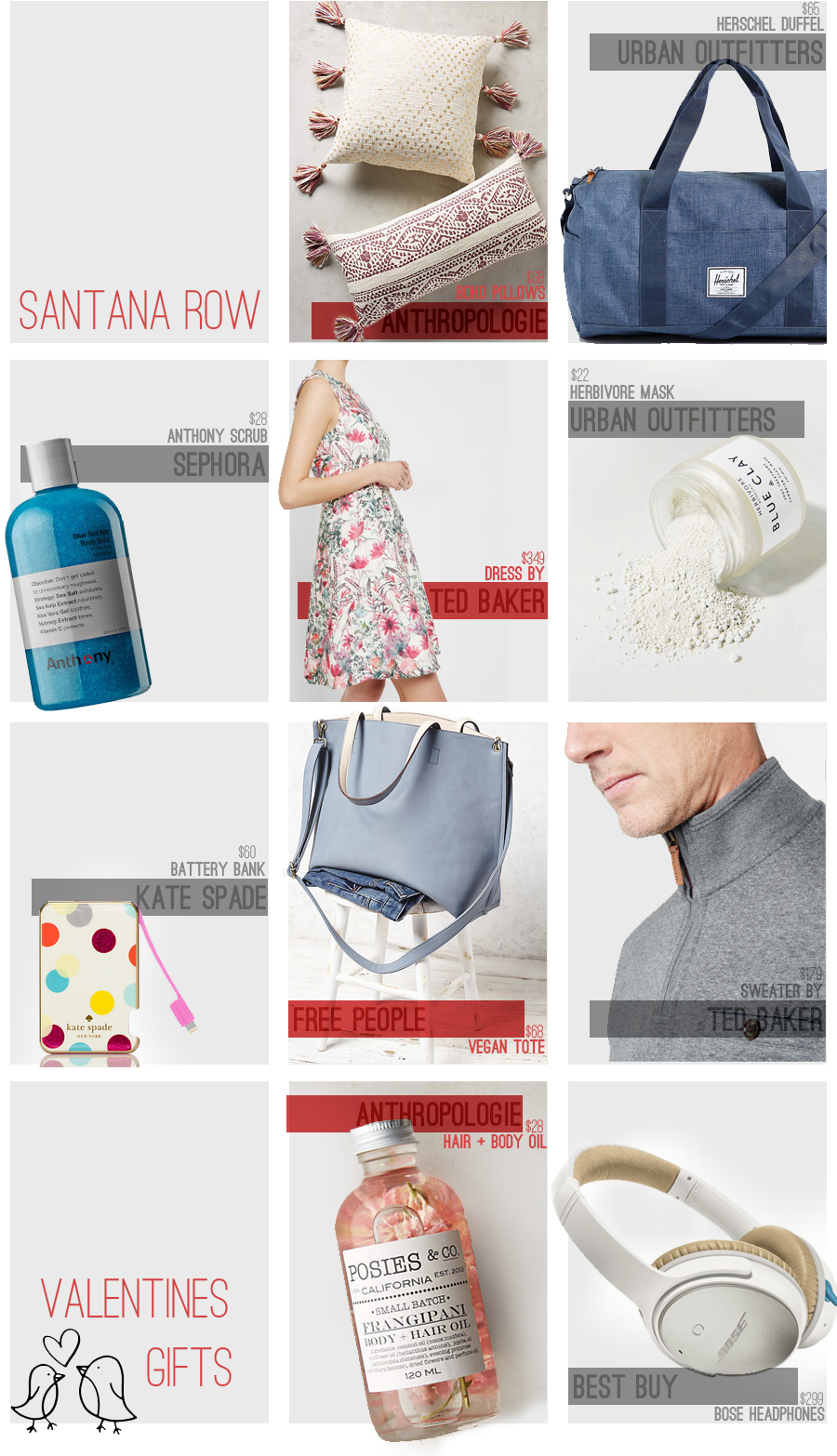 BUY:
Anthropologie Boho pillows  ..  Urban Outfitters Herschel Duffel  ..  Kate Spade Battery Bank
Anthropologie Body + Hair Oil  ..  Urban Outfitters Herbivore Mask
Best Buy Bose Noise Cancelling Headphones  ..  Free People Vegan Tote
Sephora Blue Sea Kelp Scrub  ..  Ted Baker sweater  ..  Ted Baker dress
Gosh, it's been ages since I've stepped foot on Santana Row's property. Last time I went was in early December, right when they put the Christmas lights up! I think I'm going to head there this week, especially over to Anthropologie and pick up the Posies & Co. body + hair oil. I want to smell it, and drop the thirty bucks on it.
What are your plans for Valentine's Day? We aren't huge on giving gifts for Valentine's Day, but if you've been a reader for a long time you know that Mr. Spiffykerms + I enjoy going to McDonald's on Valentine's Day, because it's our tradition! If you hunt back on the archives of this blog, you'll know why. I think we might've missed one or two years of not going on the famous February 14, but I'm sure this year we will go. Especially because we have gift cards (tee hee!). Maybe after our meal there, we can hop on our bikes around the city to burn off all the high calories we ate.
P.s. Are you diggin' the new gift guide layout? I thought I would put my Graphic Design skills to work again, and come up with something different that I normally would do. I kinda like how it all turned out though, what are your thoughts?