I've been blogging a lot about Make Up For Ever products a lot recently, but that's because they've been busy coming up with some great products for us all to buy!
They have recently come out with a product called Eye Prime. Make Up For Ever's first eye shadow primer. A crucial makeup item to lust after if you have oily eyelids, such as myself. It's the only oily part on my entire body. I don't get it, really.
A versatile nude color. It's time to prime — psh look at me rhyme! I should claim that slogan. For eye primers, you can either wear it on its own to brighten your eyelid area, or wear it underneath eyeshadow to help intensify your shadow colors even more.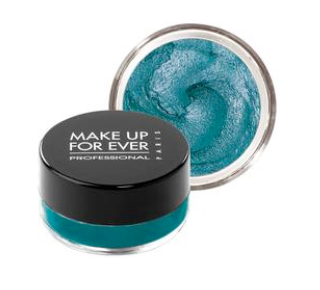 Make Up For Ever has also released some new Aqua Cream colors. These are completely smudge-proof and waterproof, which won't crease, run or transfer. I haven't had a chance to swatch any of the colors in store yet, but you can see how many colors there are from the photo above. Plus, all of them you can apply on your cheeks for a bit of a glow, or even the lower colors to your lips as well.
Since there is a variety of colors to choose from, it's going to be so fun to play with them for the summer. You can wear them alone of layered with eyeshadow. Have fun with it and buy a few of the Aqua Cream's, since you can also mix them together. There's an infinite number of looks you can do with these eye-catching hues.
Make Up For Ever Eye Prime ($25) and Aqua Creams ($26) are now available at Sephora stores across Canada.