Hope everyone enjoyed opening their gifts yesterday, for those who celebrated! Julie is my second poster lined up and this is her second guest post for me which I'm so thankful for! Plus, I envy her hair. Julie did a tutorial on how she curls the ends of her hair with a straightener and it comes out looking so put together on her. I've tried countless times and it just doesn't work on me.  I always love that hair style she's sporting. You can also find Julie over on twitter!!
____________________________
Hello Spiffy Kerms fans! My name is Julie and I am the face behind the blog Peanut Butter Fingers which follows my life as I try to work out regularly, eat (mostly) healthy and navigate life as a newlywed living in a brand new town.
With the holiday season in full swing, I thought it might be fun to share a festive cookie recipe with you guys while Nancy is livin' it up and enjoying her Christmas vacation!
Since I am all about super-simple recipes, this particular recipe is beyond easy and only requires five ingredients.
The best part (besides the taste)? They sound pretty darn impressive.
Coconut Wild Cherry Christmas Cookies
Spiffy, huh? (<– Like that one, Nancy? ;) )
Let's get baking, shall we?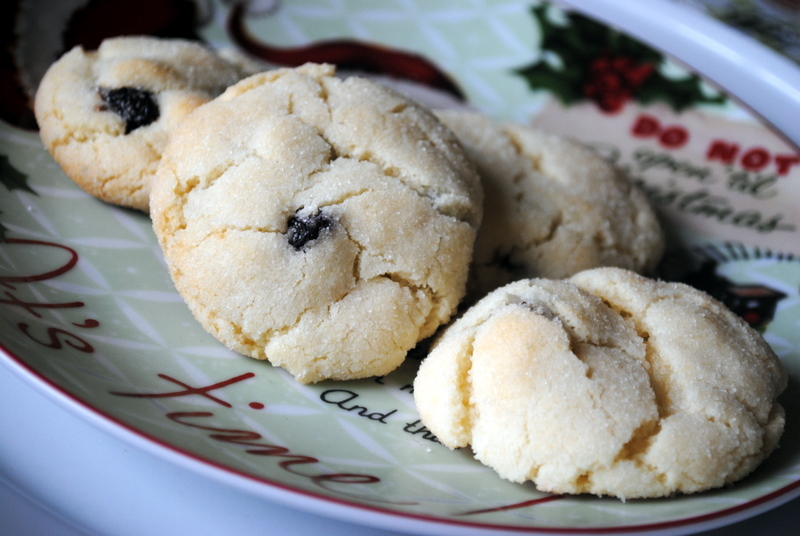 Coconut Wild Cherry Christmas Cookies
Ingredients:
1 box coconut cake mix

¼ cup canola oil

2 large eggs

¾ cup dried cherries, chopped

Sugar for garnish
Directions:
Preheat oven to 350 degrees and spray cookie sheet with cooking spray or line with parchment paper.

Combine cake mix, oil and eggs in a large bowl and mix until everything is well blended.

Stir cherries into mix.

Pour sugar into a small bowl.

Roll cookie dough into balls and roll around in bowl of sugar until they are coated in a thin layer of sugar.

Place dough balls on cookie sheet and bake for approximately 12 minutes.
I hope you all enjoy a wonderful holiday season with your loved ones and if you make the cookies, I hope they're a hit!