Hello Nancy fans! My name is Julie and I blog about my life, food and fitness over at Peanut Butter Fingers.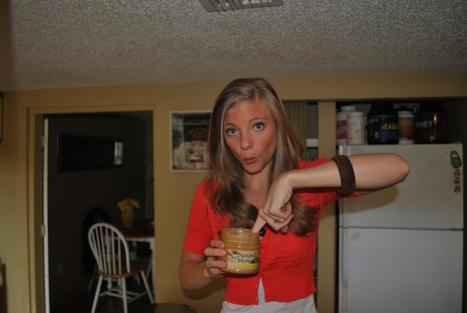 I created my blog in September 2009 to share my love of creating delicious but healthy recipes with family and friends. I love to write and experiment in the kitchen, so blogging was a great way to do both!
Sometimes my experiments in the kitchen are complete failures. But sometimes I get it right.
Today I'm going to share perhaps the most delicious cookie recipe I've ever created. It came about when my husband said he wanted "a treat" at 10 p.m. on a Saturday night. (Yes, we're a super-cool couple that stays home and makes cookies on weekend nights.)
I was in the baking mood, as always, and meandered into the kitchen and pulled out key ingredients for any tasty cookie… flour, sugar and butter.
Then I looked through our cabinets and grabbed oats and wheat germ and started to feel inspired.
The result of my random creation was fantastic.
I present to you, oatmeal wheat germ cookies!
Ingredients:
½ c. butter, softened (1 stick)

1 c. powdered sugar

½ c. sugar

1 egg

½ tsp. vanilla

½ tsp. salt

½ tsp. baking soda

1 ¼ c. flour

1 ¼ c. old fashioned oats

½ c. wheat germ
Directions
Preheat oven to 350 degrees

Mix butter and sugars in a bowl until fully combined

Gradually mix egg and vanilla into sugar mixture

In a separate bowl, stir together flour, salt and baking soda

Gradually mix flour mixture into sugar and egg mixture

Once the flour and sugar mixture are fully combined, mix in oats and wheat germ

Place tablespoons full of dough on a cookie sheet sprayed with cooking spray and bake for 10 minutes or until edges are slightly browned

Let cool and enjoy!
I hope you enjoy these cookies as much as we did!