So, get this. I have a thing for shoes and purses. I will spend money on something that I will use/wear for years to come. However, that doesn't mean I'll spend $500 on a purse either. We have a store here called Winners in Canada. It's the equivalent of Marshalls (brand name prices for less) in the States. The most I've ever spent on a purse was $120 which gave me heart palpitations.
I've only purchased about 3 or 4 purses in my entire life and then I use purses those for years and years. Swap them out once in a while.
Last summer I purchased a $30 faux leather bag from H&M that I absolutely adore. Sure it stresses me out when I lose my wallet in the big bucket bag, thinking someone stole it — it's a bit too wide but other than that it's a perfect size.
I've noticed that I flock towards brightly colored leather bags. The H&M shown above is my latest addition to my 'collection', and rarely do I look twice at canvas, or brand names all over the purse. Which is why I'm not a fan of coach, LV or chanel. I like plain looking bags that look great, without showing the name.

Not a fan.
I am however, a fan of Rebecca Minkoff purses. The plain leather hobos shown on her website specifically. I've stepped into Holts twice, once to try on a size of Tory Burch flats to see exactly what size I was to see if they ran true to size before I stalked my python flats online for 7 months. That same day I went into the purse section and adored RM purses. The second time I stepped into Holt Renfrew wasn't that long ago. I just went into the cosmetics section and walked straight back out — I knew if I went over to the purse section I'd regret it and buy something significant which my poor wallet would despise me for, for months.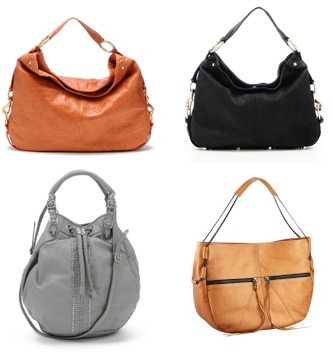 But check out these bags. They're definitely a style that I like. Nothing overbearing or bam in your face, and not a lot of bling. But you sure do need a lot of dough to fork out for one of these babies. Each one is about $500. Ouch. I guess I won't buy one, only because they don't come in my favorite neutral color: brown ;)  Haha kidding. Though if all of the purses shown above actually were in brown — I'd be seriously thinking of getting one. I do love the bottom right hand one – except I think it's "old" ie: you can't get it anymore. I also love gold hardware on purses.
Are you a purse fan? I've written a few blog entries about purses before (I <3 expensive purses anyone?). I've even found some great Etsy purses that I wrote about here.

Linea Pelle is a really great brand too — I've never heard of it before I blogged about it last year but it's also expensive, lol. You can find Linea Pelle purses at Winners.