I finally got a birthday weekend! My boyfriend was away the past two weeks and we didn't get a chance to go out and celebrate. Saturday night we drove to Burlington and shopped around at Ikea and went out to dinner! I have to ask before I write anymore in this blog post. Is my dress too short for work? Answer honestly! A few people have said it's okay, but maybe since I'm asking it is too short. What do you think? Not to worry, no hgh supplements were taken to wear this dress.

At Ikea I purchased a few random things for the house but I'm most proud of the bed linens. Ugh, so gorg.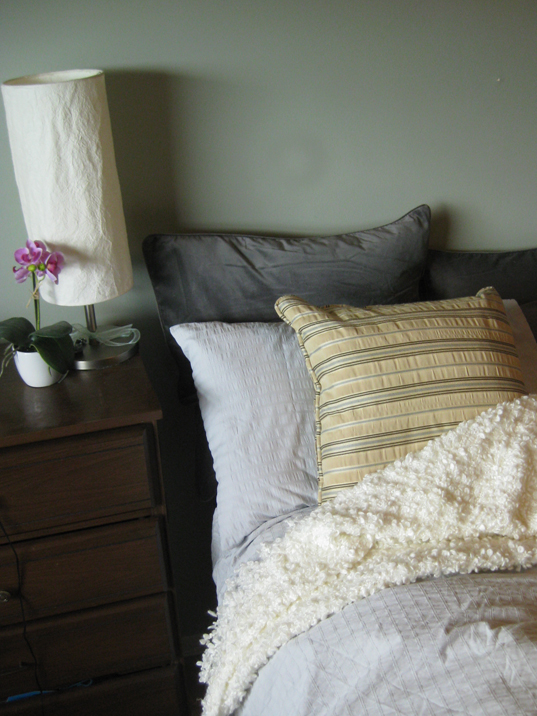 New duvet cover, soft white blanket, and the back pillows — they're velvety feeling, and so big!
We ended up eating dinner at my co-workers recommendation: The Big Tomato. The restaurant is located in downtown Burlington downstairs of another restaurant called La something or other. The upstairs one looked elegant and fancy.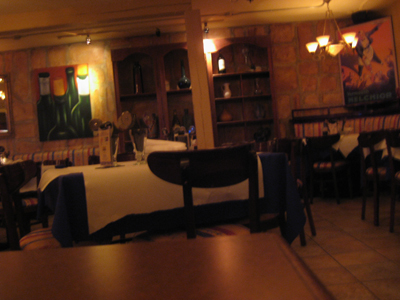 The atmosphere when you first walked in was very nice and cozy. The music they were playing was definitely a hit with me, since I was humming along to it all. Fats Domino, Ella Fitzerald, Sinatra. All the oldies but goodies in my books!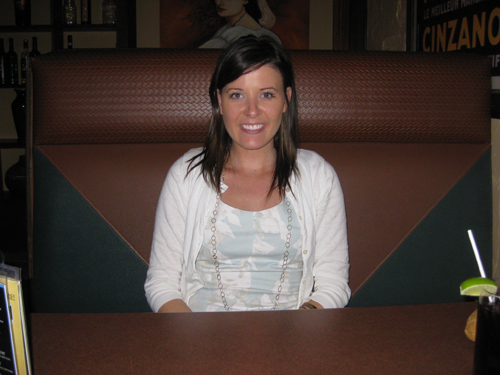 I wasn't really feeling like an alquie drink so I stuck to ol' faithful a diet coke.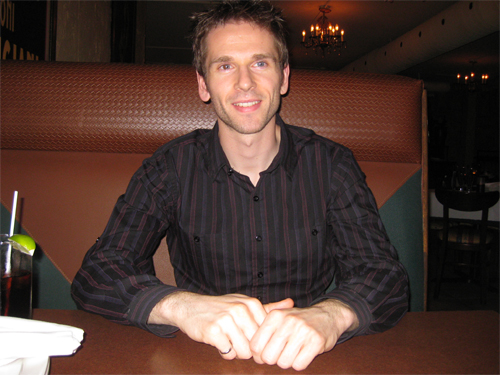 Scott got the same. A rare photo of him on my blog. He likes to remain anonymous. Not this time buddy – it's my BIRTHDAYYYYY!
We glanced at the menu and being a Graphic Designer I notice certain things about fonts. Mainly, how you should never ever use the font Comic Sans as it  gets a bad rep for being so ugly, juvy, and unprofessional in the greatest (there's even a documentary about banning comic sans). Comic Sans was used everywhere. Menu fail on their part. I felt so bad. lol.
I think the same person who designed the menu using comic sans ended up clearly making the dessert menu. Why is New York spelled as just one word? So weird. Not a fan in that sense either.
While the looks of the place was nice, and it was quite empty when we arrived at 9pm, we couldn't help but think that it'd get quite loud if we were there at an early / normal supper hour. The acoustics were lacking as we could very clearly hear the other customers talking and we felt as if we had to whisper.
It seems as though I'm making fun of the restaurant quite a bit. But it made up for it with the food, and the service that we received.
I thought the mini pizza cutters on the table were a nice little touch that you don't really see at every Italian place.
I ended up ordering a two course dinner where you chose a salad and a pizza or whatever else was on that red block on the menu shown above. I chose the pizza, and got some hot pepperonis on one side for Scott. Burn the mouth right off yass they would.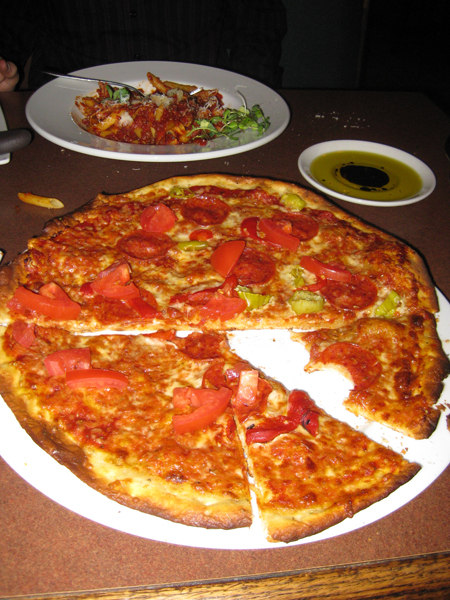 Chomp chomp, I took a few bites out of the pizza before I remembered to take a photo. Scott got a pasta. It was tasty. I have to say the crust on the pizza was incredible. Very thin crust, and didn't flop down when I picked it up. Right sturdy it was. Such a nice crunch to it too. The plate was SO oily though, I'm glad I had a bunch of napkins. However the pizza was not oily or greasy at all.
I'm glad we went somewhere completely different for supper. Usually we'd stick around in our tri-city area. But we traveled a good distance to shop at Ikea and eat out at this place. We were really lucky with the weather too, as it was a really warm evening out and I didn't feel chilly at all with my dress on! I had a nice Birthday evening, even if it was 2 weeks late :)
I ended up filming a YouTube video of my outfit that evening as well. Watch it below!