I was just about to write "Here is my pup, Peepers". But then I forgot.
Here are a few adorable photos of Alfie (named after Daniel Alfredsson. Sens player). Alfie just turned one in October. We brought him home January 9, 2010 so we've had him 13 months, and has been the most energetic, smartest dog I have ever met in my entire life. He sure does take a lot of work. We put him in Obedience School last February and he finished all of his classes last October. We're thinking of just keeping it up every few months and enrolling him again. Just so he doesn't' forget to obey.
Look how comfy he looks knawing on the beef chew. Huh. Up on my computer chair, I seeeee….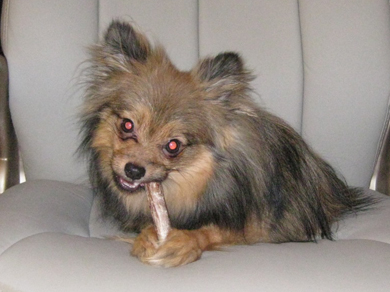 Then I took away his bone…he looks concerned.

Getting sad.
Happy again.
Random fact: Whenever I drink a pop it's almost always with a straw. But the straw can't just be inserted any ol' way, it has to be through the loopy thing (what's that called again?). Here's a photo of it, anyway: