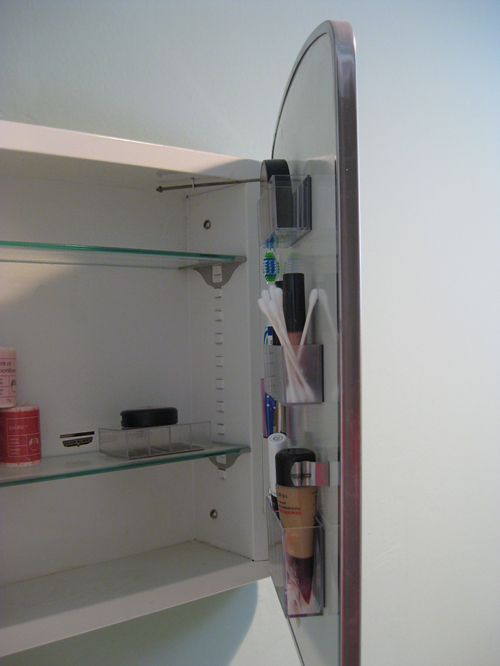 (my medicine cabinet back home)
Yesterday I read on Sephora's blog, that 40% of visitors that come into your home snoop through your medicine cabinet. Really? Is it really that high? I love the little embarrassing trick of putting marbles or golf balls inside, so when it opens it'll embarrass your guests by them bouncing all over the bathroom floor. Hey, maybe they won't do it again!

To be completely 100% honest, I've never even thought about snooping in other people's bathrooms. 40% is a lot of people! I think the people who do snoop are rude. Not that there's anything for me to hide but still.
Now I have, however gone searching for toilet paper at house parties when everyone is drunk and "breaking the seal" so to speak. So the females tend to use the washroom more. If you were a fab host — you'd have the toilet paper laying out in bundles at a party. But that has only happened to me once or twice.
At the apartment my Boyfriend and I live in, we don't have a medicine cabinet, but just a shelf above the toilet which has some hair products, makeup and some other random things in baskets. On top of the toilet, there's a basket for toilet paper. Underneath he skin is extra shampoo, hand soap, toilet cleaner, more toilet paper and feminine monthly products.

Either way. I'd like to know, if you were at someone's house — do you snoop in their cabinets? Answer anonymously in the comments if you wish, or even do the embedded poll. It'd be really interesting to see. Answer honestly! I won't judge (okay maybe a little).

Note: For the people viewing this blog post in an RSS reader, there's a poll embedded in this post. Please visit my site if you wish to complete it.
Pps: Does anyone use their own managed hosting service? I personally use GoDaddy for all my domain name needs, plus my host in Florida. Interesting to see what everyone else does)