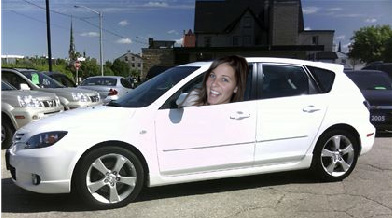 Remember this image? I photoshopped it way back when I didn't have a car, and was eyeing this one. Ha!!

I go into my local auto-shop once or twice a year to get summer tires taken off and winters put on. The service I get is just great.  I don't know how the owner remembers my voice even if I call from a different phone number. Either he's good with voices, or I just have a really distinct voice. Either way, I called and asked him:
"Hey! I'd like to make an appointment to get my winter tires put on, please?"
He responds: "For your little mazda?"
YES! That's me!!!!
He mentioned they were booking for Thursday or Friday of this week, but I told him "No this day [XX] in December please"  he laughed, I only assume because people are usually in a rush come the first snow fall (even though we haven't had ours yet)  and want them on ASAP.
But that made me smile. Good customer service, I say. The only thing I don't like about winter tires is that they don't have nice rims. At least mine are black and not rotting silver color. I don't want hubcaps either mainly because I don't need them so why shell out the dough. I could use the money to shell out for some new cute riding boots.

When I lived in Newfoundland, we had studded tires. Up here it's a bit different as studs on the tires are illegal.
Do you have winter tires for your car?