Let me re-phrase that. I got a hair cut and  first time my car got waxed today!
I've been wanting to wax my car for the longest time, and can you believe that this is the first time I washed it since I bought it in October? When I brought it into the dealership in February before my warranty was up, they washed it for me… plus the rain every now and then gave it a good going over. But before I really did bring it in to get waxed (because I sure as hell am not doing that myself) I wanted to get the paint chips cleaned up on the hood of the car due to the highway rocks flicking up on it.
I dropped it off in the morning and the CEO came with me (he's my buddy!) so I could drive back to work. We went to pick it up…and thar she be. Snowball.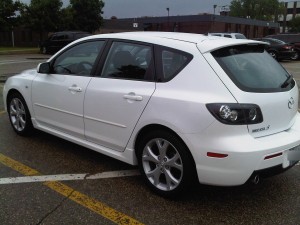 What a beaut.
I keep the inside of my car pretty spic and span. I don't like to drink/eat inside the vehicle so that helps with gunk and grossness. But they cleaned the inside of my car too, and sprayed it with some funky (as in, not great smelling) air freshener. I keep the inside of my car pretty spic and span, so they somewhat wasted their time doing that – but at least I didn't pay full price! The CEO of our company has been going there for years, so I got a pretty hefty discount. Happy!!
I'd post pictures of my hair cut but he didn't do a nice job styling it today ha! He usually does an awesome job but my makeup is all smeared and my hair is wild. So you'll only get to see part of it.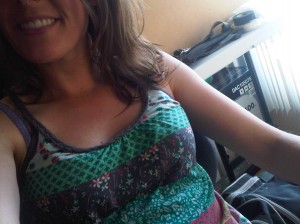 There ya go. Stay tuned for tomorrow mornings OOTWW (Outfit of the Work Week). Little late on that…