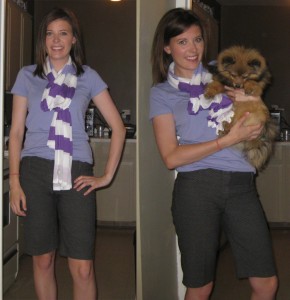 Top: Jacob
Scarf: Old Navy
Pants: Dynamite
Shoes: Haven't chosen them yet! :)
I watch the World Cup in the mornings — Chile and Honduras are playing right now, I can definitely see a "level" difference in their abilities, compared to some of the other countries I've been watching the last few days…

It's still early, I'm not at work and I don't know what shoes to pair with this. Probably the same as yesterday. We finally have our bath tub re-tiled, and I was allowed to use the shower head (we had to bathe in the tub the past few days. Very difficult to wash one's hair when there is no shower head to use!).

Question: Are you getting sick of these outfit of the days? Answer anonymously if you want. I have no idea what you like/don't like. Do tell though!

Jenna would be proud to see me wearing this get-up this morning. The tee and scarf I received as a Birthday present from my bestie. I've been wearing this scarf folded in half for the longest time, unknowingly I was doubling it over and it's actually a pretty long scarf! So glad to figure that out. Though, the second picture where I'm holding Alfie, I remind myself of a Girl Guide!! Except in purple, and not blue.
Oh Wednesday. It's half way through the work week at least.  This one is goin' sloooow. Like molasses.