I had a really great question from one of my commenters ask how that one minute off benefits my ability to run (see comments here).
When I mentioned this to my Triathlete boyfriend (he runs a 3:42 minute kilometer for a freaking marathon), he doesn't really understand where it comes from. But I just didn't make it up. Some runners use the ten and one rule, others won't because it slows down their pace obviously, while they're walking. He tried to explain this to me as well, and tell me that I would be faster if I didn't stop.
I have to disagree 100%. I am not built to be an endurance runner. They call me legs at soccer for a reason. I'm a fast sprinter and that's what I'm known for.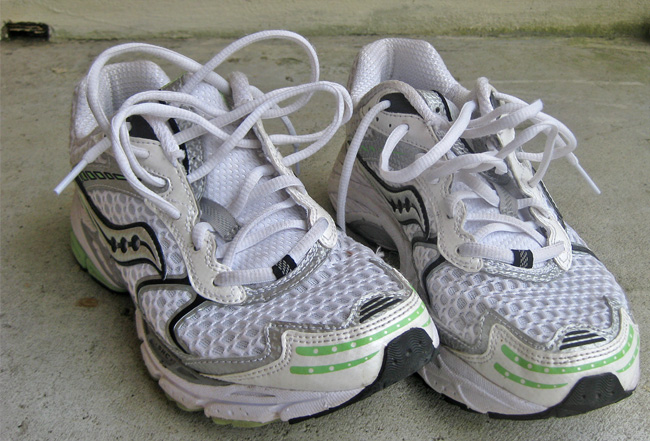 Towards the end of that 10 minutes on during a run, I literally cannot wait for my walk minute, especially towards the middle/end of the run — it's where I feel like death and I'm swearing out loud and grabbing both my hips just to keep my momentum.
Then the one minute walk break starts.

I can catch my breath, and get ready and gear up for the next 10 minutes on. I feel stronger, faster and have much more energy to finish my run when I have some walk minutes put in there. I think it's a fantastic strategy whoever came up with it; And I mean, it doesn't even have to be 10 minutes if you don't want it to be… make it 12 if you feel like it. Make it 5 songs on your ipod!
I got my 5k run down pat. Close to a 25minute 5k, which includes walk times — maybe 2 or 3 one minute walks. I honestly don't think I have the mental capacity (right now anyway) to tell myself to keep going at the speed I'm going without stopping. That's not to say I'm Speedy McSpeed Demon or anything. I just find I can get that extra burst of energy, and catch my breath on those 1 minutes off.
It feels good. So I do it, and I will continue to use this method for all of my runs. Maybe my 10 minutes on will get longer (though, some of those ten minutes feels like an eternity), maybe not. Everyone is a different type of runner, especially my boyfriend. I don't expect everyone to understand how it works. But I know it does for me.  As I mentioned above, I don't think I could continue at the same speed to get down to a 23 minute 5k (that's my 26 min 5k taking out all the "walk stops"). I'm not that fast, it's just the walks help so incredibly much.
I started running with a Learn To Run program at my gym, and I have yet to go on a run by myself  … I'm not motivated enough yet, but I crave to run,  and luckily so does my running buddy, so we go with each other now. It took us since April to build it up by adding one minute more of running to get up to those 10 minutes "on". Each week I dreaded putting on those minutes. But it certainly does help build endurance. Who knows, maybe one day I won't need this method anymore, and maybe I won't use it in my race next weekend — maybe the adrenaline will be pumping through my body so hard that I won't feel the need to stop. I won't know until I try! 4 days til the race!

Til next time! :)