I've been doing some organizing with the closets and my clothing in the bedroom as of late… well, since the boyfriend's been on vacation and I was bored this whole weekend.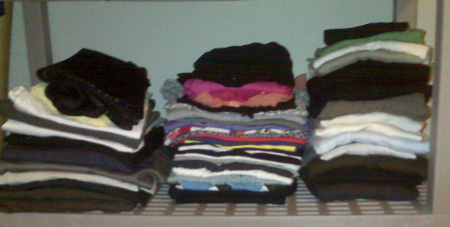 This is where I keep only the clothes that I wear to work.  Doesn't seem very colorful. It's all professional looking and stuff haha. I remember my Mom telling me I still dressed the same way as when I was 14, when I was home for Christmas. I don't like dressing up after work, or on weekends. But I guess I should also branch out of t-shirts, jeans and sneakers! I won't show you that part of the shelf :)

But you know what? I was SO much more productive. Probably because I didn't want to do more shopping, and I already took the pup out for a walk and even googled some random stuff like prototype 37c! See? I don't even know!
What'd you do this weekend?