You all may not know this but my Boyfriend Scott is training for his second Ironman Canada, and let me tell you that it can be quite difficult negotiating at the grocery store with a candy feen like myself. I love pop, and I love having an abundance amount of sugar. Unfortunately, that causes health problems down the road for anyone and after being in a relationship for close to five years you learn to give a little, get a little. I'm now starting to limit myself on the sugar load of pop and other not so great things for my body.

I actually never knew Zevia existed until recently when I saw a few food bloggers mentioning it. It's not available in Canada so I decided to do the next best thing and contact the company myself, asking for some!

I am quite impressed that Zevia is the first all natural ZERO calorie pop and doesn't have any artificial sugar substitutes. Perfect for a carbonated-addict like myself. I swear, my boyfriend drinks pop just for the carbonation from time to time as well. To see that Zevia doesn't just carry one flavor of pop is impressive. They have 7 delicious flavors to choose from (Dr. Zevia, Orange, Cola, Ginger Ale, Lemon Lime Twist, Black Cherry, and Ginger Root Beer).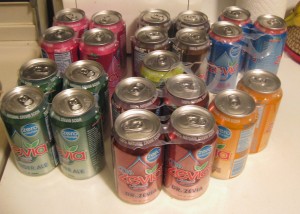 Here is my huge amount of Zevia pop I received from the company.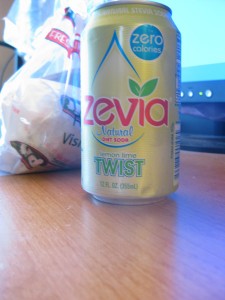 I'll be posting about the different flavors once I drink them. But the very first flavor I tried was the Lemon Lime Twist. It was much lighter in taste than I thought it would be. A mix between sprite/7up. When you drink Zevia you get the carbonation like any other pop, but it doesn't leave you with the sting, going down. Does that make sense? I use to burp when I had regular pop, but it didn't go "through your nose" type of sting. Yep, you see that I'm eating a bit of Pita Pit with it too.
Yum. Chicken, pineapple, lettuce, tomato, cheddar and honey garlic sauce.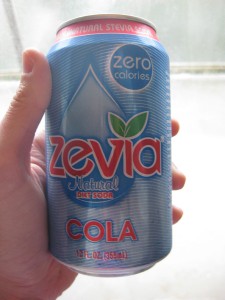 Next up was the good ol' Cola flavor. Mmm. This one I had high expectations for the cola as I am an intense cola drinker. I have to say they DID meet my expectations and beyond. I usually drink Coca-Cola, and this reminded me a smidgen of Pepsi. Sort of sweeter than Coca-Cola. OH EM GEE, I have gotta tell you. If this was available in my grocery, I'd buy them in flats. I would 100% honest opinion switch to Zevia cola over my bad habit of Coca-cola. No word of a lie.
My boyfriend even asked me if I'm going to start becoming obsessed with Zevia, because out of the three flavors that I first tried, none of them were that bad. Then again, those are the flavors that I know I was going to love. Even if I had high expectations for them. The last few (4) flavors that I haven't tried, I'm a bit wary about them. Dr. Zevia (I haven't had Dr. Pepper in years and I remember not liking it), Orange (which – isn't that bad. I like Orange pop), Black Cherry (sounds kinda gross), and Ginger Ale (I'm picky about my ginger ale!!)
The other night while watching one of my two favorite shows I dove into some popcorn and had a Ginger Root Beer. Sounds odd doesn't it? Ginger Root Beer? Shouldn't it be ginger beer, or root beer? Either way — it was better than my previous root beer experience where I bought Diet A&W root beer from the grocery. That stuff was nasty. But the Zevia kind? Uhhh I have nothing bad to say about it! I can't believe my taste buds. It's fantastic. I'm not letting the BF drink the cola flavors, or the ginger root beer, for sure.

Question for my American readers. Is this product available to you at your local grocery store? If it is, this is one flavor I recommend that you try. For realz. I drank this one at work and I wanted to sip on it for the rest of the afternoon. So delicious. I know this is a review of the product, but I'm being entirely honest when I'm raving about how great it is. I really didn't know what to expect for a natural diet pop. You know?

Nobody likes to drink their calories — I mean, it doesn't fill one up, just gives into cravings. I'm so glad Zevia came into existence for those who just cannot pound the 8 glasses of water back, per day. Their short list of ingredients that go into a Zevia pop is music to my ears. Everything I can pronounce — now that's healthy!
As I mentioned above, Zevia isn't available in Canada, and I'm not sure when or if they will become available. But for now I was sent a case of 24 variety pack to sample. And mmmMmm, pretty tasty! I have only had the chance to try the ones I've shown above as I just only received it on April 5. Stay tuned for more posts about the other flavors, since I'll be talking about each one as I sample them.

Stay healthy!