I spoke with a representative of the company from Mineral Hygenics and received some free makeup to do a review for you gals! I received one of the mini starter kits and I also got a bronzer and setting powder in there too!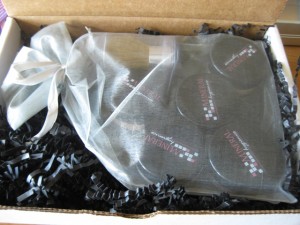 All pretty packaging and came in a nice sized box so it wouldn't damage during shipping.

Well, it's been a while since I've worn mineral makeup so I wanted to see if I was ready to make the switch for summertime, because liquid foundation + the hot sun = drippy mess. Right?
I was looking through their website and I seriously had no idea what color I would be, even looking at the skin tone chart. I thought I could possibly be in between both the Light and Medium kit. I ended up e-mailing them back with questions of what shade I should get. Danielle (the rep) ended up sending me an extra shade of foundation in light for me to try out in case the medium starter kit was too dark! I thought that was so sweet of her to go that extra mile to please a customer.
When I tried out the colors, I did indeed was the shade medium and applied it with the kabuki that they have in the starter kit. The kabuki was different than my sample sized one from another company as the Mineral Hygenics one was a bit taller and fluffier. Still dense and didn't shed on my face! And  of course, it applied my makeup well. You just have to remember to build mineral products slowly because you might end up putting too much color on. I thankfully remembered this. Any kabuki brush is key to applying mineral makeup as it's dense and picks up the mineral makeup quite well. If you use a fluffy brush for example, you wouldn't get the same effect. Swirl it in circular motions and the makeup will blend into your face with a flawless finish. That's the beauty of a Kabuki. If you use makeup brushes regularly, you'll notice most brushes actually shed on your skin. I didn't find this happened at all with the Mineral Hygenics kabuki. Big plus in my books.

So as you see above are the before/after pictures of me using Mineral Hygenics. I look pretty harsh without makeup on, so the images are super tiny and I whited out my eyes in the "before" picture because they kind of scared me!!  I can definitely notice a difference in that it took away the redness in my skin tone, and evened it out.

I think Mineral Hygenics would be a great alternative to those with dry skin and don't want to apply liquid foundation and have it flake off on you. Or, just switch it up for summer so you're out the door without too much hassle of liquid makeup.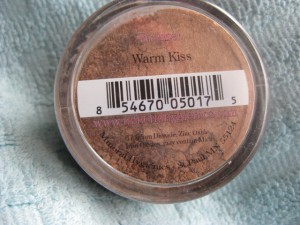 Warm Kiss is the bronzer, which looked really pretty in the jar. It's quite pigmented and you need a very light hand when applying this particular product. I put on too much at first and it looked like I had a bit of a sunburn, primarily because I use a really light bronzer anyway and like to apply it all over my face. You can see the shimmery bits in Mineral Hyngeics Warm Kiss bronzer, and it'd be a nice effect to have it shimmer on your cheek bones, or wherever the sun would naturally hit you. Apply lightly if you have pale skin though :)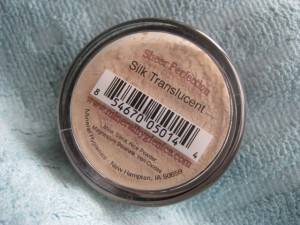 Set all your makeup with the silk translucent powder it all comes with, and you're set for the day! Except with any setting powder you don't apply too much, as you don't want your face all white with powder :) This product keeps your makeup from coming off throughout the day. I like to apply it all over my face to set — everything!

Check out Mineral Hygenics store for lots of different mineral blushes, brushes, and even lipsticks to choose from for a really decent price!