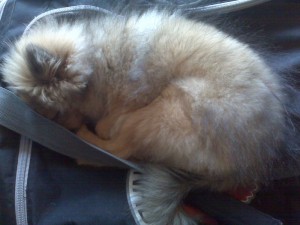 Relaxing kinda day
Today was a perfect Sunday. Completely laid back, watching videos of YouTube sister-act makeup guru's making it on ABC news (congrats ladies!!), to shopping for a rain coat for my puppy (which I will have to return since he's not even 5mths old and it fits "perfectly". He still has a bit more growing to do) and then completing the evening by watching three whole episodes (I did not know I was that far behind!) of Desperate Housewives on CTV.I decided to not watch tonight's episode, because I watched too much already!
Doesn't he look like such a teddy bear in my arms? So content in this position!
Buddy. I t ell yeah. I'm all rearin' to go. Except, I should really go to bed seeing as I'm going to wake up at quarter to six tomorrow to head to the gym and do some Boot Camp. I dread Monday mornings, but it's really the only day of the week that I'm so wide awake the whole day. Perhaps it's because I only go to the gym in the morning, once per week and that makes me super awake? I'm not sure!
Have a great evening all :)